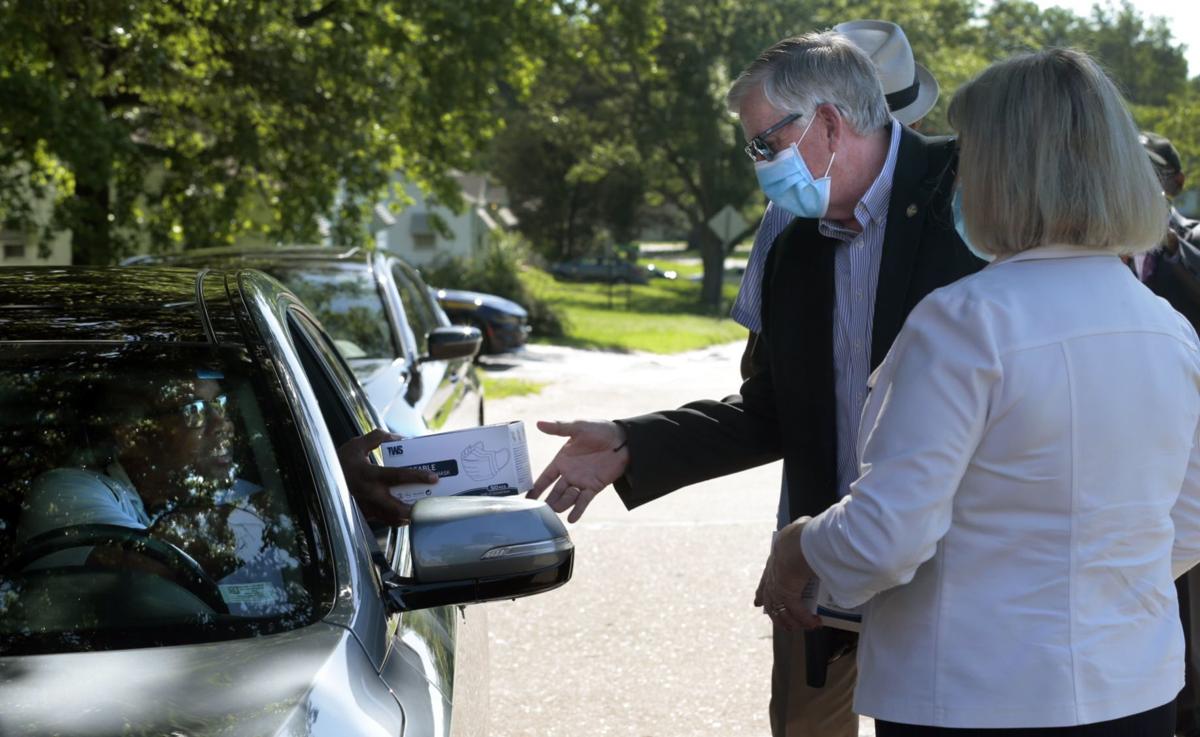 JEFFERSON CITY — Gov. Mike Parson said Thursday he was lifting restrictions designed to prevent the spread of the deadly coronavirus, but Missouri will remain under a state of emergency.
The state's restrictions, which are set to expire Monday, limited the number of people who could be inside of businesses. The rules also waived some regulations affecting teachers and other professions.
Local governments will still be able to impose their own guidelines regarding the virus.
But in his latest executive order, Parson said some provisions need to remain in place while the virus is still present. For example, the National Guard will remain activated until at least Sept. 15.
"Steps must be taken to prevent a substantial risk to public health and safety as we reopen Missouri's economic and social activity," the order notes.
Parson said the state of emergency will remain in place to allow the state to continue tapping into millions of dollars in federal pandemic recovery funds.
Parson said the state has surpassed goals he laid out in early May when he began plotting a plan to jump-start the state's pandemic-ravaged economy. Those goals included ramped-up testing for COVID-19, adequate supplies of personal protective equipment, hospital capacity and data.
"It is truly incredible to see how far Missouri has come," Parson said during a press briefing Thursday. "We have full confidence that Missouri is prepared and ready to move forward."
"Missouri will be fully open for business," Parson said.
His decision, however, comes as cases of COVID-19 have been rising in nearly half the states, according to an Associated Press analysis.
In Arizona, which reopened May 15, hospitals have been told to prepare for the worst. Texas has more hospitalized COVID-19 patients than at any time before. And the governor of North Carolina said recent jumps caused him to rethink plans to reopen schools or businesses.
Missouri on Thursday reported an additional 203 coronavirus cases — bringing the total number to 15,390. That's an increase of about 6.3% in the past week.
In addition to the new cases, the number of people who have died rose by 12, to 860.
Data shows hospitalizations increased across the state.
Statewide, 592 patients were hospitalized Thursday with COVID-19 — up 52 from the day before, according to the Missouri Hospital Association.
In his order, the governor said the number of cases is expected to grow.
"The identification of additional cases in Missouri is likely to continue as we increase our testing capacity," Parson wrote.
Missouri Democrats slammed Parson, calling his decision "tone-deaf" because the coronavirus remains a threat.
"In November, voters will remember that Mike Parson put his head in the sand during Missouri's worst public health crisis in a century," said party spokesman Kevin Donohoe.
Parson allowed the state to reopen May 4, with limits on capacity for many businesses and organizations. The second phase of reopening, which had been scheduled to begin May 31, was pushed back to June 15 due to the resurgence in cases.
Social distancing guidelines did not apply to people in jobs that require close contact, such as those in hair salons and tattoo parlors, triggering concerns about a resurgence.
Restaurants were allowed to resume dine-in service as long as tables and seating were spaced according to social distance requirements.
The governor also said he will not cancel the Missouri State Fair, which is set to begin on Aug. 11 and run for 10 days.
But, he said it likely will be altered in some manner, such as shorter hours or a reduced number of days.
The fair has been canceled only once in its history, for World War II.
"I don't want it to be the second time on my watch," Parson said. "We will have some sort of state fair."
Parson and his top economic development aide both said easing the guidelines will help the economy begin improving.
"We want to get Missourians back to work," said Rob Dixon, director of the Department of Economic Development.
"While many Missourians have undergone significant hardships in recent months, we now have an opportunity to rebuild and reimagine our state's economy for the future," added Dan Mehan, president of the Missouri Chamber of Commerce and Industry.
Just days after his health chief said the state was still studying how it will roll out a contact tracing program, Parson said the state will rely on counties to track down people who have been exposed to others who have tested positive for COVID-19.
"We will play a support role in the state," Parson said.
Parson also said a hotel in Florissant that was quickly converted into an emergency overflow hospital to treat coronavirus patients will remain open, even if there are few hospitalized.
"It is going to be in place for a few more months," Parson said.
Concerned about COVID-19?
Sign up now to get the most recent coronavirus headlines and other important local and national news sent to your email inbox daily.