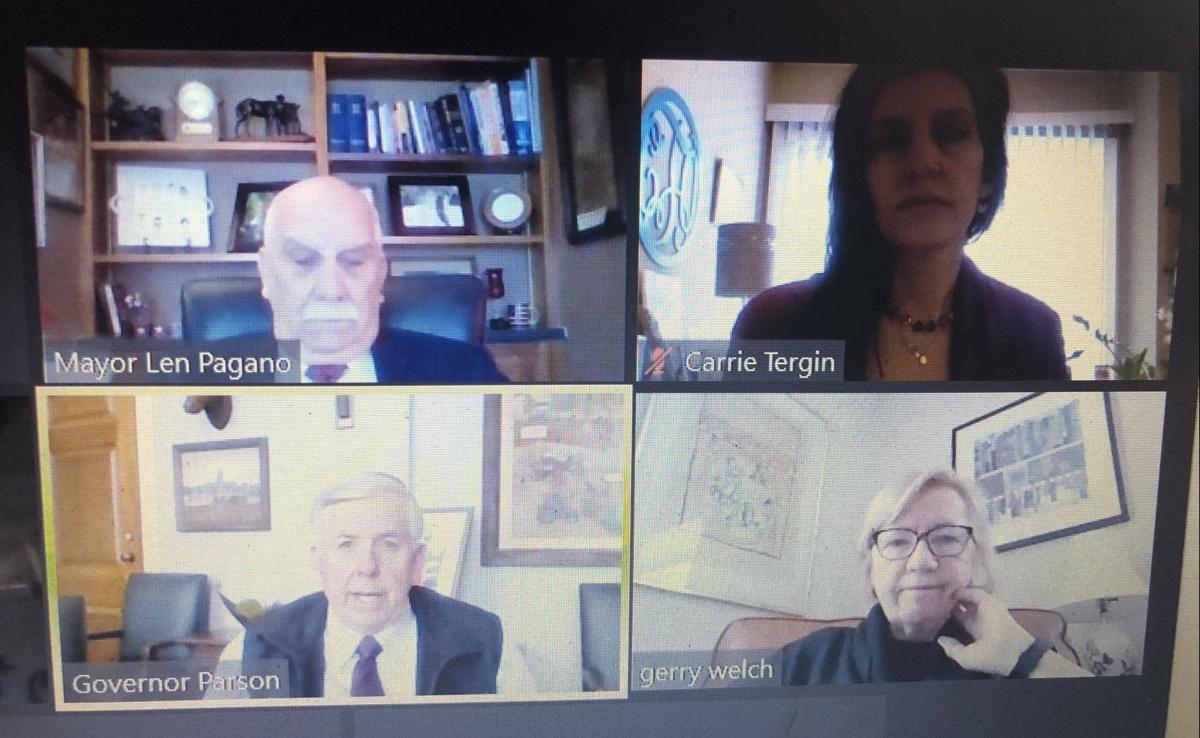 JEFFERSON CITY — Gov. Mike Parson, during an online meeting Wednesday, urged Missouri mayors to continue pushing for a tax on online sales while also defending the state's vaccine distribution plan.
Lawmakers haven't approved the so-called "Wayfair" tax, which is named for a leading online furniture and home-goods retailer, but Parson and mayors on Wednesday's call say it would level the playing field between brick-and-mortar stores and their e-commerce competitors.
"We gotta get that done," Parson, a Republican, told members of Missouri Mayors United. "We ought to put a lot of pressure on legislators.
"I know the argument up here is going to be who gets the money? How you going to spend the money? And all of that stuff," Parson said. "All I'm telling them is 'pass the dang bill' and at least ... start collecting the money. We'll fight over where that money goes some other day, but even the playing field for business people."
The House Ways and Means Committee was hearing a proposal on Wednesday to allow such taxes.
Parson also told the mayors the state is doing the best it can with vaccine distribution given the limited supply it is receiving, but urged them to tell constituents to be patient.
"We're trying to do the best we can for everybody and it's an impossible balancing act," he said.
"You guys play a significant role in your own communities. But people need to hear a little positive message," Parson said. "The media's just pounding me every way that they can pound any of us, saying, 'We don't have enough vaccine, you're not doing a good enough job, we're not getting to the African American community.' I mean it just goes on down the list.
"One thing you just got to reiterate is: It's going to take awhile. This is going to be months in the making," Parson said. "Make sure people are knowing the good side of this ... (COVID-19) numbers are going way down. I mean, you know, the media's never going to say that."
The seven-day average of new cases reported by the state peaked on Nov. 20 at 4,723, according to a Post-Dispatch analysis. The average has fallen nearly 79% since then, and as of Monday, stood at 1,010 new cases.
Pleasant Valley Mayor David Slater asked about Parson's rift with House Speaker Rob Vescovo and whether that would impede efforts to advance Senate President Pro Tem Dave Schatz's proposal to raise the gasoline tax for road improvements.
"Is there something where we can reach out to the mayor of Arnold and — who is that? — Mayor (Ron) Counts — and see if we can't have a meeting with the speaker," Slater said. "Just let us know how we can help.
"You couldn't give your State of the State address," he said. "If there's a rift that we can help you with let us know."
Parson urged the mayors "to put politics aside for a little bit," then stressed how important the Wayfair tax and a measure shielding entities from COVID-19 lawsuits were for the state. He also touted his plans for infrastructure and workforce development.
"Anything you can do to help with those ... saying, 'hey, this is really what makes a difference in my city, in my community.' I think that's ... they're going to listen to you on that," he said. "Stay focused on about three or four things and let's try to get that done."
In addition to Slater, there were at least five other mayors on the Zoom meeting, which took place Wednesday morning.
From the St. Louis area, Frontenac Mayor Kate Hatfield, Webster Groves Mayor Gerry Welch and St. Peters Mayor Len Pagano were on the call.
Jefferson City Mayor Carrie Tergin and Harrisonville Mayor Judy Bowman also joined.
Parson left the meeting after about 20 minutes. After he left, Tergin said "he realizes really how important mayors are" and praised him for committing to work with them.
Bowman said, "He's our greatest ally. ... I'm just thrilled that he's willing to meet with us."
Slater said Missouri Mayors United has about 600 member mayors, and that about 350 were on an email list.
The group's eight-point agenda includes passage of the Wayfair tax, a prescription drug monitoring database, an increased gas tax for road funds and a cellphone tax for a 911 system that would offer a text option.
The mayors also want improved rural internet access, more mental health funding and more economic development tools. Another agenda item is to "correct" state laws championed by now-Attorney General Eric Schmitt when he was a state senator to reform municipal courts following 2014 Ferguson protests, said Slater, president of the mayors group.
"We want to be able to enforce failure to appear," said Slater, adding that he isn't pushing to do away with caps on the amount of revenue cities can collect through fines.
After Parson got off the call, Slater added that police chiefs "can't stand" a measure that would nullify federal gun laws. Critics say it would expose local police to lawsuits if they collaborate with federal authorities to arrest violent criminals.
"I talked to both Senator (Tony) Luetkemeyer and Schatz yesterday, and they are both very pro-guns but also very pro-police," he said. Slater said they assured him that the legislation would be amended "to protect our police officers."