CLAYTON — For at least three years, the St. Louis County Council has listened at its weekly meetings to public comments that have ranged from the earnest to the vitriolic, often broaching such subjects as nuclear war, pornography and vaccine conspiracies.
Now the council is considering a limit on free speech.
Council Chair Shalonda Webb, a Democrat from unincorporated North County, said at this week's meeting that she's done allowing people to spout their views on issues outside the council's control.
"What I want to make sure is that your freedom of speech is related to the business of this business meeting," Webb said Tuesday, interrupting a regular speaker a few seconds into her weekly speech, which usually takes the form of a poem and often calls county officials "morons."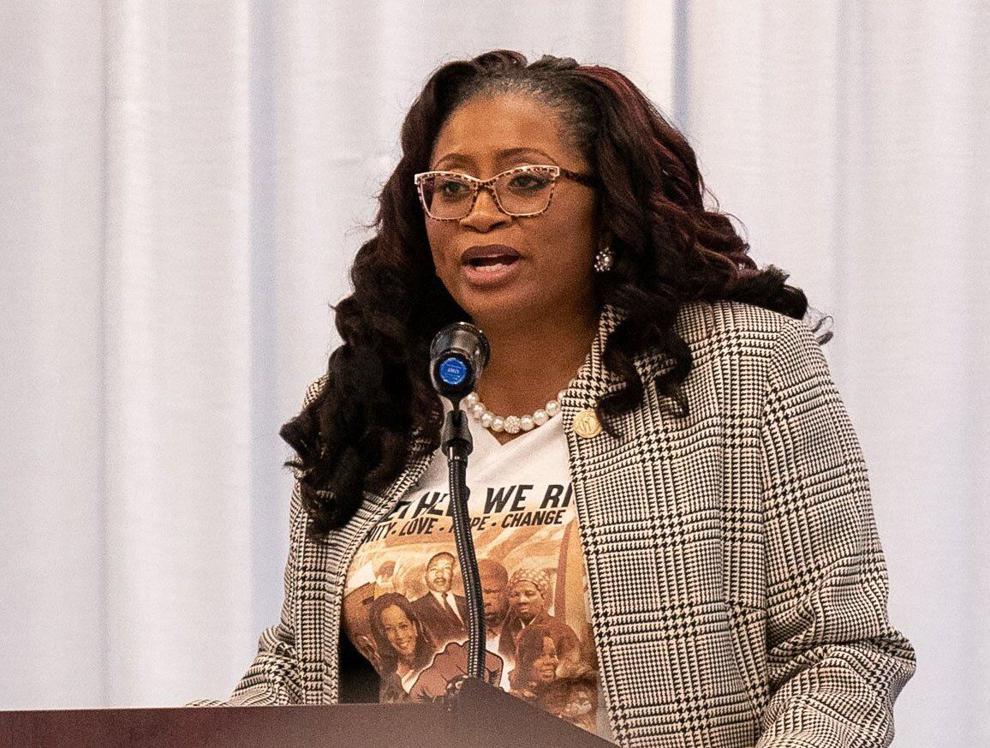 The public comment period at St. Louis County Council meetings gained notoriety during the pandemic for speakers who talked about wide-ranging issues, often barely connected to county business. As at school board and municipal meetings across the country, public comments at the council often took on culture wars, declaring that mask mandates were authoritarian or arguing LGBTQ content in schools was exposing kids to pornography.
Speakers on Tuesday immediately accused Webb of depriving them of their First Amendment right to free speech.
But it's common in Missouri for local governments to regulate public comment.
The St. Louis Board of Aldermen doesn't have a public comment period at all, though people can comment at aldermanic committee meetings. The Columbia city council requires speakers to request permission to speak, and they must specify a topic they want to discuss. Public testimony isn't allowed at Kansas City council meetings, though committees accept comment on specific ordinances, according to the Kansas City Beacon.
"I'm not aware of any law that would prohibit them from limiting who speaks and what they speak on," said Jean Maneke, a Missouri Press Association attorney specializing in government transparency. "This is a business meeting of a public body, and they probably have a feeling that they need rules to do their job properly."
'You're depriving me of my freedom'
Before the COVID-19 pandemic, public speakers at the council meetings often stuck to talking about county business: a controversial zoning problem, or animal welfare at the county's shelter. Regular gadflies alleged corruption.
But as pandemic mandates sparked outrage, speakers began skirting the limits of polite public discourse.
YouTube temporarily blocked recordings of multiple council meetings in 2021 because they spread misinformation about COVID-19 vaccines. At a recent meeting, a public speaker made reference to councilmembers — two of whom are Black — picking cotton. And nearly every week, one speaker says LGBTQ content in schools is sexualizing children.
On Tuesday, newcomer Tamara Rucker kicked off public comments. Rucker, who helps families collect excess proceeds from delinquent property tax sales, described her difficulty working with county staff.
Then council regular Kim Landgraf spoke. She usually recites a poem that blasts the council and liberals. But just seconds into her speech, Webb cut her off.
Webb told Landgraf she would no longer be allowed to speak on issues that aren't included on the meeting agenda, nor would any other speakers.
"So you're depriving me of my freedom of speech?" Landgraf said.
Webb said she would consult the rest of the council on a rule regulating topics in public comment.
But it created an uproar.
Councilman Ernie Trakas, a Republican from unincorporated South County, said speakers should be able to discuss whatever they want at St. Louis County Council meetings. In a back-and-forth with Webb, he accused her of trying to suppress free speech.
"Citizens of St. Louis County, take heed, there are those that seek to limit and restrict your First Amendment rights," said Trakas. "Don't let it happen."
Republican council members said they were caught off guard by Webb's ultimatum Tuesday. Republican Councilman Mark Harder of Ballwin pointed out that other public speakers Tuesday night addressed issues not on the agenda, but they weren't silenced.
"None of the rules that we've agreed to here said anything about what people can speak to," Harder said. "I'm definitely against anything that's going to limit free speech."
Councilwoman Lisa Clancy, a Democrat from Maplewood, said she supports Webb.
"While some may see Chairwoman Webb's efforts as about limiting free speech, I know her to be about ensuring that our public forum doesn't continue to be a home for anti-LGBTQ, anti-Semitic, or racial slurs," Clancy said, "and for the spread of inaccurate, baseless claims about vaccines and COVID."
In all, Tuesday's speakers ran the gamut: Landgraf equated vaccine mandates to genocide and said gender-affirming practices aim to annihilate the family unit. Frequent speaker Chris Wilcox covered taxing low-income workers and affordable housing. Mark Passow talked about nuclear warfare. And Washington University student Jason Zhang shared concerns about pedestrian safety at a Forest Park Parkway crossing connecting to campus.
While the council can decide what rules govern their meetings, including regulating public forum, the chair doesn't have the power to make sweeping changes to the rules, according to the county charter. Any member of the council may propose a resolution to change the rules, but changes must be approved by a majority of the council. At a meeting in mid-January, for instance, the council voted 6-1 to move the public forum from the beginning of the meeting to the end.
A proposed new rule could come before the council as soon as next week.