JEFFERSON CITY — The Missouri Senate derailed Friday over a fight about birth control as the House moved swiftly to send last-minute priorities to Gov. Mike Parson.
As the clock ticked toward 6 p.m. — the constitutionally mandated deadline for the General Assembly to end consideration of bills — a disagreement over whether the state's Medicaid system should fund certain types of contraception had brought action in the Senate to a halt.
About 2 p.m., Senate Minority Leader John Rizzo, D-Independence, moved that the Senate adjourn until May 19 — after the constitutionally mandated 6 p.m. Friday cut-off for considering bills, ensuring the Senate could not take any more action this legislative session.
Bills sent to governor include a gas tax increase, taxes on online sales and protections for businesses from COVID-19 liability lawsuits.
"It was a perfect ending to a dysfunctional year," Rizzo said.
But even with the Senate dysfunction, lawmakers this year were able to send several proposals to Parson that had fizzled in years past, including a prescription drug monitoring program, an increase to the state's gasoline tax, and a program to authorize "Empowerment Scholarship Accounts" for students to attend the schools of their choice.
Rizzo credited Democrats for the passage of the gas tax and PDMP, noting their votes were critical in advancing the proposals to Parson.
The Senate's early exit riled some members of the House who said the upper chamber's woes resulted in some House priorities left by the wayside. Rep. Don Rone, R-Portageville, urged members to not approve any additional Senate bills.
"Do not reward bad behavior," Rone said.
Senate dysfunction
The Senate got off to a rocky start after late-night action on the hospital tax.
Conservatives had pushed to tack on contraception limits on a bill authorizing a hospital tax that pays a significant portion of the state's Medicaid costs, known as the Federal Reimbursement Allowance.
Rizzo said he was disappointed in the Senate's decision to attach the birth control language to a tax that brings in billions of dollars in revenue to the state's Medicaid program.
Opponents say the maneuver could endanger federal matching funds.
Rizzo said Senate President Dave Schatz, R-Sullivan, did not abide by the terms of a deal Democrats had agreed to.
"The bond is broken. It is just shattered. Their word is no good," Rizzo said. "I should have known better."
Sen. Doug Beck, D-Affton, also said Schatz broke a promise.
"I try to be a man of my word. That's all we have," Beck said.
Like others, Rizzo said the Legislature may not be gone from the Capitol for long.
"We're going to be back for a special session at some point," Rizzo said.
Sen. Bill White, R-Joplin, who had backed a "clean" version of the reimbursement allowance, said he agreed with the move to adjourn.
"I wanted the FRA to pass," he said. "That was an FRA fight; it wasn't a pro-life amendment fight for me."
He said he didn't want to "take the risk" of falling out of compliance with federal rules and losing Medicaid funds.
House keeps moving
While the Senate was stalled, the House kept moving.
With about six hours left in the session, the House approved a proposal to remove tuition caps from Missouri's public universities and allow college athletes to make money from their own name, likeness and reputation.
The House approved the measure by a vote of 145-8 on Friday morning, though some representatives argued it was only necessary because the Legislature has underfunded higher education.
Currently, tuition hikes are limited by a formula based on cost-of-living increases. If signed by the governor, the change would give universities the option of switching to a "differential tuition" model, where some degrees cost more than others.
The move to let athletes profit from their name and likeness comes as many states, including several home to University of Missouri sports rivals, have passed similar legislation. Some lawmakers argue it removes a recruiting disadvantage for MU as well as improving fairness for student athletes.
The House, shortly before 1 p.m., gave final approval to an authorization of a sales tax on online retailers selling in Missouri, known as the "Wayfair" bill. The measure had been backed by Parson, mayors and brick-and-mortar businesses.
Democrats were able to keep an earned income tax credit in the proposal.
It would be worth 20% of the amount allowed in the federal earned income tax credit.
The Missouri Budget Project, a think tank that studies state revenues and expenses, praised the inclusion of the EITC.
"While it's unfortunate that costly income tax reductions were included in the final package, we recognize the tireless work of lawmakers on both sides of the aisle who came together to create a piece of legislation we believe helps move our state forward," the organization said.
A proposal to waive the forced repayment of millions in unemployment benefits paid in error died in the Senate when the upper chamber adjourned.
Among the more contentious bills heading to Parson is an attempt to prohibit local police from enforcing federal gun laws.
The measure declares invalid federal actions deemed to infringe on an individual's Second Amendment right to bear arms, and makes local police departments liable for a civil penalty if an employee violates the statute.
Supporters say the bill was inspired by the possibility of new federal gun restrictions under Democratic President Joe Biden and the Democratic-led U.S. House.
Others said it was "ridiculous" and likely unconstitutional.
The House also signed off on a pared-down school voucher bill that would create a tax credit program to pay for kids to go to K-12 private schools.
Under the program, private donors would give money to nonprofits that in turn would dole out scholarships. Donors would get state tax credits equal to the amount they donate, but not more than half their tax liability.
The latest version caps tax credits at $25 million for the first year and $50 million with inflation.
Lawmakers also approved a bill allowing car dealers to charge higher administrative fees to buyers to help fund a long-sought upgrade to the Department of Revenue's licensing system.
The measure, which goes to the governor, raises the fee limit from under $200 to under $500.
The House gave final approval to a bill legalizing to-go liquor sales, which Parson's administration first allowed during the COVID-19 pandemic as a way to support bars and restaurants.
In their final vote, the House sent Parson one of his top priorities, a bill to limit pandemic-related lawsuits.
Under the legislation, business owners wouldn't face criminal or civil liability unless they intentionally expose people to a contagious illness like COVID-19.
Democrats opposed the measure, which was approved on a 97-57 vote.
Photos: On the last day of the Missouri Legislature session, the Senate stalls and the House kept going
Last day of the Missouri Legislature's 2021 regular session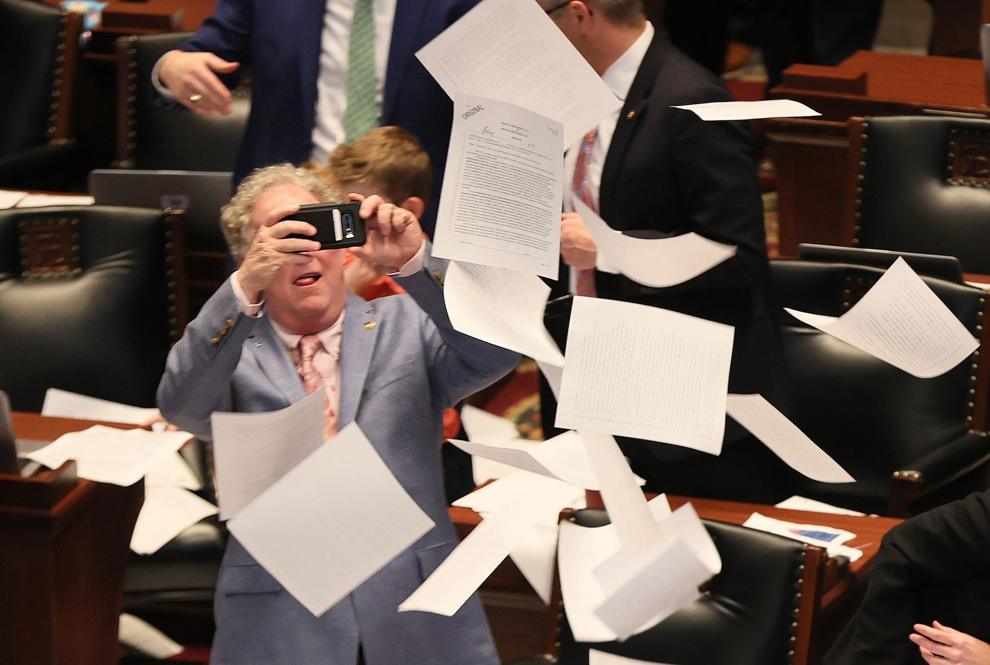 Last day of the Missouri Legislature's 2021 regular session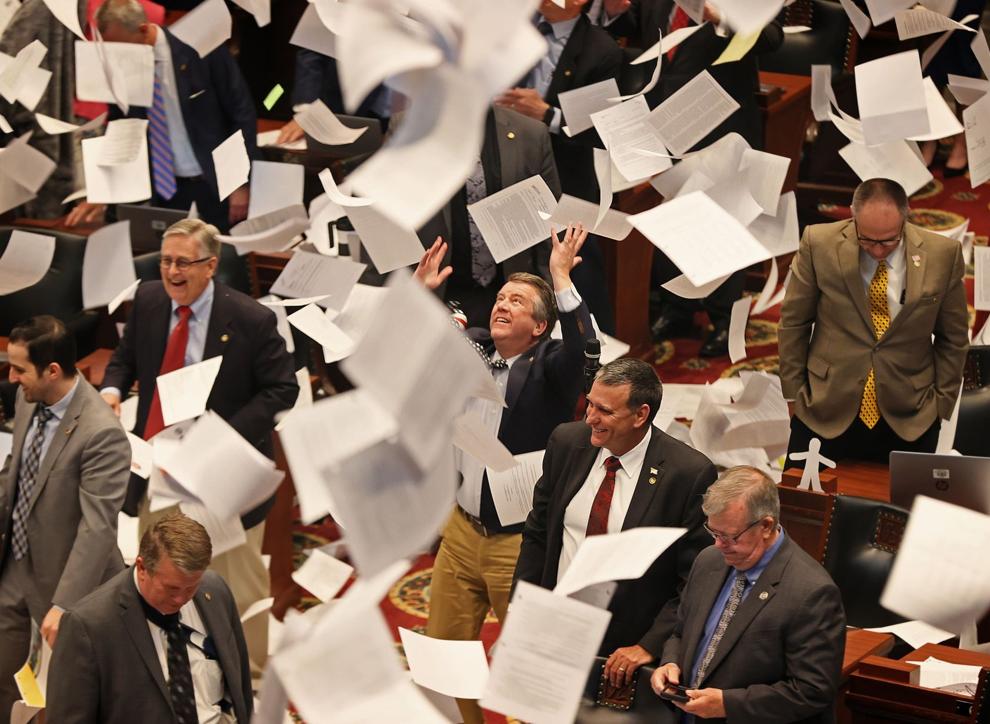 Last day of the Missouri Legislature's 2021 regular session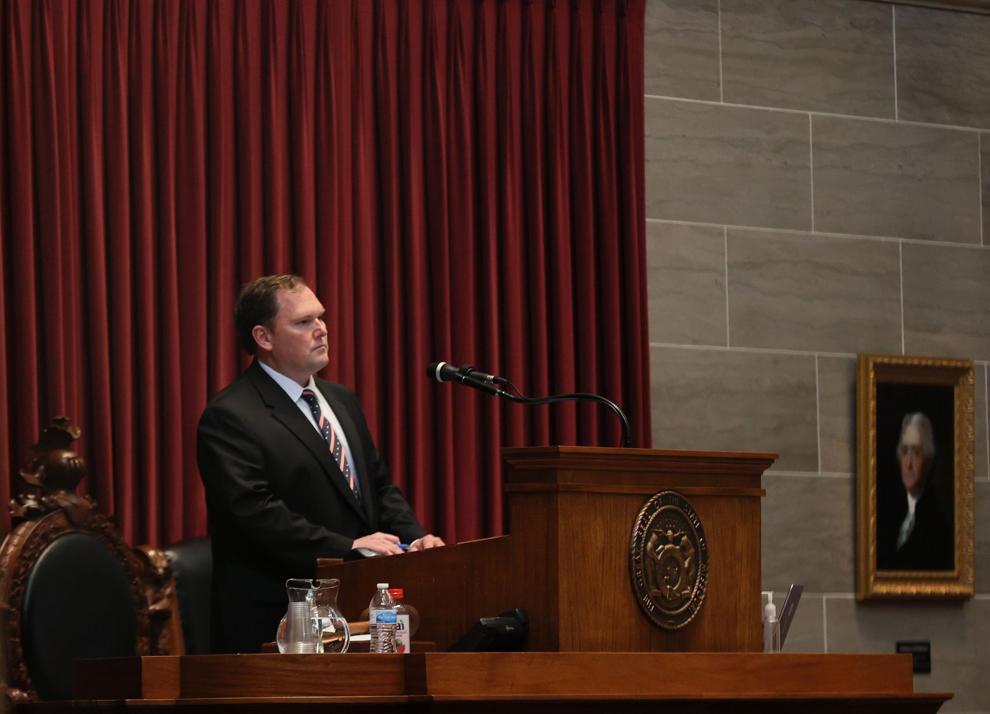 Last day of the Missouri Legislature's 2021 regular session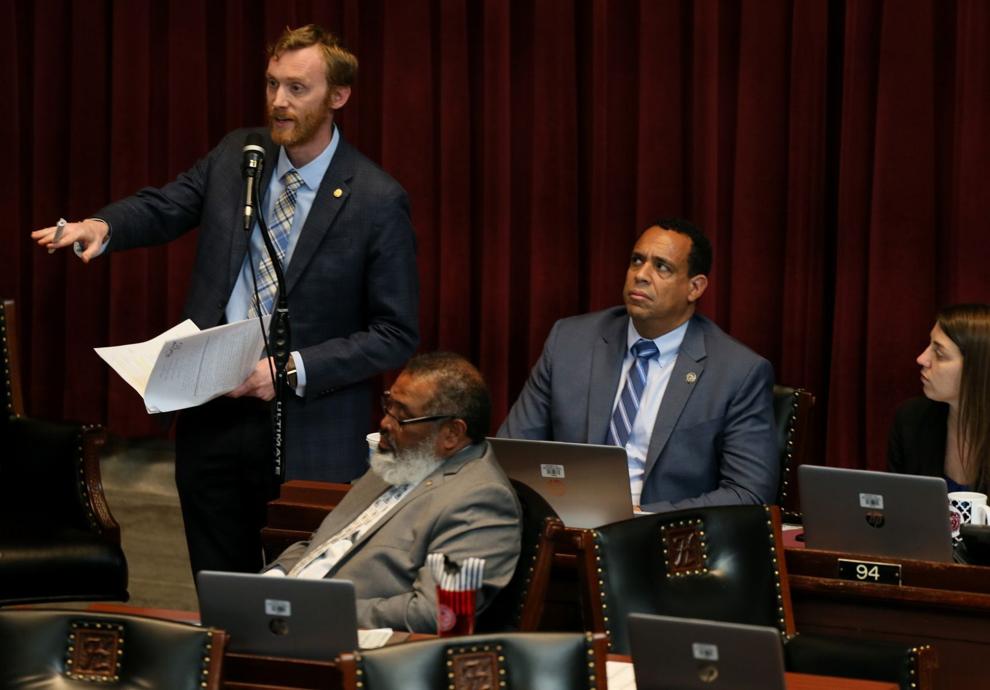 Last day of the Missouri Legislature's 2021 regular session
Last day of the Missouri Legislature's 2021 regular session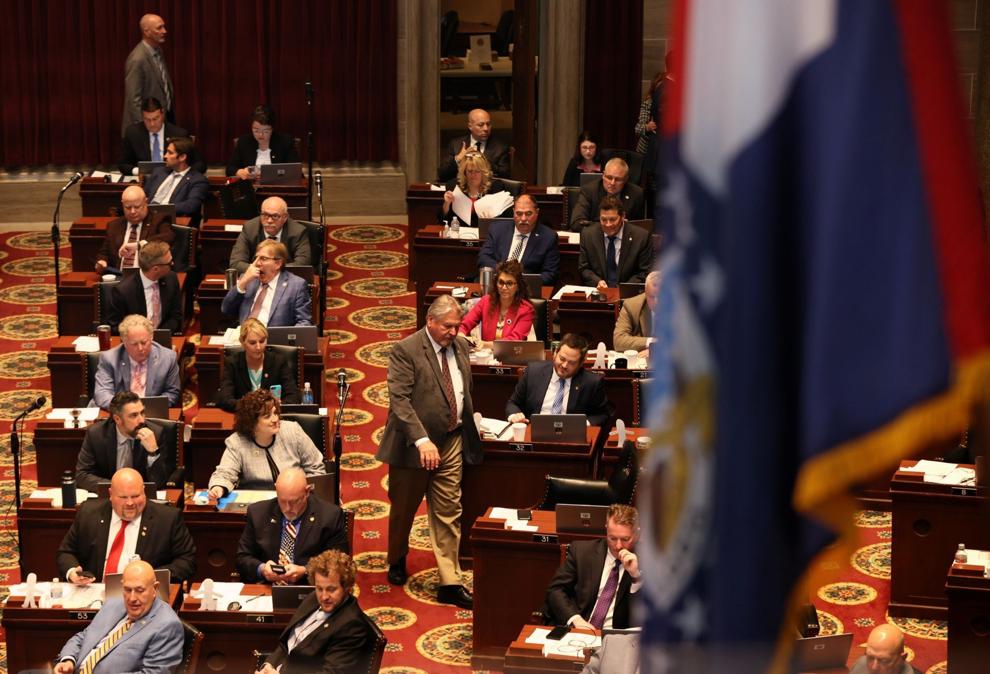 Last day of the Missouri Legislature's 2021 regular session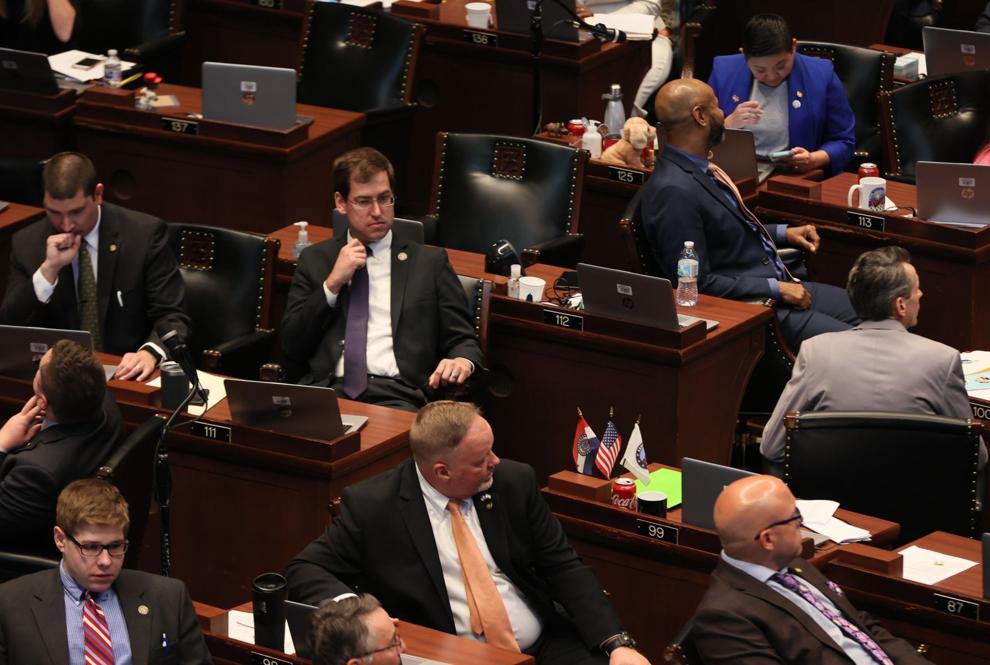 Last day of the Missouri Legislature's 2021 regular session
Last day of the Missouri Legislature's 2021 regular session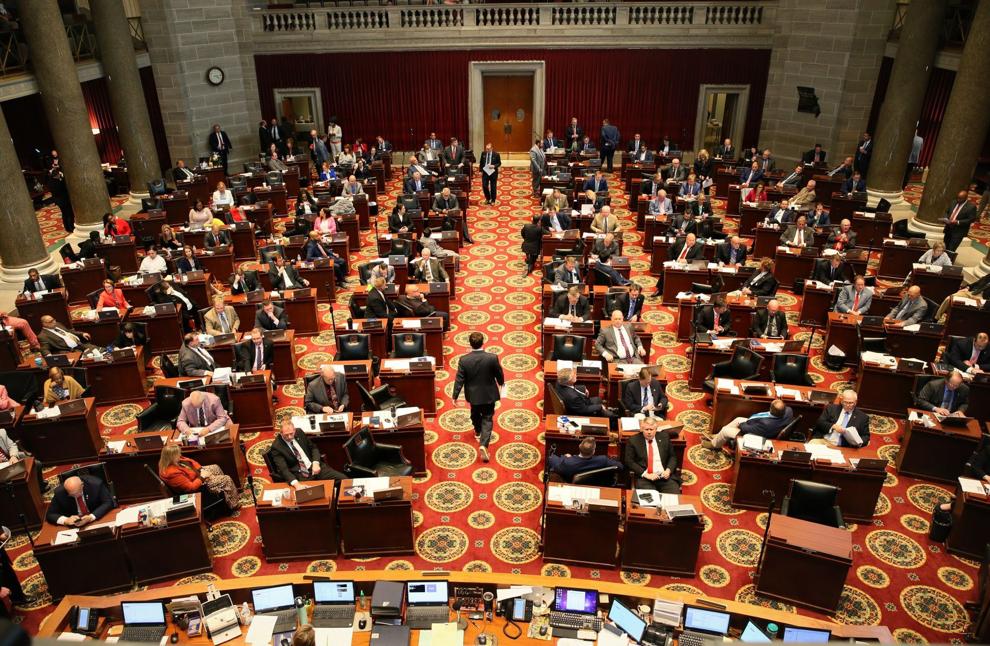 Last day of the Missouri Legislature's 2021 regular session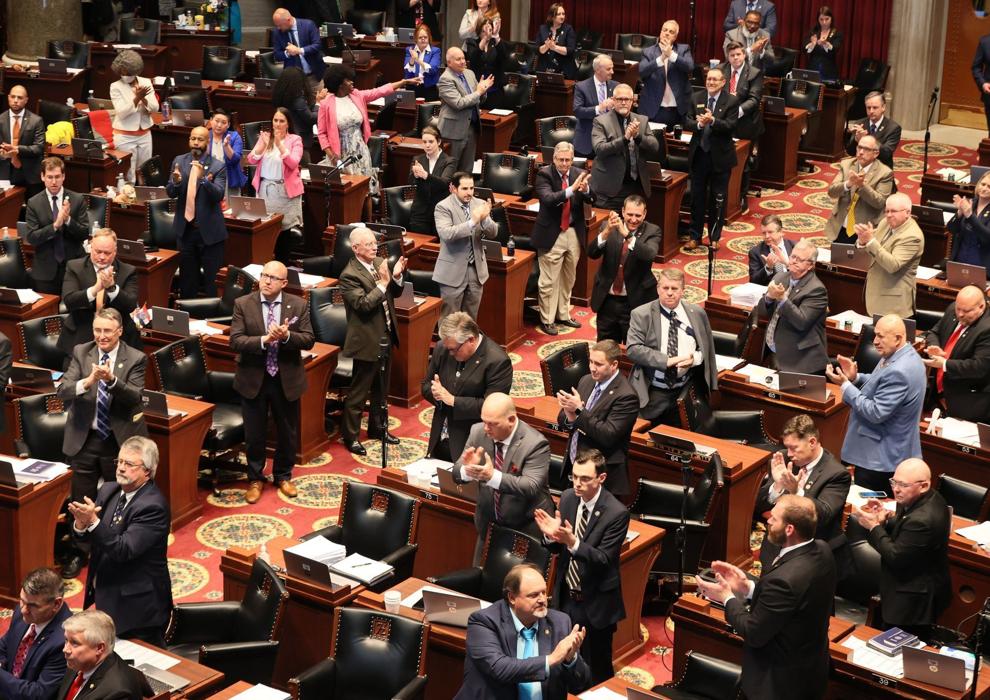 Last day of the Missouri Legislature's 2021 regular session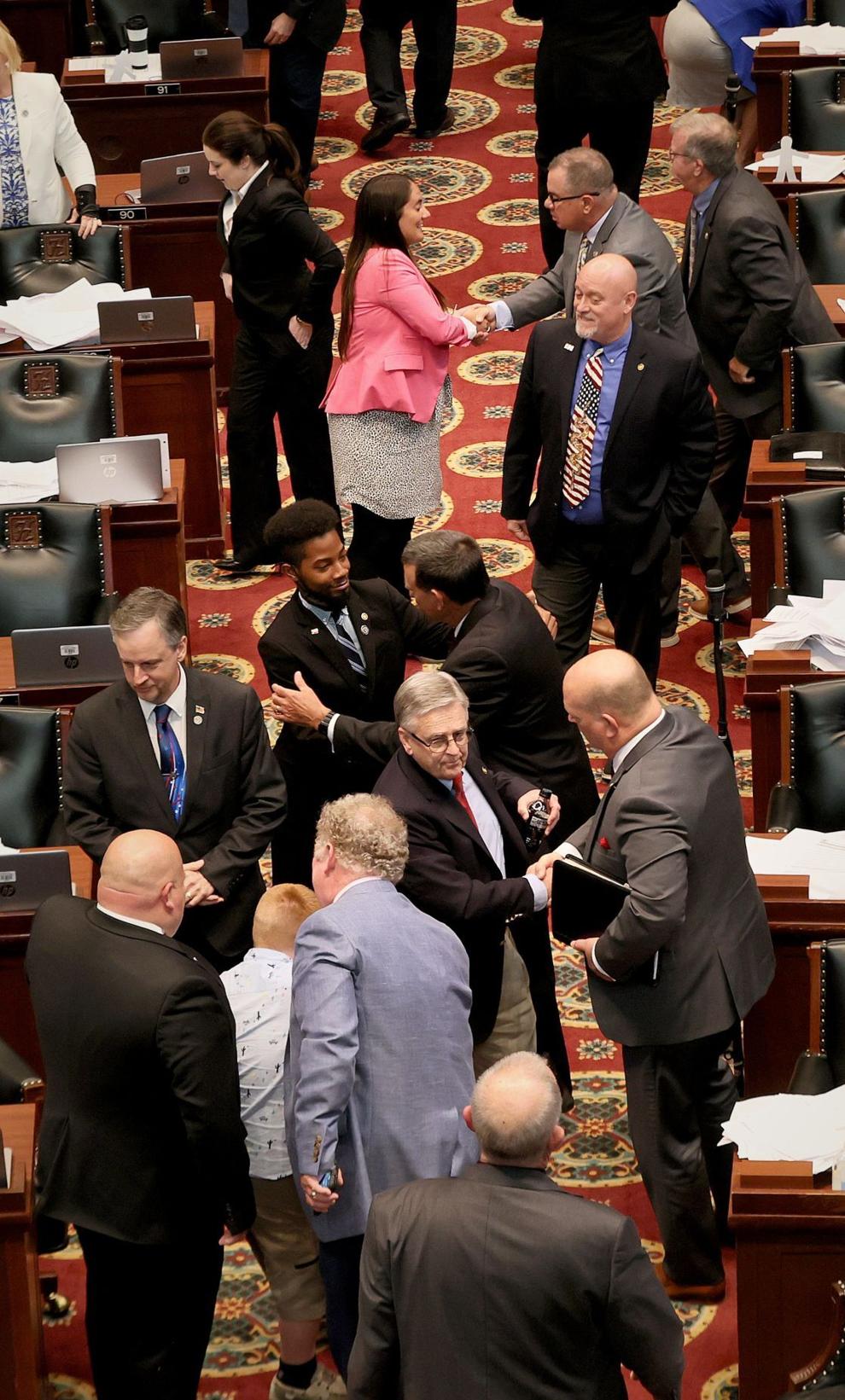 Last day of the Missouri Legislature's 2021 regular session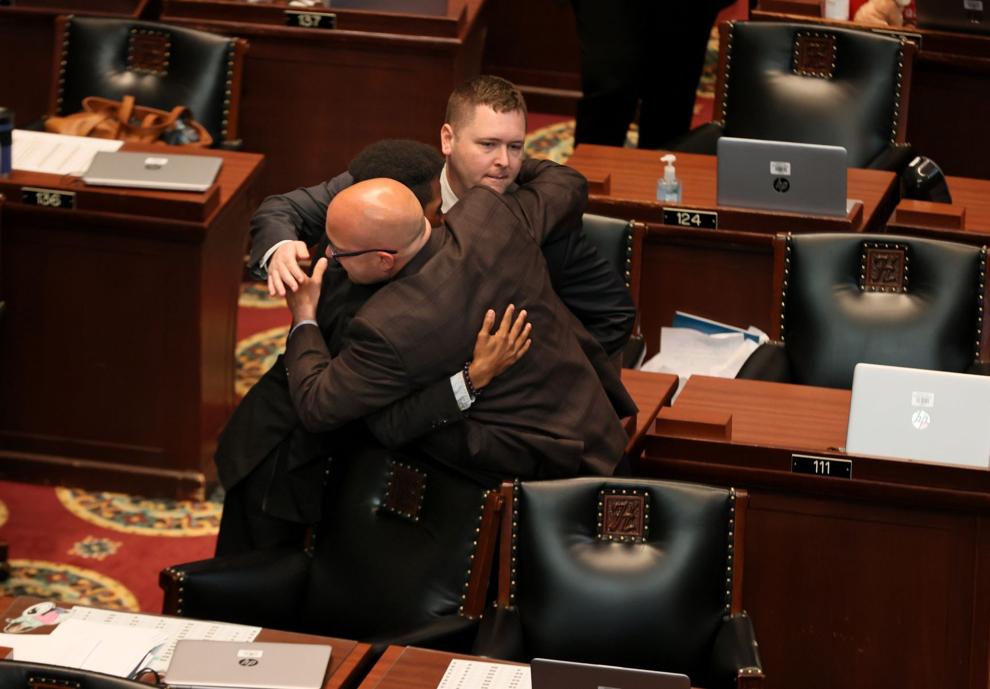 Last day of the Missouri Legislature's 2021 regular session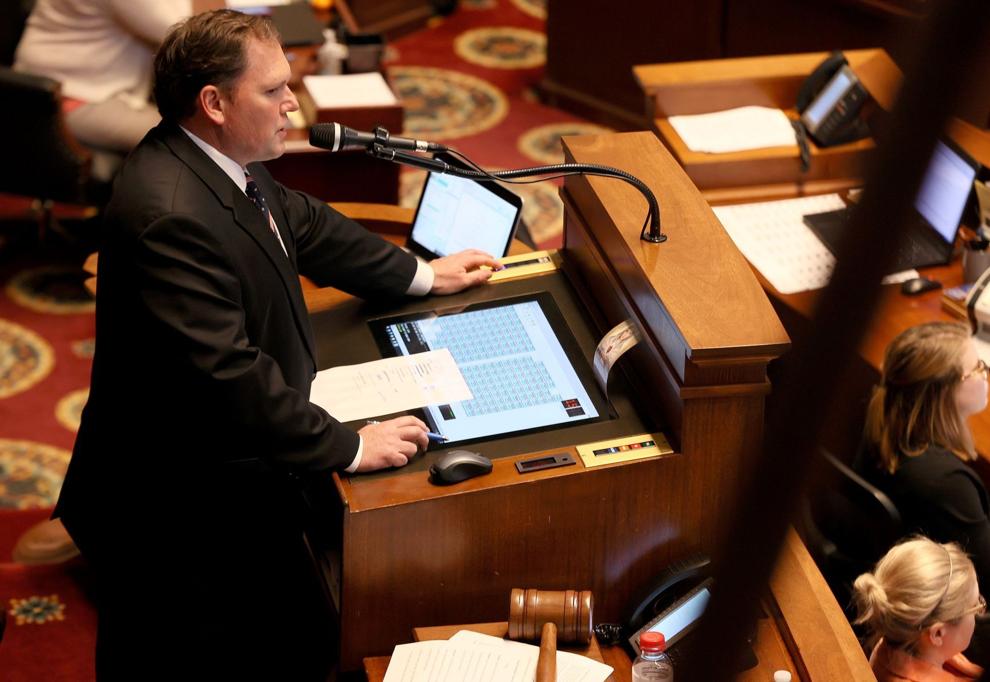 Last day of the Missouri Legislature's 2021 regular session