PINE LAWN • Perhaps the clearest sign that this tiny, impoverished community is failing came late last month when FBI agents arrested its three-term mayor — at his house in the suburbs 12 miles away.
Sylvester Caldwell had always insisted he lived on Edgewood Boulevard in Pine Lawn, in a 960-square-foot shotgun cottage with a bricked-over picture window and an iron safety gate over the front door.
He was raised in the house, and neighbors said they still see him there. But he has said in the past that his wife, Margo, did not feel safe raising their children in the 0.6-square-mile municipality, which abuts the western edge of St. Louis.
The couple bought a brick ranch house on the 14600 block of Avocado Lane in north St. Louis County in 2002. The three-bedroom, 3½-bathroom house features a wide green lawn, perfectly trimmed bushes and a swimming pool. The outdoor living space is impressive: At 1,000 square feet, their multitiered wood deck and stone patio have more space than their entire Pine Lawn house.
FBI agents set out to arrest Caldwell at Pine Lawn City Hall on Sept. 26. When he didn't get to work by noon, they went looking for him. They found him at the house on Avocado.
Federal prosecutors accused Caldwell, 54, of taking cash payoffs of at least $1,600 between December and April in return for ordering Pine Lawn police to use one particular towing company. Caldwell used code words to elicit bribes from the company owner, demanding a cup of Mountain Dew "full of foam," according to the indictment.
Caldwell pleaded not guilty on Monday to felony interference with commerce by extortion. In comments after the hearing, his lawyer, Travis Noble, said the payoffs "didn't happen." Neither Caldwell nor Noble responded to further requests for comment.
The irony of Caldwell being arrested at the home where his family lives to feel safer was not lost on Pine Lawn residents. Some had seethed for years about their mayor hanging his hat miles away from a place where one-third live below the poverty line and nearly half of households are on food stamps, and where the police rank fourth in Missouri for most tickets per square mile.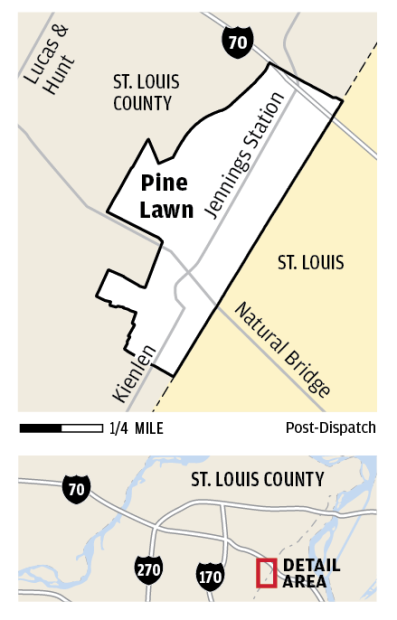 "Pine Lawn is the poster child of dysfunction in North County," said city resident Elwyn Walls, 59, a vocal critic of Caldwell and a self-proclaimed government watchdog.
Without many other sources of income, the city relied on its police and court to raise about two-thirds of the city's general revenue last year alone. A state law says cities can't get more than 30 percent of general revenue from traffic fines. Last year, Pine Lawn issued about seven summonses for traffic violations and other infractions for every city resident.
City Administrator Brian Krueger said complaints about city government, and unfair police and housing code practices come from a vocal few. He said good things happen here: The city in 2012 saw the construction of about 40 homes using state tax credits for low-income housing, and in 2011 saw the dedication of the Barack Obama Elementary School in the Normandy School District.
And there's a groundbreaking this month for a $10 million senior housing project on Vetter Place.
He acknowledged the city is tough on people claiming residency in Pine Lawn just to take advantage of school district transfer rules allowing students free tuition to attend schools outside the Normandy district.
"We're not perfect," Krueger said. But he said most city residents appreciate Pine Lawn's zero-tolerance approach to crime and property decay.
Pine Lawn's website puts the city's population at 4,204; the most recent census estimate is 3,261. The site portrays Caldwell sitting behind his desk in what appears to be the Oval Office of Gerald Ford. He is wearing a charcoal suit and crisp blue tie, clutching a pen as if poised to sign important legislation.
And there is more subterfuge: A photograph that is represented to be people receiving donations at the Caldwell Community Help Center is actually a Post-Dispatch photo taken in 2011 of people shopping at the MERS/Goodwill Outlet in St. Louis.
The city's crown jewel, Pelton Jackson Municipal Park, which features a playground, basketball court, baseball field, running track and exercise equipment, was gated and locked on Friday with "no trespassing" warnings displayed. Krueger explained the park is open only on weekends in the fall because there has been vandalism. The city can't afford a full-time park ranger.
Adrian Wright, who served as mayor for 12 years before losing to Caldwell in 2005, said he thinks Pine Lawn should stop trying to be a city.
He pointed to Caldwell's $60,000 salary and perks such as unlimited use of a Dodge Charger and free gasoline — in a city whose farthest reaches are a 15-minute walk. How can a city of 3,200 afford that, he asked?
Before the City Council enacted an ordinance in 2012 to make the mayor position a full-time job, it paid $700 a month, or $8,400 a year.
Caldwell had been fired from his 13-year job as a driver for Dillards in 2009. With Pine Lawn city attorney Donnell Smith representing him, Caldwell sued the company for race discrimination in 2010; the case was settled a year later.
Wright said the mayor should not be ordering police to write tickets to finance his lifestyle.
"St. Louis County needs to take back all these little cities," he said. "They just can't govern themselves."
Caldwell won a third four-year term last year, winning 70 percent of the votes in an election that brought out just 614 voters. Protesters who staged a rally last week said they believed there has been fraud in elections for mayor and the Board of Aldermen.
Now that could be under investigation, too. On Sept. 23, Secretary of State Jason Kander asked St. Louis County Prosecutor Robert McCulloch to look into "a potential issue with municipal elections in Pine Lawn," according to Kander's referral letter.
Walls, the critic of Pine Lawn government, said the Pine Lawn police, sometimes at Caldwell's behest, have arrested him several times on charges of disorderly conduct, obstruction of justice, trespassing, resisting arrest and traffic charges. At least twice, Walls said, he was arrested for videotaping city workers and police officers in public.
"I've been going up there finding all the dirt that they've been doing, and they're trying to silence me," he said.
But some said they still believe in Caldwell — and Pine Lawn.
Irene Ramsey, 76, who lives two doors from the mayor's Pine Lawn home, said she thinks he has been successful in attracting new residents to Pine Lawn and has helped make the city safer by cleaning up problem properties. She said she appreciates the annual summer festival in Pine Lawn that provides free food and music to residents.
Marjorie Simms, 82, who has lived in Pine Lawn since 1968, said she supports the mayor's efforts to improve the city.