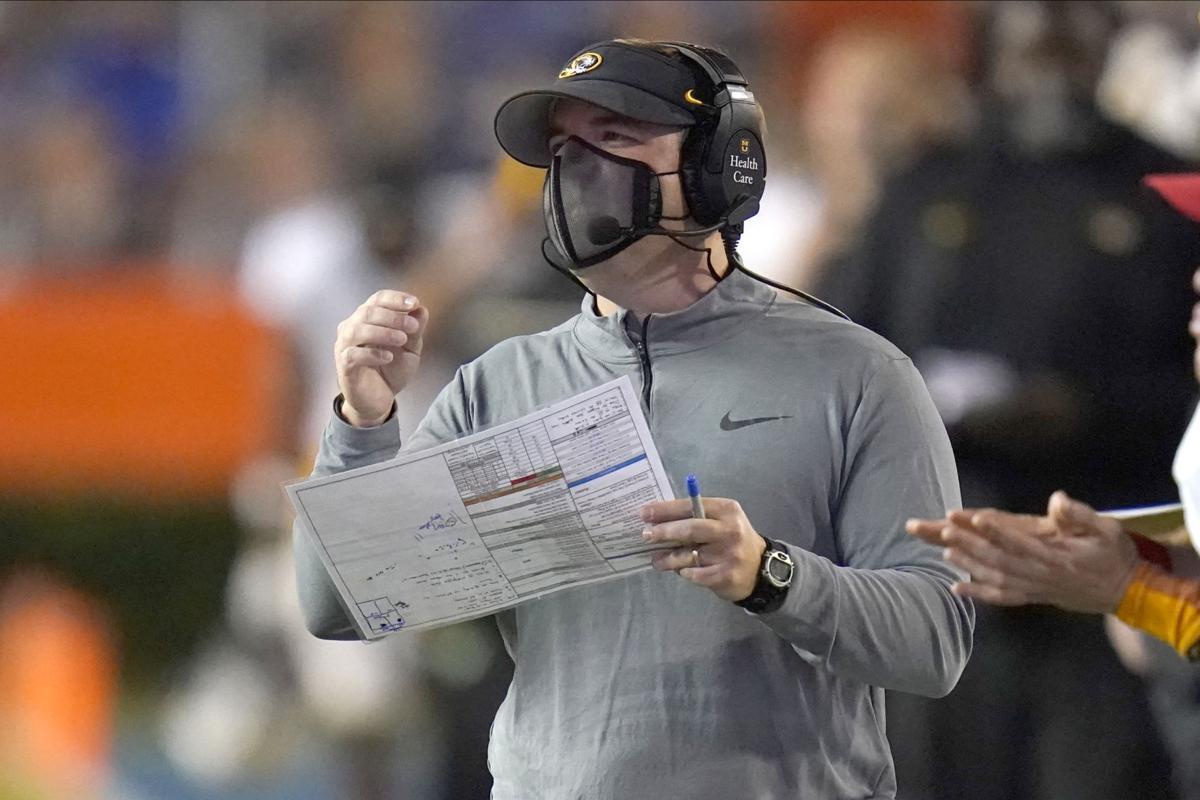 JEFFERSON CITY — Missouri college athletes may soon be able to get paid for use of their name and likeness under an amendment approved in the Missouri House.
The legislation now returns to the Senate, which can decide to accept the House's changes or request a conference to resolve differences.
If the proposal becomes law, Missouri would join a growing list of states that specify student athletes can profit from using their name, image, likeness or athletic reputation without risking scholarships or losing the ability to play sports.
Lawmakers argued the legislation could improve recruitment prospects for Missouri college sports teams, especially as almost all states in MU's football conference have made the change.
Rep. Jeff Knight, R-Lebanon, said MU football coach Eliah Drinkwitz, who was visiting the Capitol that day, had multiple recruiting prospects who were deciding between Missouri and Alabama.
Alabama allows athletes to profit from their name and likeness. Missouri does not.
That could work against MU as players weigh their options, said Rep. Kurtis Gregory, R-Marshall, a former MU football player. "When you're looking at pros and cons, this is definitely a con."
But legislators from both sides of the aisle also said the issue is one of fairness for student athletes, who devote long hours to sports to the exclusion of job opportunities and who risk permanent damage to their bodies.
Knight said college athletics is a year-round commitment and college athletes are often not allowed to have outside jobs even if they have time. But after covering room, board and tuition, scholarship disbursements can be as little as $10, he said. "That will get you almost in a movie now."
Opponents argued it is unfair to let college athletes profit while also receiving taxpayer-funded scholarships.
House Speaker Rob Vescovo, who rarely speaks on legislation, noted his opposition.
"I can't support this amendment while the students are still receiving a scholarship," he said. "It doesn't make any sense. Why should they still get a scholarship while they're making money on their likeness?"
The proposal's sponsor, Rep. Nick Schroer, R-O'Fallon, a former college athlete, countered that students receiving other taxpayer-funded scholarships aren't subject to the same employment or name and likeness restrictions.
He said removing restrictions for athletes would promote free-market principles by allowing students to profit from their own hard work.
Several representatives also argued the ability to earn additional money could help outweigh the risks of sports participation, including the risk of injury — which could lead to scholarship loss.
"They really believe that they're going to be the next great sports hero and they want to make sure that the investment that they're spending in the gym and out on the field counts," she said.
But Coleman, who said she was a nationally ranked fencer as a child, said, "The amount of investment and fatigue that comes to your body from competing at that level is not really ever made whole." While adults encourage young people to play sports "to act as if that's done without a cost is just truly astounding."
Rep. Marlon Anderson, D-St. Louis, said he was admitted to college with a full scholarship but lost part of it in his second year after becoming injured while playing.
Rep. Mark Sharp, D-Kansas City, said playing college baseball on a partial scholarship took a toll on his body.
"I have shoulder problems that will never go away," he said.
Rep. Jerome Barnes, D-Raytown, said many college athletes do not go on to play professional sports and some struggle to get a job because of their lack of other work experience. "The schools sometimes use them up for four years and then dump them on the street," he said.
The House also approved an emergency clause for the proposal, meaning it would go into effect immediately if signed by the governor.
Rep. Wes Rogers, D-Kansas City, who habitually asks bill sponsors to explain why an emergency clause is necessary, instead spoke in favor of the clause.
"This is the most important emergency clause we'll hear all year," he said. "It is absolutely imperative that we beat Alabama in football recruiting."