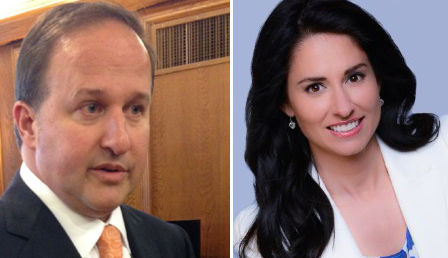 JEFFERSON CITY • The flirtatious text messages that brought about the downfall of John Diehl as Missouri House speaker last month weren't the only embarrassing disclosures that he was contending with this spring.
A 31-year-old consultant and former gubernatorial aide told police that she had an affair with Diehl last year, according to a Jefferson City police report released this week. At the time of the affair, the consultant, Brittany Burke, was lobbying the Legislature on behalf of Gov. Jay Nixon.
Burke made her statement to police April 9 of this year, when she asked detectives to investigate whether she had been sexually assaulted the night before. She said she must have blacked out after heavy drinking with politicians and lobbyists in Jefferson City. She told officers she couldn't remember a block of time that ended with her sobbing at Diehl's doorstep.
Burke wasn't accusing Diehl of misconduct. Rather, she appeared at his Jefferson City apartment after 3 a.m. upset and seeking help.
Police closed the investigation after finding no evidence of a crime. But the detailed police report — which is sprinkled with names of prominent politicos whom Burke saw or texted with that night — opens a window into the capital's nightlife, which was already drawing scrutiny after Diehl's sexually charged texts with an intern surfaced.
Scenes include: Burke paying a bar tab for herself and a lobbyist around midnight for 21 alcoholic drinks, most of them mixed with Red Bull energy drink; a state representative driving around until 2 a.m., trying to find Burke after she texted that she was hurt; and Diehl's statement to police that he repeatedly tried to get Burke to leave his apartment, finally succeeding at 5:15 a.m.
Partying, drinking and secret liaisons have long been part of the culture of the capital, some say. Legislators, staffers and lobbyists stay in Jefferson City three nights a week during the 4½-month legislative session, often attending evening campaign fundraisers and lobbyist-financed receptions.
"The culture allows for a lot of immature, sort of sophomoric behavior," said former Sen. John Lamping, R-Ladue. "There are a lot of people who revisit the college years, the fraternity years, while they're down there, and everybody knows it."
Burke now operates her own public relations and communications firm in St. Louis. She declined to be interviewed for this article, saying: "It's a very personal, humiliating and embarrassing thing I went through."
Diehl, a Republican from Town and Country, said Thursday that he had not seen the police report. He declined to answer questions about his relationship with Burke, other than to say that on the night in question, "I was trying to help somebody. That's what you're supposed to do." An attorney, he is married.
Questions about Diehl's activities had swirled in the Capitol for several weeks before that, and on April 28, the Post-Dispatch asked the Jefferson City Police Department for copies of any reports filed by Burke or Diehl.
Police Capt. Doug Shoemaker said the report was not public until this week because supervisors had to review the case. Police investigative records are closed until an inquiry becomes inactive.
Shoemaker said Diehl cooperated in the investigation, coming to the station twice in April and giving statements. Diehl "was upfront about a physical relationship he had with Burke in the past but it has since been stopped," a detective reported after interviewing Diehl on April 9.
Diehl's apparent closeness to Burke had been discussed in some Capitol circles last year; it raised eyebrows among Democrats because at the time, Burke worked for Diehl's political foe: Nixon, a Democrat.
Burke was Nixon's deputy press secretary, earning $60,000 a year, from November 2012 to January 2014. Then she was promoted to director of external legislative and policy affairs for Nixon. In that role, she helped develop and lobby for the governor's legislative agenda.
Diehl was the House majority leader in the 2014 session and his big priority was reversing Nixon's veto of an income tax cut. Diehl won that battle; the veto was overridden.
A source close to the governor's office said Burke was transferred out of Nixon's office in the spring of 2014 because of suspicions that she may have been leaking information to Diehl. Nixon's office did not respond to a question about Burke's transfer to the Department of Social Services' payroll. Burke left state government in July 2014.
The investigation into whether she had been assaulted began at 8 a.m. on April 9, when Burke called police to Room 906 at the DoubleTree hotel in downtown Jefferson City.
She told them that when she woke up, she discovered that her wrist hurt, her clothes were muddy and had blood on them and she couldn't remember most of the evening. When police asked if she thought she had been sexually assaulted, she said: "Maybe."
Burke also said she had lost her cellphone and that Diehl had it.
"Burke stated he (Diehl) had an affair with her last year but currently they aren't physically together anymore" and he is "just a friend," according to the report.
Police took her to Columbia to the University of Missouri Hospital, which compiled evidence for a rape kit, including "suspected semen." She told the hospital she had no memory of events from about 9 p.m. through 1 a.m.
Detectives later pieced together Burke's evening:
It began with what she described as a "small amount of wine" at a banking conference. Burke then had "approximately one and a half glasses of wine" at the Grand Cafe with freelance reporter Eli Yokley. A receipt showed Burke paid the cafe $166.97 at 9:21 p.m.
She and Yokley went to a bar two blocks from the Capitol, J. Pfenny's Sports Grill and Pub, where they split up. Burke was greeted by Ryan McKenna, director of the state Department of Labor and a Nixon appointee. She sat between McKenna and lobbyist Mark Habbas, an associate of lobbyist Steve Tilley, a former Republican House speaker.
Burke ordered a vodka and sugar-free Red Bull in a plastic cup. Just before midnight, she paid the $128.50 tabs for her and Habbas at J. Pfenny's that included nine vodka Red Bulls, one Jack Daniel's and 11 Jagerbombs, for her and Habbas.
As she left, she stopped to take her shoes off and a businessman named Paul Findlay, who had met her at the bar, offered her a piggyback ride. She jumped on his back, which caused them both to fall on the concrete.
Findlay told police he was in town for a reunion of the Leadership Missouri 2014 class, a program sponsored by the Missouri Chamber of Commerce and Industry. Video recordings at his hotel established that he entered the hotel alone and went to his room.
Police also established that Burke wasn't blacked out for the time period she said, because she was texting with Rep. Dave Hinson, who had also been at J. Pfenny's that night. Hinson, R-St. Clair, tried to help Burke when she texted that she was "bleeding," but he couldn't find her. Hinson told police he thinks of her as a daughter and that Burke's father was Hinson's dentist. Hinson declined to comment Thursday.
When contacted by police, Diehl brought Burke's phone to the station. Diehl also had been at J. Pfenny's that night, according to Shoemaker. Diehl told police he arrived home at 3:15 a.m. and heard Burke at the back door, "wailing." He said she wasn't making sense and that he offered to drive her somewhere or call police but she refused. He said she finally left at 5:15 a.m., walking.
Asked Thursday where he had been until 3:15 a.m., Diehl said: "I was just out with a few people. I can't sleep. I was just hanging out with a couple friends, sitting outside talking."
The police report says that Diehl declined to turn his cellphone over to police because "he did not want to inadvertently expose other information which could be professionally confidential." Instead, he let them scroll through messages from that night. Police say they did not see Diehl's text exchanges with Graham, the intern, that would surface a month later.
Detectives told Diehl that Burke had saved his contact information in her phone under the name "Fifty," for "Fifty Shades of Grey," an erotic romance novel. The speaker said that didn't mean anything to him.
Diehl told police he had had no sexual contact with Burke on the night in question, saying he eventually told her: "You need to leave, it's over."
Burke contended that Diehl was mad at her for not reporting an incident that happened two weeks earlier, in Kansas City.
In that incident, Burke alleged that a Democratic lobbyist got "touchy" with her in his car. Burke said "it was her word against his and both had been drinking," so she had let the matter drop. She said she told Diehl about this while he was in Europe on a trade mission with the governor. "Diehl was displeased that she was willing to let this go," the report says.
Police conducted their last interview with Burke on April 15. She told them "she is aware that this night was the craziest drinking experience of her life." Burke asked police to call Diehl and "tell him that she is the one that wants this report to stop."
Police closed the case for "lack of victim cooperation." Lab tests have not been done on evidence collected in the rape kit. Shoemaker said Burke "did not want the analysis done. She's basically not returning phone calls and will not talk to us anymore."