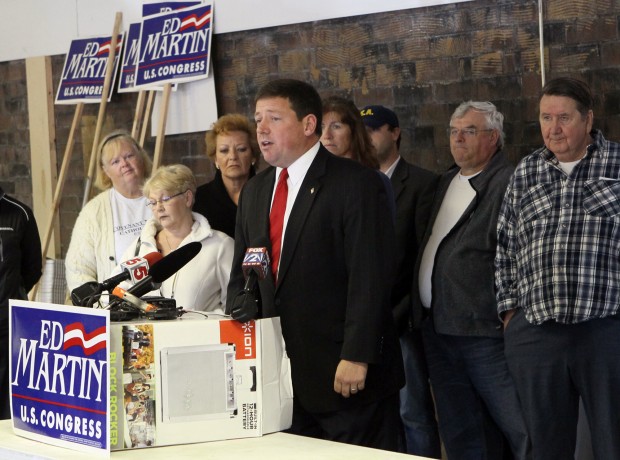 ST. LOUIS -- Ed Martin has finally thrown in the towel.
After his long and aggressive campaign against Democratic U.S. Rep. Russ Carnahan was extended by a close vote and some questions at the polls, the St. Louis Republican conceded the race to his opponent Monday.
In an email to supporters, Martin said he decided to concede after learning that the "surge" of votes tallied early Wednesday that gave the race to Carnahan were from more precincts than initially thought.
"In light of this new information, the implausibility factor evaporates along with my concerns about voter fraud in that late surge," Martin wrote. "And, although I have concerns about other incidents and improper conduct on election day, I no longer believe these concerns are sufficient to continue our review of what has occurred or delay agreeing that this election is over."
Carnahan was trailing Martin with as much as 90 percent of the vote counted late Tuesday, sparking some nail biting among Democrats worried about losing the seat held by Dick Gephardt for many years.
In the end, Carnahan won by 2.2 percent, about 4,400 votes.
Martin said he has called Carnahan to offer his congratulations.
"In the end, his team came up with more votes than ours and that is that," Martin said. "I wish him well and look forward to his finding ways to represent our interests with the new majority in Congress."
Still, Martin offered criticism for Russ' sister, Secretary of State Robin Carnahan, whose office maintains a voter database that went offline during part of Election Day.
Martin also questioned why the St. Louis Board of Election -- of which he was once chairman -- hired a private security firm that had once done work for Russ Carnahan's campaign. (The firm, Special Services, is hired frequently to provide protection at political events.)
Though the election is over, Martin said he will continue to "in the coming weeks and days...to highlight the importantce of protecting our voting system."
And why not? The next election is less than two years away.