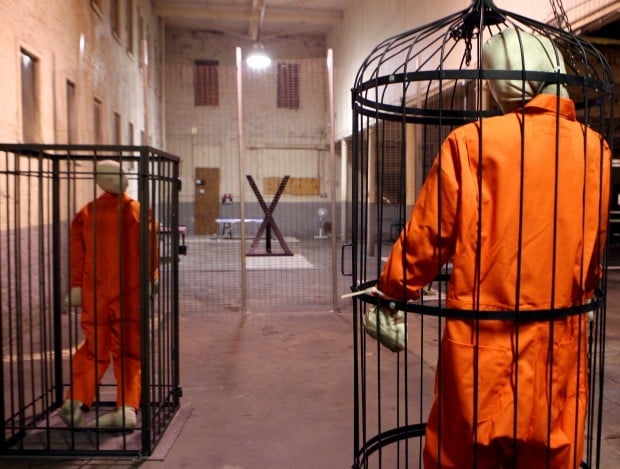 ST. LOUIS • The state's first legal for-profit whips-and-chains club is no longer quite so legal.
The Clan of the Barbarian, which billed itself as the first permitted sadomasochism club in Missouri — though that point was up for contention — lost its city occupancy permit yesterday.
The city's Board of Adjustment heard testimony from at least seven residents or business owners from south St. Louis's Benton Park West neighborhood. Each described how the activities inside the brick warehouse at 3130 Gravois Avenue were dangerous, lowered real estate values, or disturbed the neighborhood.
"Had we known that this was not a construction company looking for office space in February of this year, we would have disseminated this information much earlier," said neighborhood association President Linda Hennigh, as she gave the board letters, emails, and 77 signatures against the business. "The Clan of the Barbarian has established residence in Benton Park West through lies and manipulation."
Clan owner Joe Kriegesmann, who showed up late for the hearing, muttered audibly throughout testimony. At one point, he openly yelled profanities at an antagonist.
But as the testimony concluded, Kriegesmann himself approached the panel.
And, in what became a confusing moment for the audience and board members, he declared that he was in support of the neighbors' appeal against his club.
"I am in favor of this," Kriegesmann told the board. "If our esteemed neighborhood theatrical production today had been noticing — we've already started to move."
The board eventually voted to reverse an earlier decision by the city's first arbiter on such matters, the Board of Public Service, which granted the club an occupancy permit as an "educational" business.
Still, board members were unconvinced the club ever had a legal right to occupy the space. Building inspectors, they said, had never signed the final permits.
But all of this left neighbors confused. If club members showed up tonight or for Halloween, for instance, should they call the cops?
Alderman Ken Ortmann, who had testified against the Clan, told them to call him. He would call the right person, he said.
Kriegesmann later declined to say where his business was headed, only that it would remain in the city, in industrial zoning.
Then, this morning, he reversed course again, and told the Post-Dispatch that he was moving the offices — but not the club.