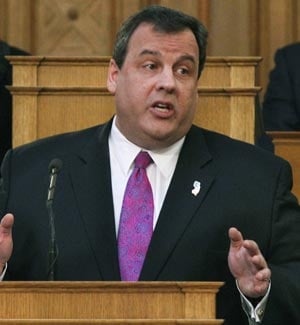 ST. LOUIS • Not only has Ann Wagner landed a big GOP name to boost her Congressional bid, the feat may also carry some extra sting for her opponent.
The Ballwin Republican announced last week that New Jersey Gov. Chris Christie — who has turned down numerous entreaties to run for president —will stump for Wagner in St. Louis later this month.
Wagner is competing for the GOP nomination in the Second Congressional District against Ed Martin, who may take special umbrage at Christie's appearance.
Martin is a Garden State native, growing up in Whitehouse Station in north central Jersey, about 35 miles southwest of Christie's hometown of Livingston.
Wagner's Sept. 27 breakfast event featuring Christie also includes a host committee with several names that have shown support for Martin in his previous run for Congress last year. 
For instance, Dan Buck, the former broadcast personality who is now head of the Cardinal Glennon Children's Foundation, emceed a trivia fundraiser for Martin in 2010.
Others on the committee for Wagner's Christie event — including former St. Louis police commissioner Chris Goodson and Republican lawyer Jack Oliver —have previously donated to Martin.
That represents part of the challenge for Martin in his second run for Congress. In 2010, he was an underdog, but he was the first viable Republican in many years to run in the seat once held by Dick Gephardt.
This year, he may very well still be the underdog. But, running in a new district, he's no longer the only viable Republican.
The night before the morning fundraiser for Wagner, Christie will headline a dinner benefiting the Missouri Republican Party.
Get Election 2020 & Politics updates in your inbox!
Keep up on the latest in national and local politics as Election 2020 comes into focus.