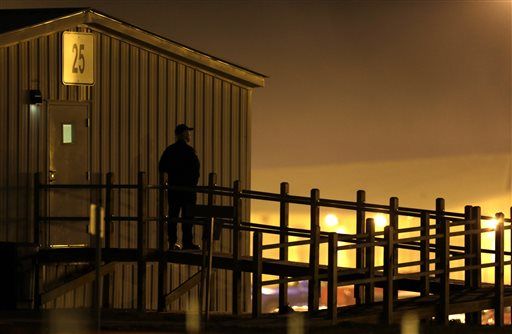 That last minute or so of a murder victim's life can be brutal: He or she doesn't get to take an injection to die, Fitzwater said.
"People look at inmates who will be executed as victims," Fitzwater said. "But the real victims have no voice because they are gone."
Currently, the state puts inmates to death through injection of a lethal drug, although the current law also allows for gas — the method by which 39 people were executed from 1938 to 1965.
The House bill adds the option of firing squad executions consisting of five law enforcement officers chosen by the state corrections director.
It is unclear whether a firing squad has ever been used in the state. However, one man was shot as a means of execution in 1864, according to the ESPY File, which details executions in the United States from 1608 to 2002.
Since 1976, more than 1,300 executions have been conducted in the United States. Only three — in Oklahoma and Utah — were by firing squad, according to the Death Penalty Information Center. Oklahoma allows execution by firing squad if both injection and electrocution are found unconstitutional. Utah outlawed firing-squad executions in 2004, according to the center.
Bill sponsor Rep. Rick Brattin, R-Harrisonville, said adding a firing squad option would offer the state another way to carry out executions in light of pharmaceutical companies' halting sale of drugs for executions.
The state recently switched to single-drug injections from three-drug injections after pharmaceutical companies stopped selling the three drugs to prisons. Missouri obtains the single drug from an unidentified pharmacy, and there have been demands to halt executions until the source is revealed.
"A firing squad would be quick and something we could do at a moment's notice," he said. "My opinion is they would suffer less than with lethal injection."
A House spokesman said House Speaker Tim Jones, R-Eureka, had been referring all bill inquiries to Brattin.
A lawmaker in Wyoming also is pushing for firing-squad executions in case constitutional problems or other issues ever prevent the state from using execution by injection.
Rita Linhardt, board chairwoman for Missourians for Alternatives to the Death Penalty, calls a firing-squad execution a "barbaric procedure."
"All (executions) are barbaric, but (a firing squad) goes even beyond that," Linhardt said. "With the evolving standard of decency, the people of Missouri would not want to do it."
But both Brattin and Fitzwater said people needed to think about the real victims in these scenarios.
The inmates "are getting off easy compared to the heinous crimes they committed," Brattin said.
Neither was certain the bill would go anywhere in the House.
This bill "is a statement to let people know we're serious about (the death penalty)," Fitzwater said.
News about Brattin's bill comes just before a hearing Tuesday in Jefferson City, where state legislators will investigate claims that the Department of Corrections used an unlicensed pharmacy to make its lethal injection drug and executed a prisoner before his appeals ran out.
Concerns about the department are reflected in a bill filed by Rep. John Rizzo, D-Kansas City, House minority whip. The bill would establish an 11-member commission to study the state's death penalty procedure.
Missouri's next execution is scheduled for Jan. 29, when Herbert Smulls, of St. Louis, is to be executed by injection for the murder in 1991 of Chesterfield jeweler Stephen Honickman. It would be the state's third execution since November.