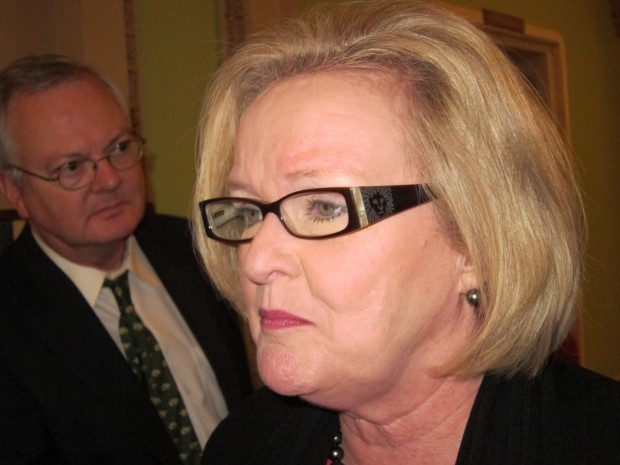 WASHINGTON -- Sen. Claire McCaskill wants to know if the tea party is listening to Republicans, and vice versa.
Amid the posturing and hard bargaining in Washington over extending tax cuts, McCaskill, D-Mo., said this afternoon that if Republicans sacrifice the middle class in order to protect the wealthy "it really is time for people in America to take up pitchforks."
"And all those people out there in the tea party that are angry about the economics of Washington, they really need to look at this. When you pull back the curtain (you) realize that you've got a Republican Party that's not worried about the people in the tea party," she said.
"They're worried about the people who can't decide which home to go to over the Christmas holidays. They're worried about the people who might take a jaunt to Europe for the new year. They're not worried about those people who are packing those town halls, because those folks are the middle class," she said.
McCaskill was speaking in the Capitol alongside six other Democratic senators as negotiations proceed over extending tax cuts scheduled to expire at year's end. The White House has begun negotiating directly with Senate Republicans.
Republicans have insisted that the tax cuts be extended for all income groups, not just for families with combined incomes under $250,000, as Democrats want.
After negotiations between the parties fell apart, Democrats are planning votes on Saturday that would limit the cuts to the first $250,000 of income and then on setting the threshold at $1 million.
McCaskill is among Democrats who have suggested that extending the cuts for people making up to $1 million could be an acceptable compromise.
Senate Minority Leader Mitch McConnell, R-Ky., said on the Senate floor this afternoon that Democrats' refrain about protecting the middle class is a "distraction."
"This is what those in power often do when their policies don't work. They search for a target. And the targets Democrats have decided on are Republicans and small business owners," he said.
At the Capitol news conference, Sen. Charles Schumer, D-NY., picked up McCaskill's theme about the tea party.
"The Republicans are not for the tea party. They're for people with sterling silver tea services," he said.