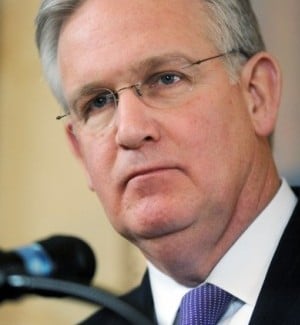 Moving the primary back would allow the state to be in compliance with rules established by the national Democratic and Republican parties.
The veto, one of seven Nixon issued Friday, had nothing to do with the presidential primary, he said. The reason he rejected the bill was because of two other provisions that he deemed unacceptable.
His first objection focused on a section requiring a special election to fill vacancies for statewide offices. Currently those vacancies are filled by an appointment by the governor. Nixon said the cost to implement this provision would simply be too high.
He also opposes a part of the bill that he said would have eliminated provisions for write-in candidates for municipal elections.In communities that have a population of less than 35,000, the bill would have cancelled elections for local offices if the number of candidates equaled the number of open positions.
Matt Teter, executive director of the Missouri Democratic Party, praised Nixon's veto.
"We join the governor in support of moving Missouri's presidential primary back a few weeks to comply with the rules of both political parties, but unfortunately the Republican legislature was more concerned with sneaking provisions into a bill to achieve their narrow political objectives," he said.
Missouri Republican Party Chairman David Cole called Nixon's decision an "extraordinarily irresponsible and shortsighted move." If Missouri's presidential primary remains in February, a portion of the state's presidential delegates may not be counted at the Republican National Convention in 2012.
"This is yet another example of Nixon's absolute refusal to lead," Cole said. "He had ample time to express his concerns as this bill was being crafted, debated, and passed by an overwhelming number of Republicans and Democrats.  Instead, he chose to remain on the sidelines — and Missourians will suffer."
Nixon also vetoed a transportation bill that included a provision that would have prevented local governments from restricting billboards on certain commercial and industrial properties. Nixon said in a letter explaining his veto that the bill would "limit local government efforts to preserve community character and promote community values."
"It is unfortunately all too common for poorly located billboards to define an area in a  manner anathema to the morals and values of a local community," Nixon said.
The legislation also allows more people to carry a concealed firearm inside the Missouri Capitol building. Currently, only legislators are allowed to carry guns, but the bill expands that privilege to include legislative staff members and statewide elected officials as well.
In 2003, Missouri became one of the last states to allow residents to obtain a permit for carrying a concealed weapon, a change that required overriding a gubernatorial veto.
The deadline for Nixon to act on bills still awaiting his signature or veto is July 14.
A full list of the bills Nixon signed and vetoed Friday is available here.