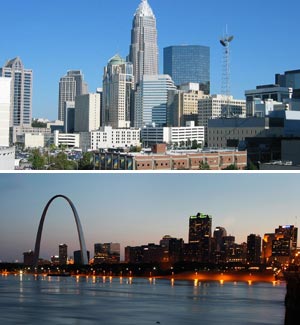 ST. LOUIS • President Barack Obama will not kick off his bid for a second term under the Arch.
The Democratic National Committee announced Tuesday that Charlotte, and not St. Louis, will be the site of its 2012 convention, ending with a thud an all-out effort by city officials here to land the event, and the thousands of visitors and national attention that comes with it.
St. Louis and Charlotte were the top contenders among four finalists, a list that also included Cleveland and Minneapolis.
In the end, the decision may have come down to politics. While St. Louis showcased its facilities and civic ardor, North Carolina is viewed as key to Obama's chances to return to the White House.
"The news today from the Democratic National Committee announcing Charlotte as the site of the 2012 Convention was not what we all wanted to hear, but we offer sincere congratulations to Charlotte and look forward to being there in September of 2012," said Brian Wahby, a St. Louis Democrat who helped lead the city's convention bid.
St. Louis crafted a bid that organizers believed was both politically and technically strong. For Democratic enthusiasm, they pointed to Obama's October 2008 rally at the Arch, which attracted between 80,000 and 100,000 supporters — it was the lead photo on the city's bid packet.
The city's surplus of downtown hotel space, once a burden, was "like gold," said Kitty Ratcliffe, the city's tourism chief. The city pitched three arena-sized facilities — Busch Stadium, Scottrade Center and the Edward Jones Dome — all within blocks of one another.
Forest Park and the Arch grounds were also possible sites for convention activities.
The Democratic site team that visited St. Louis in July was treated to a concert by local music icons Chuck Berry and Nelly, feted at a gourmet lunch at the Jewel Box, and showered with gifts. The team left St. Louis officials feeling great about their chances of winning the convention sweepstakes.
From a narrative perspective, officials framed a St. Louis convention as an opportunity for Obama to launch his second term in a city that was emblematic of the nation as a whole, with the exact type of voters he'll need to win back to clinch four more years in the White House.
"I think this was a huge missed opportunity for the DNC to hold the convention in a swing state that's in the heartland of swing states," U.S. Rep. Russ Carnahan, D-St. Louis, said Tuesday.
Jeff Rainford, chief of staff to Mayor Francis Slay, said the decision came down to the wire — Democrats went so far as negotiating a contract with the city that was written but never signed.
"They did take St. Louis seriously. They did take a hard look at St. Louis," Rainford said. "We don't think they made up their mind until the very end."
That St. Louis was able to compete for the convention speaks volumes about the city's own comeback, Rainford said.  St. Louis "should be very, very proud," Rainford said.
"Three or four years ago, we would have never been considered for any event like this," Rainford said. "Now we are in the final two."
Rainford said the DNC's choice to go to Charlotte came down to where Obama could get the biggest campaign boost. Missouri, which will lose a delegate in the next electoral college, could not offer the same electoral advantage as convening in North Carolina.
"This wasn't a defeat for St. Louis," Rainford said. "There were considerations out of our control."
The reasons for picking Charlotte were outlined Tuesday in a letter from First Lady Michelle Obama to supporters in North Carolina.
"Charlotte is a city marked by its southern charm, warm hospitality, and an 'up by the bootstraps' mentality that has propelled the city forward as one of the fastest-growing in the South," the First Lady wrote. "Vibrant, diverse, and full of opportunity, the Queen City is home to innovative, hardworking folks with big hearts and open minds."
"And," she wrote,"great barbecue."
Dan Ponder, professor of political science at Drury University in Springfield, Mo., said holding the convention in Charlotte makes sense for Democrats trying to establish a foothold in new electoral territory. Obama was the first Democratic presidential candidate to win North Carolina since Jimmy Carter in 1976.
"To me, that's the main focus of Charlotte's appeal," Ponder said. "Getting down into the South."
Missouri, meanwhile, turned against Democrats in 2010. After Obama lost the state by a slim margin in 2008, Democrat Robin Carnahan was trounced in her bid for U.S. Senate by more than 13 percentage points.
The White House's decision to pick Charlotte was forecasted last month by U.S. Sen. Claire McCaskill, the president's closest ally in Missouri. McCaskill said she had heard nothing from the president's office about the decision, which signaled to her Charlotte was the favorite.
"I know that the president feels strongly about campaigning in the South," McCaskill said on Jan 18.
On Tuesday, she issued a statement she was "bitterly" dissapointed about the decision.
"I'm incredibly proud of the bid put forth by St. Louis and how bipartisan the support was," McCaskill said. "I want to thank the business community and all the local leaders, especially Mayor Slay, for their tireless efforts on behalf of the city.  This was an effort we should all be proud of."