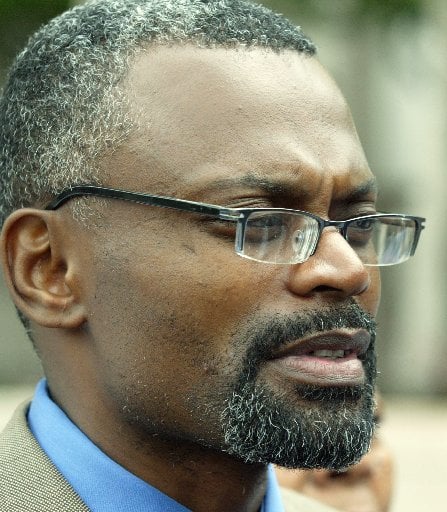 ST. LOUIS • A former state representative, recently released from federal prison on corruption charges, has been fined more than $500,000 for a range of campaign violations dating back several years.
The fine is likely the largest ever issued by the state's campaign watchdog agency.
St. Louis Democrat Talibdin "T.D." El-Amin, who left the state House in 2009 after pleading guilty to soliciting a $2,100 bribe, controlled a web of campaign committees before he went to prison.
From those committees, according to the state Ethics Commission, El-Amin:
Issued thousands of dollars in payments to himself
Authorized repeated cash withdrawals, which are not allowed under state campaign law
Paid thousands of dollars to family members, including his brother, mother and wife
Did not report several questionable campaign payments, including expenses at a casino, massage parlor and luxury hotels.
Reached on Tuesday, El-Amin, 40, described the Ethics penalty as an "administrative charge."
"I don't really have a comment," El-Amin said. "Write what you feel like you need to write" 
The findings were released earlier this month after a Sept. 9 hearing in Jefferson City. The findings date back to 2006, when El-Amin ran a successful campaign to replace his wife, Yaphett, in Jefferson City. 
In five separate orders, the Ethics Commission found El-Amin failed to properly account for tens of thousands of dollars in contributions and expenses, treating various campaign accounts like a cash machine he controlled. 
For instance, in January 2008, El-Amin closed out a bank account for the 57th District Legislative Committee with a $15,000 cashier's check made out to himself.
In August 2006, another fund, the 1st Ward Democratic Organization, wrote two checks to El-Amin for a total of $950, and wrote a third $7,500 check for cash.
A year later, the same committee issued a $3,290 payment to El-Amin that was not disclosed on campaign finance forms.
State law forbids campaigns from cash transactions of more than $50, but El-Amin's campaign committees made frequent ATM withdrawals, sometimes more than one in the same day.
On March 13, 2006, four ATM withdrawals totaling about $300 were made from El-Amin's main campaign account.
El-Amin repeatedly filed "limited activity" reports with the campaign commission, although his campaigns were actually spending thousands of dollars, some on expenses that do not seem political.
The 1st Ward Organization, whose bank account was controlled by El-Amin, spent $117 at Massage Envy, $528 at Jon's Pipe Shop in Clayton and $200 for an ATM withdrawal at Harrah's Casino in Maryland Heights.
Other undisclosed expenditures the Ethics Commission found when it examined bank records include money spent on hotels (Ritz-Carlton, the Westin in Chicago), clothes (Men's Warehouse, Levine Hat Co.) and expensive meals (Mike Shannon's, Drunken Fish.)
The Ethics Commission also showed that El-Amin's family was on the campaign payroll: El-Amin's wife and mother were paid more than $5,000 each by the 1st Ward committee. Another campaign fund gave El-Amin's brother nearly $2,400 for a "Golf Promo/Back to School Promo."
In all, the Commission charged El-Amin with 38 counts of campaign violations, and levied a fine of about $527,000. If El-Amin files the proper campaign paperwork within 60 days — a tall order considering the scope of the violations — he would be eligible for a reduced fine of $68,000.
The full amount eclipses the $350,000 fined issued last year to another former state representative, Rodney Hubbard, who was a close ally of El-Amin in Jefferson City.
At the time, an Ethics Commission official said Hubbard's fine was the largest in recent memory.
El-Amin was considering a run for State Senate when, in September 2009, he admitted in federal court to accepting bribes from a gas station owner who purported to need El-Amin's help with City Hall.
The businessman was actually cooperating with the FBI, which secretly recorded El-Amin seeking the bribe. El-Amin was released from federal prison in April.