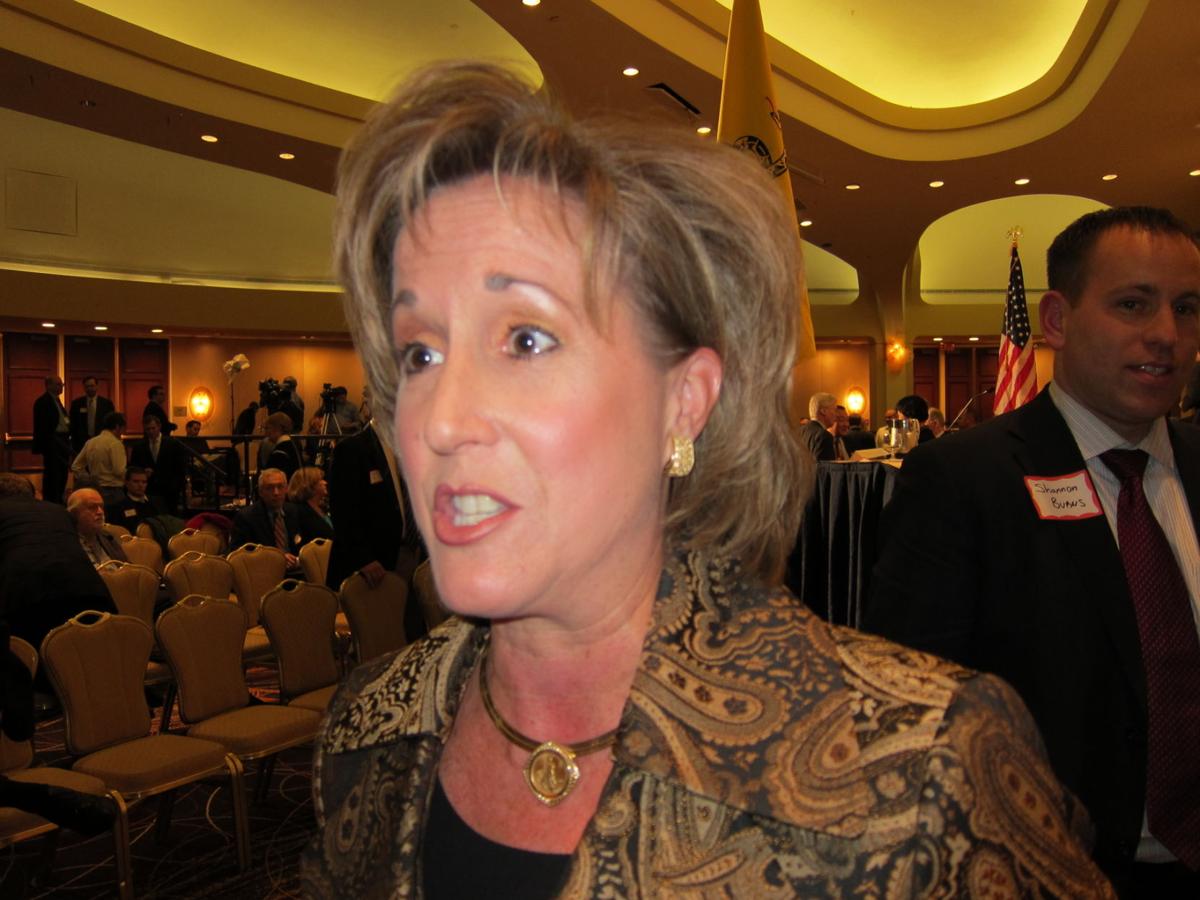 5:20 p.m.: On the seventh ballot, Wisconsin GOP head Reince Priebus tallied 97 votes of the 168 Republican National Committee, winning election as chairman.
Update at 4 p.m.  After scoring just 17 votes in the sixth round, Ann Wagner quit her bid to become chairman of the RNC. From the dais she said: :It is time for htis committee to heal and unify and remember that it is our job to beat Barack Obama in 2012."
Wagner released her supporters telling them to support who they felt they needed to "in their hearts."
After Round Six in this marathon vote, Ann Wagner's candidacy hung by a thread. Her vote total dropped by 11 to 17 while Reince Priebus neared the 85 votes needed to win. The tally: Priebus 80; Saul Anuzis 37; Maria Cino 34; Wagner 17.
After Round Five, Maria Cino did indeed pick up some of Michael Steele's supporters after he quit ,which he wanted. But so did Reince Priebus. Ann Wagner's momentum appeared to have stalled as she dropped back to last in what is now a four-candidate field. The tally: Priebus 67; Cino 40; Saul Anuzis 32; Wagner 28. Will the sixth ballot be the finale, as it was two years ago?
Steele quits: "Two years, we had a good time... But it's very clear that the party wants to do something a little different, maybe a little bit better."
He added: "At this time I will step aside for others to lead... Despite the difficulties, we won."
He says he will release his supporters and wants them to support Cino -- potentially a blow to Wagner's chances.
In Round Four of the voting, Reince Priebus added to his lead with 58 votes, 27 short of what he would need to get elected. Ann Wagner's momentum seemed to stop as she slipped to 28, four fewer than on the previous ballot. Steele's decline continued; he got just 28 votes and his re-election appears highly unlikely. Saul Anuzis added three and Maria Cino added one. Will Steele drop out? If so, where will his votes go?
Wagner tied for third place in fourth-round voting:
Priebus: 58, Cino, 29; Steele 28; Wagner 28...
In the third round of balloting, Ann Wagner showed marked improvement with 32 votes, five more than the second round. Michael Steele continued to drop, losing four votes. Maria Cino also declined, polling 28 votes, two less than the second round. Saul Anuzis was last with 21 votes.
Reince Priebus continued to lead with 54 votes, but Wagner added the most. Could be coming down to a Priebus-Wagner contest.
Wagner reportedly met with Steele just before the fourth-round vote, which is still going on now. We're not sure what that means. But if Wagner kept all her votes and gained all of Steele's, she'd have more than Priebus. Stay tuned....
Wagner is third in third round with 32 votes, only one vote behind Steele. Priebus still leads with 54.
Fourth round voting beginning now.
Ann Wagner, a former Missouri GOP head, faced difficult odds in trying to gain support in the national GOP committee, a club-like organization in which personal relationships count heavily.
On the first ballot, she polled last of the five contestants with 23 votes but improved to 27 in the second round.
Steele looked in jeopardy after seeing his vote total drop by seven to 37 after the second round. Republicans appeared likely to replace Steele after getting dismal budget reports before the vote showing the party $21.3 million in debt. Much of the deficit was attributed to the departure of well-heeled donors from the party's contributor ranks.
With the third round about to begin, Priebus looked to be in the strongest position with 52 votes. Cino tallied 30 in the second round with Anuzis dropping to last with 22. A winner will be declared when one of the candidates tallies 85 votes. It took six rounds of voting for Steele to win election in 2009.
Michael Steele holds onto second place after the second round of voting today in his bid for re-election as chairman of the Republican National Committee.
However, Steele's tally dropped sharply, down from 44 votes in the first round to 37 in the second.
Reince Priebus boosted his vote tally by seven, to remain in first place with 52 votes. The rest: Steele 37, Cino 39, Wagner 27, Anuzis with 22.
There will now be a third round, when the big shifts normally take place.
WASHINGTON • Republicans gathered at their winter meeting plan to elect a new national chairman today, and St. Louisan Ann Wagner was among five candidates feverishly rounding up supporters with competing proposals of how to lead GOP into the 2012 presidential election season.
Wagner volunteers on Thursday distributed bright red booklets on her behalf in a suburban Washington convention center with Wagner's promise to immediately begin "generating desperately needed resources." Wagner announced another border-state endorsement, from former Kansas party chair Kris Kobach. U.S. Sen. Jerry Moran, R-Kan., a tea party ally, cited Wagner's "conservative values and principles" among his reasons for endorsing her earlier this week.
Many of the 168 Republican National Committee members who will cast secret ballots have said they aren't inclined to give Michael Steele another two-year term. He's the first African-American to head the GOP.
Wisconsin GOP chairman Reince Priebus, once a Steele loyalist, leads in a tally of public endorsements from those who will vote. Others besides Steele and Wagner in the contest are former Michigan Republican chairman Saul Anuzis and longtime party operative and Bush administration official Maria Cino. Cino enjoys the support of newly installed House Speaker John Boehner, R-Ohio, as well as from former Vice President Dick Cheney.
In their final appeals, Wagner and the others are stressing the need to further open up the GOP to the grass-roots. Priebus supporter Henry Barbour, a committeeman from Mississippi, said in an interview that Priebus "is a uniter, not a divider. He will work with the tea party."
Multiple ballots are likely and party officials expect the voting to extend into Friday evening.
For the latest developments on the RNC selection, click here.
Our daily political newsletter featuring local and national updates and analysis.