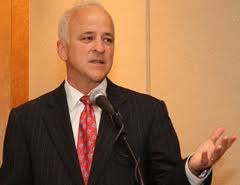 WASHINGTON • The head of the White House faith office under George W. Bush warned today that the Obama administration has created a lasting political issue with a mandate requiring employees of religion-affiliated institutions to have access to birth control.
Jim Towey, who was director of Bush's White House Office of Faith-Based and Community Iniatives, said he envisions a long-running rebellion to the new government rule that will play out in every branch of government this election year.
"The reality is that Congress is going to look at this. It's going to be in the presidential campaign. And it's going to be on the dockets of federal courts around America. So I think it's just getting started now," he said.
Towey, who is now president of Ave Maria University in southwest Florida, spoke on the occasion of his small Catholic school filing a lawsuit today in federal court seeking relief from the Health and Human Services regulation announced in January and modified earlier this month.
The health care mandate has generated a firestorm among many Catholics and religious conservatives. On the other side, Democrats and activists frame the opposition as an effort to impede birth control.
In Congress, the debate is swirling around Sen. Roy Blunt's legislation on behalf of religious institutions. He is seeking a vote when Congress returns from recess next week on his amendment to highway legislation that would permit people or institutions to opt out of federal health care mandates on religious grounds.
Towey told reporters this morning that he met frequently with Blunt during his years in the White House when Blunt was a GOP House leader from Missouri.
"I commend Sen. Blunt," he said. "I'm not suprised that he sees the danger, too, that this new HHS rule imposes."
Even as he wins endorsements, Blunt's amendment is being targeted by Democratic women and others eager to keep the issue alive. At first, the Obama administration appeared to have stumbled by triggering a pitched debate that drowned out recent good news about the economy.
Now, some see opportunity. The White House calls Blunt's amendment "dangerous." EMILY's List, the Democratic aligned pro-abortion rights group is running a cable and web ad campaign on the issue. 
Sen. Patty Murray, D-Wash., who chairs the Democratic Senatorial Campaign Committee, sent out a fundraising appeal on Friday asserting that Republicans are trying to take America back to the 1950s.
"When they come back, Senate Republicans could keep pushing forward on the Blunt amendment, which would let any employer deny coverage of any health care based on moral convictions," Murray's letter read.
Blunt argues that his critics spread misinformation and that exemptions in other laws guaranteeing religious liberty haven't been misused.
The Ave Maria University suit is the fourth filed by the Becket Fund, a public interest law firm that says its mission is protecting free expression of religious traditions.
Towey said Ave Maria is prepared to stop providing health insurance altogether for its 129 employees even at the risk of being fined $2,000 yearly per employee, penalties prescribed in the new health insurance law.
"As an American Catholic, I am in disbelief that I have to choose between being a good Catholic and a good citizen," he said.