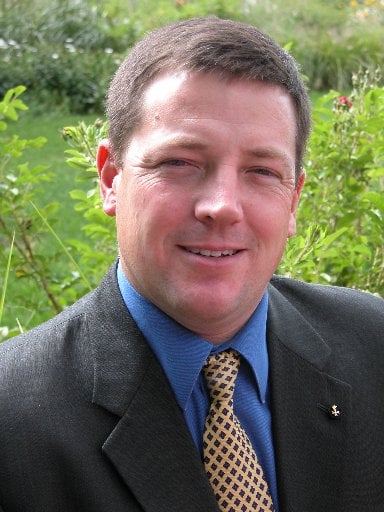 ST. LOUIS • After less than four months running for U.S. Senate, Ed Martin has decided to run for the House again.
Only this time, at least for the moment, he won't be able to vote for himself.
The Republican lawyer announced on Monday that he is withdrawing his bid to challenge Democratic U.S. Sen. Claire McCaskill.
Instead, he will run in the newly redrawn Second Congressional district, which includes parts of St. Louis, Jefferson and St. Charles County.
What it doesn't include, however, is Martin's home in St. Louis Hills.
Members of Congress are required only to live in the state —and not the actual district — they represent.
However, those who live in one district and run in another are susceptible to accusations of political opportunism. Martin's announcement gives no indication that he plans to change addresses — it says only that "Ed is acknowledging that 'all politics is local.'"
Even so, Martin might not be the only city dweller looking to run in the suburban Second District.
St. Louis Democratic U.S. Rep. Russ Carnahan — whose district was merged with another in the redistricting map approved in Jefferson City last week — is contemplating running in the Second, as well.
Carnahan and Martin, of course, are familiar foes —Martin fared better than any Republican in decades in the staunchly Democratic Third District, which will be eliminated in 2012.
But when he ran last year, Martin did not have a formidable primary challenger. That is very much not the case in his latest venture.
Former GOP state party chairwoman Ann Wagner — a Ballwin resident who does live in the district — formed a Congressional exploratory committee last month.
Wagner would look to have the support of the party establishment —she chaired U.S. Sen. Roy Blunt's successful election campaign, and was an ambassador under, and major fundraiser for, President George W. Bush.
Martin, though, appears to believe that his Tea Party conservative credentials will help him appeal better to the party's base, which could bode well in a primary.
Either way, Martin's entrance to the race seems to further crystallize the GOP field against McCaskill. Wildwood Republican U.S. Rep. Todd Akin —the current inhabitant of the Second District — will almost certainly seek the party's nomination for Senate. 
He'll be joined in the primary by Rolla Republican Sarah Steelman, the former state treasurer.