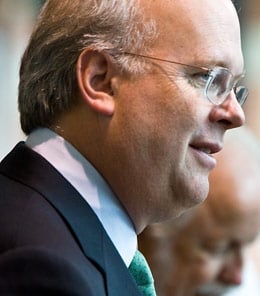 ST. LOUIS • In need of some help to get his campaign for governor back on track, Peter Kinder got a big boost from a big GOP name this week.
Republican strategist extraordinaire Karl Rove was in Cape Girardeau on Wednesday night, headlining a fundraiser for the lieutenant governor that attracted over 200 people.
More than the $160,000 raised by the event — a little less than half of which was collected last quarter, when the invites went out — Rove's presence provided a much-needed morale boost for Kinder's campaign.
Kinder's aspirations to challenge Gov. Jay Nixon in 2012 have been stung by a series of unwanted headlines about strip clubs and "pantless" bars.
Just last week, Kinder lashed out at the "self-described kingmakers" attempting to influence the race. Rove's presence seemed to indicate that it was still OK for establishment Republicans to embrace Kinder's bid.
The fundraiser, which his campaign says is the largest event thrown for Kinder in his hometown, was held at the home of a Southeast Missouri cardiologist.
Rove was introduced by David Limbaugh, brother of radio personality Rush Limbaugh, who, like Kinder, is from Cape Girardeau.
The Kinder campaign has another high-profile backer coming in later this month. Mississippi Gov. Haley Barbour, who flirted with a run for president, will be featured at a Sept. 20 benefit for Kinder in Springfield.