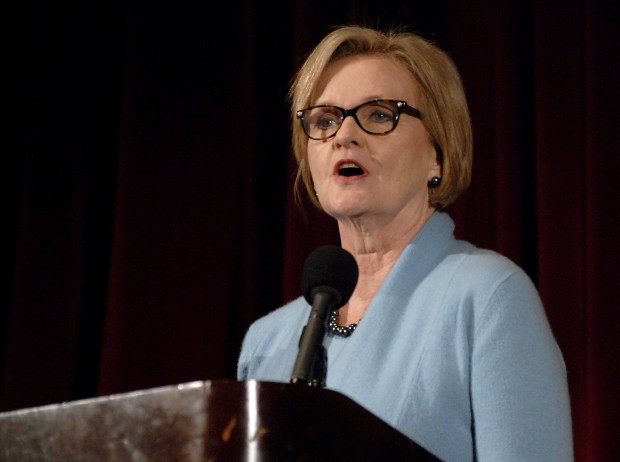 ST. LOUIS • U.S. Sen. Claire McCaskill is receiving extra security after a comment at a recent Tea Party rally that has been construed as a potential threat.
At an event Thursday in Springfield, Mo., Scott Boston, a St. Louis area activist who has been involved with the Tea Party, told the crowd "we have to get Claire McCaskill out."
"We have to kill the Claire Bear ladies and gentlemen," Boston said. "She walks around like she's some sort of Rainbow Brite Care Bear or something but really she's an evil monster."
The comment was seen as ominous enough to prompt the U.S. Capitol Police to seek extra protection for the Missouri Democrat.
Police in Kirkwood, where McCaskill lives, confirm they were asked by the Capitol security agency to perform stepped up patrols around her house.
McCaskill has also had extra security tailing her at public appearances.
The senator's office in Washington declined to comment on the situation, citing a desire not to discuss details of the senator's personal security.
Audio of the "Claire Bear" comment was provided to the Post-Dispatch by the Missouri Democratic Party after a reporter inquired about the threat.
Both parties routinely have "trackers" recording opposition appearances.
The event Thursday was hosted by a group, The Tea Party Express, which is endorsing one of McCaskill's GOP rivals, Sarah Steelman.
Steelman was at the rally Thursday.
According to the audio, Boston's call to "kill the Claire Bear" was met by mild applause.
On Tuesday, Boston said he did not intend the comment as a threat — only a metaphor for puncturing McCaskill's political persona.
"I was comparing her to like a giant Care Bear," Boston said in an interview. "If I said anything, I said, 'We need to kill the Claire Bear,' this idea that Claire McCaskill is this wonderful person running around doing great things for us."
Boston said that "in no way do I think the senator should be at all harmed."
"I may disagree with the words Mr. Boston chose in his statement," Steelman said in her own statement, "but I understand his frustration and I emphatically support his right to express his views."
However, fellow Republican Senate hopeful John Brunner — who is aiming to defeat Steelman in August for the right to face McCaskill in November — offered a firm repudiation.
"This type of rhetoric is unconscionable and I reject this kind of politics," Brunner said in a statement. "Comments like these have no place in this U.S. Senate campaign, or any other campaign in this country, because they don't represent American values."