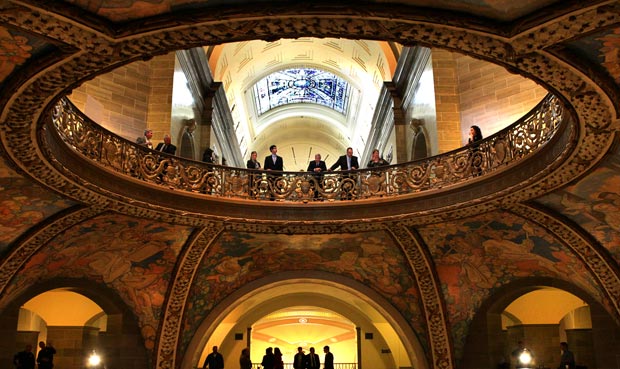 JEFFERSON CITY•The Missouri Legislature has voted to overturn Gov. Jay Nixon's veto of legislation that allows religious and moral exemptions to covering contraception in health insurance policies.
The override attempt – the only one the lawmakers pursued in their annual veto session today –squeaked by the House in a 109-45 vote this afternoon.
The override had to have 109 votes to pass the chamber, which approved the bill in a vote of 105-33 in May. The override passed the Senate in a 26-6 vote earlier today.
The contraception bill was pushed in response to a new federal mandate that requires religiously affiliated institutions, including universities and hospitals, offer birth control coverage in employee health plans.
Supporters of the bill and today's veto override argued that it would protect religious freedom.
Sen. John Lamping, a Republican from Ladue who sponsored the original bill, said businesses and organizations could decide to drop health care coverage for employees to avoid the federal contraception coverage mandate.
"Employers are not mandated to offer health care coverage," he said. "We're seeing this happen."
Opponents argued that the bill is not necessary and could spur lawsuits against the state because it conflicts with federal law.
"It's unnecessary, and frankly I'm upset that we have to spend time on it," said Sen. Jolie Justus, D-Kansas City.
The legislation would allow employers to choose not to cover contraception, abortion and sterilization if those services go against their religious or moral convictions.
Groups that support the legislation say it will protect religious liberty. During the regular session, more than 2,000 people rallied at the Capitol in favor of the bill.
But opponents argue that it could limit access to affordable birth control for thousands of Missouri women and could spur lawsuits because it conflicts with federal law.
House Democrats held a news conference at the Capitol this morning, decrying the override attempt.
"Birth control is basic health care and is an economic issue for Missouri women and families," said Rep. Jill Schupp, D-Creve Coeur. "To make a woman pay for birth control on top of premium payments has real economic consequences."
Oral contraceptives cost between $15 and $50 a month, according to Planned Parenthood figures.
"(Per year) that's the equivalent of five weeks of basic groceries for a family of four, or 14 tanks of gas in the minivan or four hours of tuition at a community college," Schupp said. "For a family living paycheck-to-paycheck, imagine the impact as they might have to make a choice between birth control and groceries."