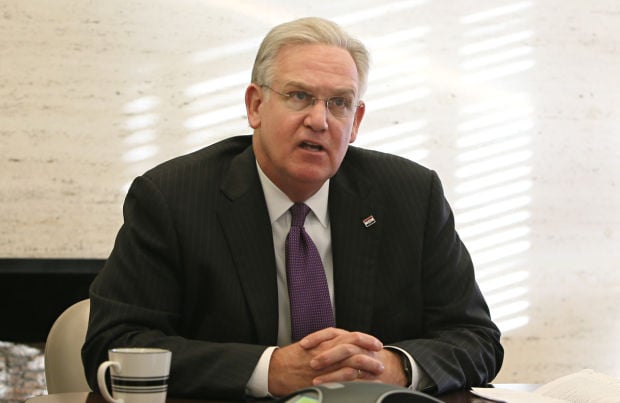 JEFFERSON CITY • A bitter battle erupted Tuesday over a Republican tax cut bill, with Gov. Jay Nixon saying it would have a "cataclysmic" effect on state services and legislative leaders charging Nixon with misleading the public.
The governor said a quick legal analysis by his staff has concluded that the bill would eliminate state income taxes for about 2.5 million Missourians and cost the state more than $4.8 billion annually — not $620 million as legislative staffers had projected.
Nixon, a Democrat, based his conclusion on a little-noticed sentence in the bill. If that provision is enacted, Nixon said, earners in the state's top bracket — those making more than $9,000 — would owe no income taxes as early as 2022.
House Majority Floor Leader Rep. John Diehl, R-Town and Country, called the interpretation "laughable."
Diehl, House Speaker Tim Jones, R-Eureka, and Senate President Pro Tem Tom Dempsey, R-St. Charles, said in a news conference that top earners would still pay taxes, though at a slightly reduced rate. The GOP leaders contend that a tax cut would boost the economy and increase state tax revenue.
They said Nixon is inventing arguments against the bill to shore up opposition from educators, a strategy that helped him sustain his veto of a tax cut last year.
"We believe that he's manufactured this crisis so he can hop around the state on his new plane and get others to try to defeat a tax cut for Missouri," Dempsey said.
Nixon did travel across the state Tuesday, making stops in Kansas City and Springfield to discuss the provision his administration contends is problematic.
At a Capitol news conference, the governor said the bill would prompt deep cuts to education, the closure of prisons and mental hospitals and a downgrade in the state's AAA credit rating.
He said legislators either inserted the provision by accident or deliberately, to satisfy "ideological interests led by one St. Louis billionaire."
Though Nixon did not name him, a major donor to the GOP majorities in the Legislature is Rex Sinquefield, a retired investment company executive who has pushed for elimination of the individual income tax. Grow Missouri, a group funded in part by Sinquefield, ran ads last year urging legislators to enact a tax cut over Nixon's veto.
Lobbyist David Jackson of Grow Missouri said in an interview that his group was not involved in drafting this year's tax cut bill.
"I did not write a single sentence or letter in that bill," he said.
Jackson said the group has worked to pass "any legislation that allows people to spend more of their hard-earned money. This has nothing to do with Rex. This has to do with tax policy that's part of both parties' platforms."
The bill would gradually cut the state's top personal income tax rate to 5.5 percent from 6 percent and phase in a 25 percent deduction for business income reported on individual returns. On a mostly party-line vote, the House passed and sent the bill to Nixon last week.
The cuts would take effect over five years beginning in 2017. A fiscal note prepared by the Legislature's Oversight Division said the bill would cost $620 million a year when fully phased in.
As a safeguard for the state treasury, the annual cuts would be triggered only if Missouri's general revenue grew by at least $150 million a year, compared to the high-water mark of the previous three years.
The bill also would update the state's tax brackets, which haven't been changed since 1931, and increase by $500 the personal deduction for individuals with gross income below $20,000.
Nixon's general counsel, Ted Ardini, said the red flag lies in a line that states: "The bracket for income subject to the top rate of tax shall be eliminated once the top rate of tax has been reduced to five and one-half of a percent."
Ardini said eliminating the top bracket would leave Missouri with a new top bracket that applies to people earning between $8,000 and $9,000. The problematic section was identified last week during the bill review, he said.
However, Diehl said he's confident there is nothing wrong with the bill and that it does what the Legislature intended.
Diehl cited a legal opinion by former Missouri Supreme Court Chief Justice William Price, who was asked to review the bill by Dempsey. Price concluded that Missouri courts would find that the 5.5 percent tax rate would apply to all incomes over $8,000 even after the reduction is fully implemented. Price is Diehl's law partner at Armstrong Teasdale, a St. Louis law firm.
Nixon's administration had the bill reviewed by Cheryl Block, a Washington University law professor. She said the proposed change "appears to completely eliminate the top state personal income tax bracket."
Although Nixon voiced his opposition to the bill, he did not veto it Tuesday, saying the bill review still is being conducted.
Under the state's constitution, Nixon has 15 days to consider the bill. If he vetoes it, legislators could immediately consider overriding the veto and would not need to wait for the September veto session because they will be in regular session until May 16.
That timetable is a key factor in the dispute.
Sen. John Lamping, R-Ladue, said Nixon was trying to avoid being overridden during the regular session so that he could campaign against the bill all summer, as he did last year.
The provision drawing scrutiny was inserted by Lamping as part of an amendment indexing the state's tax brackets to inflation. Lamping said Nixon's argument about the provision's impact was "phony," but if there was a problem, it could be fixed in 2015 or 2016 since the tax cut won't take effect until 2017.
The bill's sponsor, Sen. Will Kraus, R-Lee's Summit, said he had no plans to ask the Senate to take up a different House-passed tax cut bill and fix the alleged problem.
"I don't think there's anything wrong with the current bill," Kraus said.
Kraus said he is confident Republicans will stick together and provide the two-thirds vote necessary to override a veto.