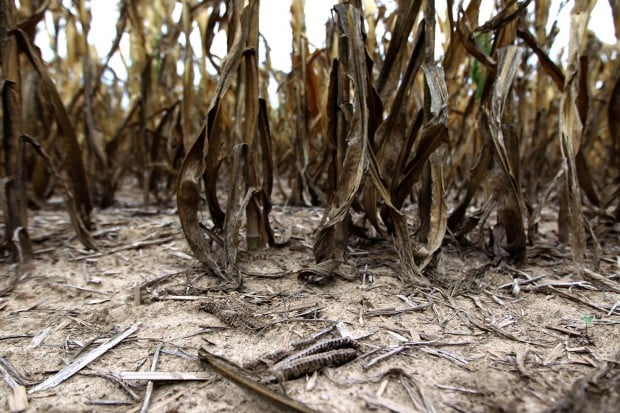 WASHINGTON -- The list of failures in the dysfunctional Congress grows longer by the week, with partisan squabbling blamed for recent refusal to assist the struggling Postal Service or to shore up cybersecurity defenses despite warnings of vulnerability.
But with Congress beginning a five-week break, one shortcoming rankles Midwesterners more than any other: inability in Washington to approve drought relief, a failure tied up in yet another impasse over passing a new farm and food bill.
Fingers are being pointed in every direction: Before leaving town, the GOP-run House approved a bill to revive expired disaster relief programs for livestock farmers punished by soaring feed costs during the drought.
But the Democratic-run Senate didn't take up the piecemeal fix, pointing to the refusal by the House to consider a Senate-passed, five-year farm bill or to even bring up a farm bill written and passed out of a GOP-run House committee. Those bills revive the disaster relief programs.
It will be more than a month now before Congress can do anything, and the pain being felt by Missouri farmers in these Dust Bowl-like conditions is frying the patience of Missourians in Congress.
Rep. Jo Ann Emerson, R-Cape Girardeau, went to the House floor last week to describe the plight of dairy farmer Stacey McCallister, of Mountain Grove, Mo. McCallister wrote to Emerson that "the sorriest hay you could feed a heifer" had skyrocketed in cost to $200 a ton.
Emerson was the sponsor of the drought relief bill that has become stalled. She described her anger both at Senate Democrats for refusing to take up her legislation and her dismay at House Republicans' failure to vote on a farm bill.
"I'm absolutely furious. I just don't understand why people want to play politics with this," she said in an interview.
The politics of the farm bill are complicated. Farm state senators have engineered a 5-year, nearly $1 billion plan that shifts government payments away from traditional subsidies whether or not they're needed to a system of subsidized insurance.
But the House is balking because ardent conservatives and tea party-aligned freshmen are complaining about the cost and expenditures for food stamps. Fearful of an embarrasing defeat, GOP leaders even canceled a plan last week to extend farm programs as written for a year, an approach unpopular to many Democrats as well.
Environmental advocates, too, are upset with proposals because they cut conservation programs that many farmers have relied on.
Emerson said that part of her mission during the recess will be persuading members of her own party to bring a farm bill to the floor despite the uncertainty of success.
House Speaker John Boehner, R-Ohio, "says he doesn't have enough votes to pass the farm bill," Emerson said. "I say you might not have enough to pass as it at this moment in time, but if you put it on the floor, you don't what will happen. I'll be darned if I know exactly what his problem is."
Emerson said that failures in Congress "are just ridiculous, and in the mean time, people are hanging on by their fingernails."
Sen. Roy Blunt, R-Mo., also has pressed the House to take up the farm bill. In a statement this morning, he directed his ire toward Democrats, asserting that "the decision by the Senate majority to leave Washington before passing much-needed disaster assistance is simply shameful and irresponsible."