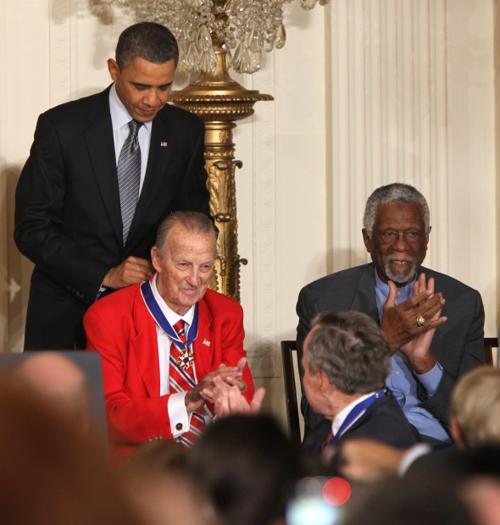 WASHINGTON • With a signature from President Barack Obama, Cardinal great Stan Musial was accorded yet another tribute Friday in the building where he received the Presidential Medal of Freedom.
The president signed into law legislation for the Stan Musial Veterans Memorial Bridge, a conclusive end to the debate over what to call the new Interstate 70 Mississippi River bridge.
The legislation, completed last month by Congress, marked a compromise by politicians from opposite sides of the river.
It passed the Senate unanimously on the way to the White House.
Musial, heralded as baseball's "perfect warrior," died on Jan. 19 at age 92.
He played 22 seasons, all with the Cardinals, amassing 3,630 hits (fourth best of all time) — remarkably, 1,815 of them in St. Louis and 1,815 in games played elsewhere.
Obama signed the bridge bill without comment. Two years ago, while bestowing the Presidential Medal of Freedom on Musial in a White House ceremony, Obama called him "an icon untarnished, a beloved pillar of the community, a gentleman you'd want your kids to emulate."
Sen. Claire McCaskill, D-Mo., one of the sponsors of the legislation, said in a statement that she was "thrilled to see this tribute to Stan Musial become a reality. The class, integrity, and service he showed to the game of baseball, the country, and the citizens of St. Louis deserves to be remembered, and today's signing ensures that it will be."
Another sponsor, Sen. Roy Blunt, R-Mo., said he was proud to have his name on the legislation.
"He was a hero both on and off the field," Blunt said.
A House sponsor, Rep. Rodney Davis, R-Ill., called the legislation "a perfect compromise."