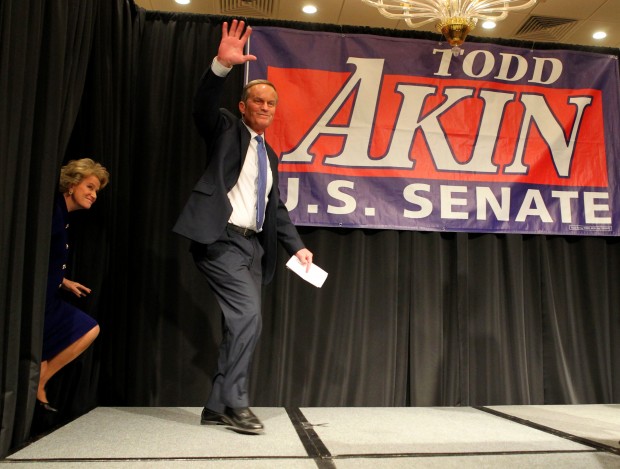 WASHINGTON • Todd Akin returned to Congress this week after a Senate campaign that left him vilified for his verbal missteps and blamed for his role in the Republican Party's dismal showing in the elections.
He's worried now that the "fiscal cliff" negotiations will lead to stiff tax increases and has concerns about his own financial well-being. He'll be out of work when the new Congress takes over in January.
Nonetheless, Akin, 65, is hopeful about what lies ahead. He said he is considering taking advantage of his new fame by writing a book — something Sen. Claire McCaskill, the victor in his race, also has discussed.
"I've always believed that if you're willing to work hard and try to do the right thing, things will work out for you," Akin said during interviews this week.
Getting over his crushing loss to McCaskill is no simple matter, he said. The final results showed McCaskill with 54.7 percent of the vote, Akin with 39.2 percent.
"It takes a little time to recover from it emotionally," he said.
He remarked at another point: "I think there's a natural mechanism to get over it called the mortgage payment. I've got to find what my next job is going to be."
One afternoon this week, Akin took time to reflect — a two-hour vacation he called it — by skipping out of Congress and walking around the U.S. Naval Academy, in Annapolis, Md., where three of his sons graduated.
Akin said he believed at the close of the campaign that he would win given polls — albeit conflicting — suggesting that he was within striking distance.
"We walked into the election party thinking it was close. But when I saw some of the rural counties coming in, I knew we were toast," he said.
Akin attributed McCaskill's double-digit victory margin to her ad in the campaign's final days compiling criticisms from Republicans of Akin after his infamous remarks in a television interview. Mitt Romney, former Missouri senators and other well-known Republicans pressed Akin to drop his Senate quest following his assertion in August that a woman's body has the capacity to ward off pregnancy after "legitimate rape."
Included in the ad was a clip of Arizona Sen. John McCain saying: "Frankly, he (Akin) would not be accepted by Republicans in the U.S. Senate."
"It was a killer," Akin said of the ad.
Like-minded conservatives are in "a grieving state," Akin said, and need to get back to the drawing board. "I'm pretty much fresh out of answers at the moment."
When asked about challenges ahead for the Republican Party after losing the presidential race and posting a net loss of two Senate seats, he said, "A political party has to stand for something. A party that won't stand for anything or, if they're just sort of an imitation of another party, will cease to exist."
Responding to a question, Akin said he always will wonder whether his race might have turned out differently had Republican leaders and GOP-aligned funders not abandoned his candidacy.
"The fact is, you can't replay history. And I'm not the type of person who holds grudges," he said. "The main thing that I look at is, did I do everything I knew of to do, and did I do things in a right and honorable way? And in that sense, I have a good sense of peace about the whole thing."
Akin may be called upon to cast consequential votes before leaving office if negotiations between the president and congressional leaders yield a compromise to avoid the so-called fiscal cliff — an array of tax increases and across-the-board budget cuts scheduled to take effect at year's end.
He is not hopeful. "My gut is that the elements that created the gridlock haven't changed. I think you'll see a little give (by Republicans) but not a whole lot of give. My concern is that when we go into next year, we're going to see a very large tax increase," he said.
Akin's campaign sent out a fundraising letter on Thursday saying "our fight isn't over" and noting unpaid bills from his race.
"As we look to the future and make plans to continue fighting for our country, would you please consider coming through for us one more time?" the letter asked.
Akin said his allies in Congress offered him sympathy this week, adding that he's intent on finishing the job in the U.S. House where voters sent him two years ago.
"All of us know that there comes a day when we have to leave here," he said.
"Maybe I can be the bad guy people want to hire," he joked.