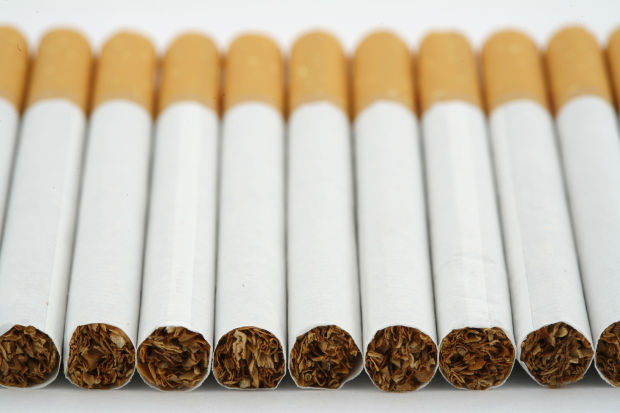 JEFFERSON CITY • Missouri voters appear poised to snuff out two proposed tobacco tax increases on this year's general election ballot, according to a new Post-Dispatch poll.
In a telephone survey of 625 voters conducted Monday through Wednesday, the two ballot initiatives calling for raising Missouri's lowest-in-the-nation cigarette tax received scant support, despite more than $18 million in contributions to the cause from tobacco companies.
By contrast, the poll showed robust support for two other questions on the ballot, including one that would reinstate caps on campaign contributions and a separate GOP-led effort to require voters to present a photo ID before casting a ballot.
The poll surveyed voters on four of the six ballot initiatives facing voters this year. Other questions on the ballot include whether to keep a special sales and use tax that benefits state soil and water conservation programs and whether to prohibit the state from imposing taxes on services, such as haircuts and dry cleaning.
The negative responses to the cigarette tax increases surprised Mason-Dixon Polling & Research Managing Director Brad Coker.
Asked whether they support a 23-cent increase in the 17-cent-per-pack tobacco tax, just 39 percent of the respondents said "yes," with 54 percent saying "no."
Just 43 percent of those polled said they would support a separate cigarette tax increase proposal on the ballot that would phase in a 60-cent-per-pack tax increase to pay for early childhood initiatives. The poll found 49 percent poised to vote "no" on the proposal.
"Generally, taxing cigarettes is sort of a popular way of raising money," Coker said.
Plus, with smoking rates dropping and fewer than one quarter of Missouri adults using tobacco, it would seem like a "no- brainer" that a cigarette tax increase would win, he said.
"If you don't smoke, why do you care about voting for a tax increase on cigarettes?" Coker said.
The question was supported by 76 percent of poll respondents, with 15 percent opposed and 9 percent saying they were undecided. It had widespread support among both Democrats and Republicans, although the poll found 14 percent of likely GOP voters were undecided.
Missouri last had campaign contribution limits in 2008.
The poll also found significant support for a proposal requiring voters to prove their identification at a polling place by presenting a government-issued photo ID.
The statewide numbers show it has support from 68 percent of the respondents, compared with 30 percent in opposition. Republicans, who say it will stop fraud at the polls, back the idea by a 94 percent margin.
Coker said voters were not put off by the idea of having to show their ID.
"You have to show it at so many places now. Showing your drivers license is not something people find offensive," the pollster said.