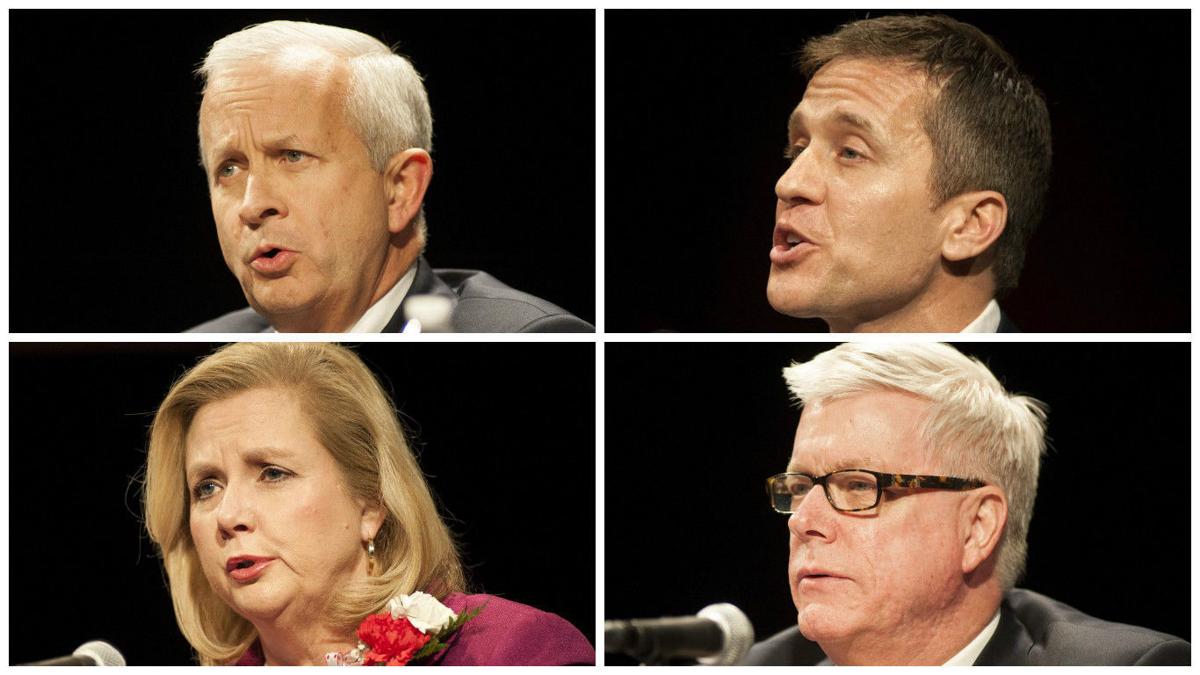 ST. LOUIS • Tuesday could be a long night for Missouri Republicans.
A new Post-Dispatch poll finds that, just days before the statewide primary elections, all four candidates for the Republican nomination for governor remain close enough to win Tuesday.
The poll shows that, in a sample of 400 likely Republican voters, businessman John Brunner leads the pack with 23 percent support — just 2 percentage points ahead of former Navy SEAL Eric Greitens and former Missouri House Speaker Catherine Hanaway, who are tied at 21 percent each; and 5 points ahead of Lt. Gov. Peter Kinder, who is at 18 percent.
The poll, conducted for the Post-Dispatch by Mason-Dixon Polling & Research, has a margin for error of plus or minus 5 points.
"I can't recall seeing a race with four candidates this close, and I've been doing this 30-some years," said Mason-Dixon Managing Director J. Brad Coker.
"Just to put things in perspective, in a 400-interview poll, four people makes 1 percent. So the difference between Brunner and Kinder is 20 people, out of 400."
With about 17 percent of the field undecided, "it's going to be crazy," added Coker. "This could come down to … one gaffe, or one good news cycle" in the final days.
The same poll found even closer races in the GOP primaries for state attorney general and lieutenant governor. Attorney general candidate Josh Hawley is 1 point ahead of Kurt Schaefer, 38 percent to 37 percent, and lieutenant governor candidate Bev Randles is 1 point ahead of Mike Parson, 35 percent to 34 percent.
On Tuesday, voters in each party primary will pick nominees to compete in the Nov. 8 general election for one U.S. Senate seat, all statewide offices except state auditor, all Missouri House seats, some Missouri Senate seats and assorted local offices.
Party politics, no party
Many of the races have multiple candidates but no likely surprises in terms of who the nominee will be, the poll found.
In the two parties' primaries for the U.S. Senate, for example, incumbent Republican Sen. Roy Blunt and Democratic challenger Jason Kander both are leading in their respective primary fields by more than 50 percentage points over their nearest in-party competitors.
And state Attorney General Chris Koster is leading in the four-way race for the Democratic gubernatorial nomination with 73 percent support among 400 likely Democratic voters polled.
In the Democratic primary for lieutenant governor, former U.S. Rep. Russ Carnahan has a sizeable lead over two opponents. In the party's race for secretary of state, former news anchor Robin Smith was leading handily over two others.
Similarly, in the party's treasurer primary, former state Rep. Judy Baker had a lead of more than 2-1 over first-time candidate Pat Contreras.
On the Republican side, lawyer Jay Ashcroft had a commanding lead over state Sen. Will Kraus and another candidate in the secretary of state race.
The Republican race for the right to go up against Koster in the November general election for governor features four well-known, well-funded primary candidates, with no clear frontrunner.
In fact, at least two other recent polls by other organizations have found essentially the same span among the candidates that the Post-Dispatch/Mason-Dixon poll found — all grouped around 20 percent support, within a few points of each other — but in differing orders.
A separate portion of the Post-Dispatch poll, comparing hypothetical gubernatorial matchups between Koster and each of the four Republicans, further muddles the question.
In that portion of the poll (which uses a different sample that encompasses Republicans, Democrats and independents), Koster wins in each of the matchups. But he has the hardest time with Kinder, edging him by just 1 point — despite Kinder's fourth-place ranking when he's compared to just other Republicans.
"It may show that Kinder has better crossover appeal. I would attribute that to the fact that he's been elected to statewide office," said Coker. "Typically in Republican primaries, you have everybody trying to outflank each other on the right, but these voters (from the mixed sample) aren't influenced as much by what's going on in the primary."
The GOP gubernatorial race has been the most expensive primary race in Missouri history — the four candidates have spent a combined total of more than $22 million in all — and one of the most acrimonious.
With few policy differences among the four, the campaign has been marked by personal grudge matches, anonymous internet attacks, secretly recorded phone calls, a lawsuit, a state ethics complaint and the establishment of two shadowy federal "super PACs."
The candidates' funding sources also have become a source of contention.
Greitens has received the bulk of his money from out of the state, including almost $2 million from a federal super PAC whose donors haven't been revealed. Brunner is mostly self-funding, as he did to the tune of $8 million during his failed 2012 run for the U.S. Senate.
Hanaway and Kinder both have individual big-money benefactors: St. Louis investor Rex Sinquefield in Hanaway's case, and siblings David Humphreys and Sarah Atkins of Joplin-based TAMKO Building Products, in Kinder's case.
Sinquefield and Humphreys are similarly positioned against each other as the moneymen in the razor-thin attorney general's Republican primary, with Sinquefield donating heavily to Schaefer, a state senator, and Humphreys donating heavily to Hawley, a University of Missouri law professor.
In the Republican primary for lieutenant governor, Sinquefield, Humphreys and Atkins all have funded Republican candidate Randles, an attorney, who is running against Parson, a state senator.
The only statewide primary race in which the Democrats appear to have any contest at all, the poll found, was in the party's primary for attorney general. St. Louis County Assessor Jake Zimmerman is ahead of former Cass County prosecutor Teresa Hensley by an 8-point margin, 45 percent to 37 percent.
In the Republican governor's primary, the challenge for each of the candidates will be to pull from the 17 percent of voters who are undecided, according to the poll.
Adding to the challenge is the fact that all four of the candidates already are very well known among Republican poll respondents, leaving little opportunity to introduce themselves to fresh voters. Just 7 percent of Republican poll respondents don't know who Greitens is, the highest non-recognition number; the lowest went to Brunner, at 4 percent.
As with the other rankings, all four candidates are grouped relatively close together in terms of favorability ratings among Republicans. All four gubernatorial candidates have significantly better "favorable" than "unfavorable" ratings — though "neutral" recognition is just as high as their favorables, ranging between 35 percent and 43 percent.
"The thing to remember about that 17 percent undecided is that those voters won't necessarily split evenly" on election day, said Coker. "But if it does split four ways, it will be a long night."
Those interviewed for the poll were randomly selected from phone-matched Missouri voter registration lists that included both land-line and cellphone numbers.