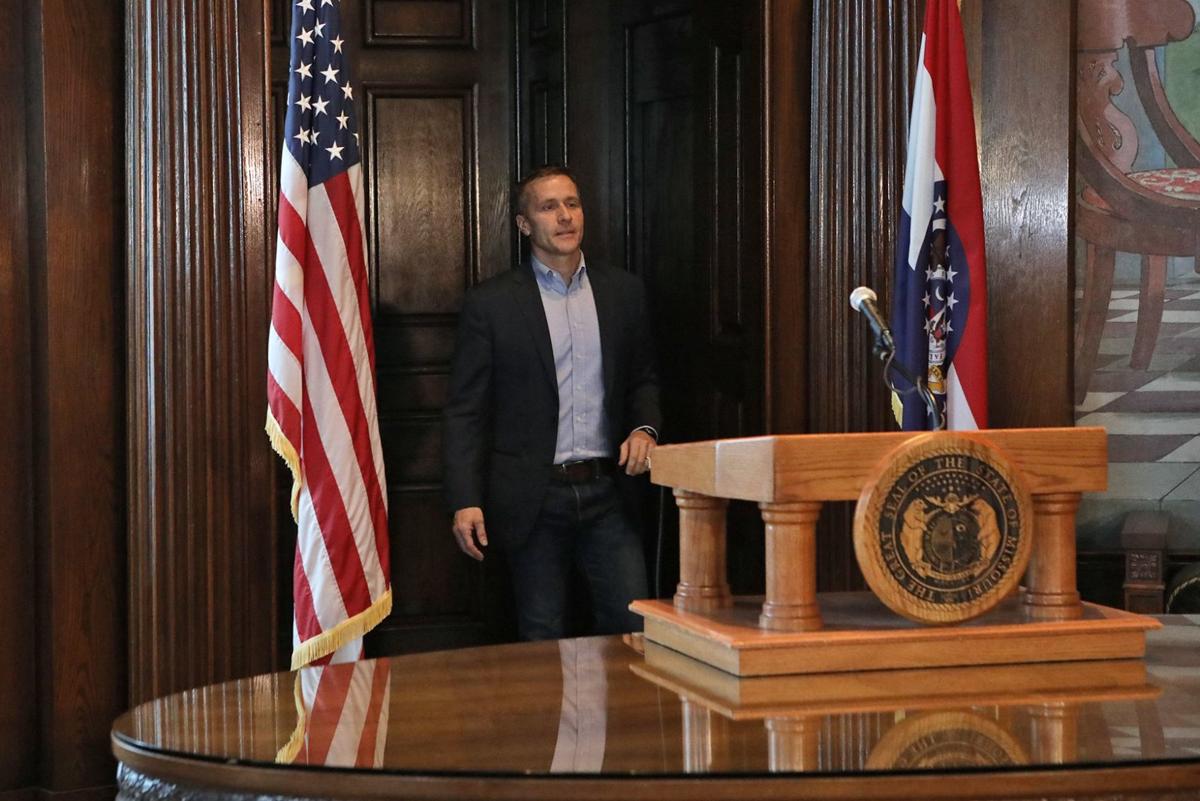 JEFFERSON CITY, Mo. • Missouri lawmakers considering whether to impeach Republican Gov. Eric Greitens may first have to wrestle with an unprecedented question: Does it matter that the alleged actions occurred before he was in office?
"We essentially have lost somebody who many people looked up to as a hero," said Jay Breneman. "I don't see him coming back from that."
There is no definitive answer to that question because only one Missouri executive official has ever been ousted from office following impeachment and her offense was directly related to her job.
Greitens, 44, faces a felony invasion-of-privacy indictment in St. Louis for allegedly taking and transmitting a nonconsensual photo of a partially nude woman with whom Greitens says he had a consensual affair in 2015, a year before he won election.
Separately, a special legislative committee is to recommend in the coming weeks whether to pursue Greitens' impeachment. The committee released a report last week that included testimony from the woman in which she said Greitens restrained, slapped, shoved and threatened her during a series of sexual encounters that at times left her crying and afraid.
"This provision can be read a couple of different ways, kind of depending upon how you construct that sentence, which I think is going to lead to a legal argument about whether or not this is an impeachable offense under the constitution," said Steve Gaw, an attorney and former Missouri House speaker who served on the state's last impeachment panel.
"It's a question that hasn't been answered by the Missouri courts," he added.
After new complaints by defense lawyers that prosecutors had been withholding information, a St. Louis judge said he would rule Thursday on th…
Gaw, a Democrat, was one of five lawmakers on a bipartisan committee that recommended the impeachment of Democratic Secretary of State Judi Moriarty in 1994 for the backdating of her son's candidacy filing paperwork for a state House seat. Election paperwork is a core function of the secretary of state's office, and the House impeached Moriarty on three misconduct counts. The Missouri Supreme Court, which conducted the subsequent trial, convicted her of all three and ousted her from office.
In his case, Greitens has asserted: "This was a private mistake that has nothing to do with governing."
Most of the constitution's list of impeachable offenses — such as "corruption in office" or "willful neglect of duty" — relate to the officeholder's job.
Some have suggested Greitens could be impeached for "moral turpitude." But because of the sentence structure — with an "or" at the start of the last phrase and no intervening comma — it's likely that the final words "in office" are meant to apply to the impeachable offenses of both "oppression" and "moral turpitude," said several legal experts interviewed by The Associated Press.
Yet the fact that corruption "in office" is specifically cited in the middle of the sentence likely indicates that other impeachable actions could occur outside of elected office, the legal experts said. Misconduct, for example, contains no specific limitation on occurring in office.
"That can be subject to a lot of interpretation," said Connie Murray, a Republican and retired attorney who served on the 1994 legislative impeachment panel. But "to say that he committed misconduct at some point in time that qualified for impeachment, that seems like a high bar to meet."
Attorney James Layton, a former state solicitor general who also taught state constitutional law at the University of Missouri, agreed that it would be difficult to impeach someone for misconduct that occurred before that person held office. But, he added, "I think there's a very good argument that misconduct in the process of gaining office would be grounds for impeachment."
The special House committee is to release another report in the coming weeks about allegations that Greitens wrongly obtained and used a donor list from a charity he founded to help launch the fundraising for his gubernatorial campaign in 2015. Greitens' campaign agreed to pay a small fine to the Missouri Ethics Commission last year for not originally reporting the receipt of the charity donor list.
Legal analysts interviewed by the AP, including former Missouri Chief Justice Michael Wolff, all agreed that the impeachable offense of "crimes" likely is not limited to events occurring while in office.
Greitens has repeatedly proclaimed that he expects to be acquitted during his trial on the invasion-of-privacy charge, scheduled to start May 14.
But that wouldn't necessarily prevent him from being impeached for similar allegations, and an impeachment conviction doesn't require the same high standard of proof as a criminal trial.
"It is really left to the General Assembly, rather than the courts, to define what 'crimes' means for the purposes of impeachment," Layton said.