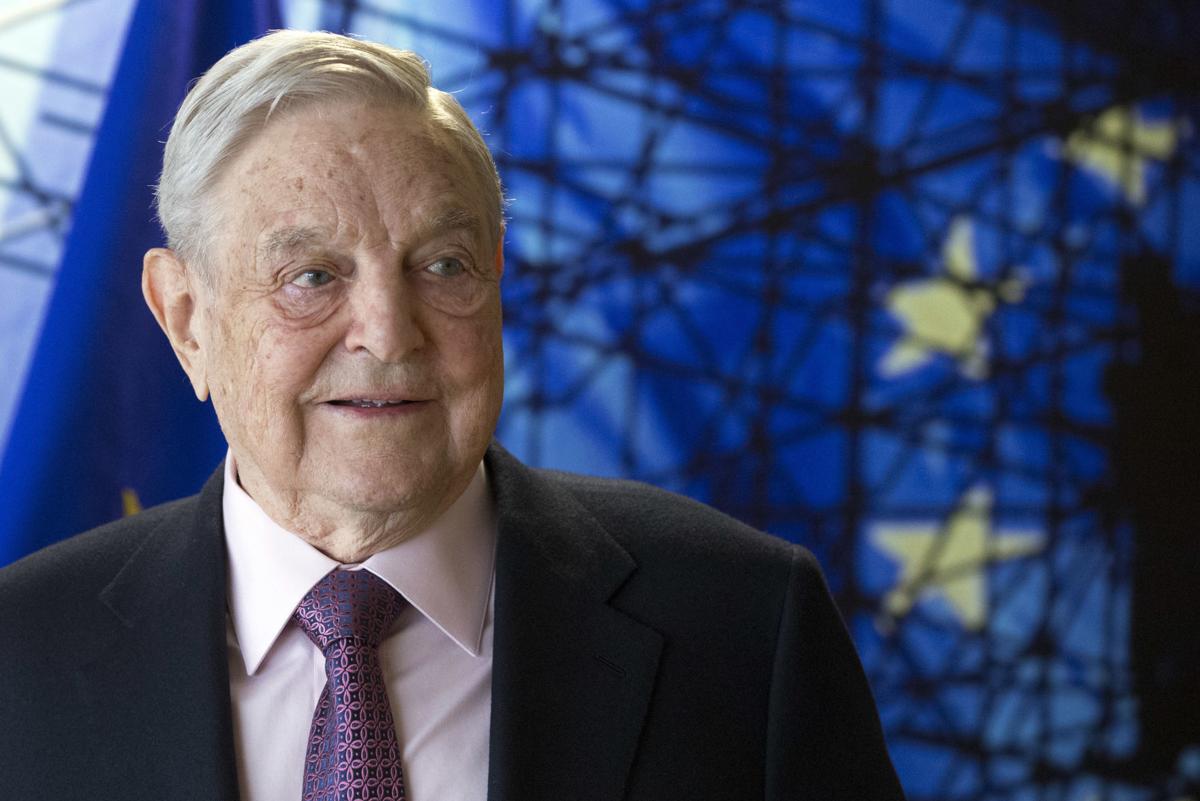 National progressive activist George Soros, the billionaire bogeyman of conservative nightmares, dumped a quarter-million dollars into a Missouri ethics reform campaign this month.
But he did it in a way that ethics reformers generally decry.
Records show that The Open Society Policy Center — the Washington-based lobbying arm of Soros' philanthropic network — donated $300,000 on Jan. 9 to the MOVE Ballot Fund, a St. Louis-based committee that reported having just $84 on hand before that.
Two days after receiving the $300,000 from Soros' group, records show, MOVE donated $250,000 to another group, CLEAN Missouri, which is trying to get an ethics initiative on the November ballot.
Reformers have long criticized the practice of passing big political donations through multiple committees in order to obfuscate the origin of the money.
In some cases — most notably, a $1.9 million "dark money" donation that Gov. Eric Greitens received during his 2016 campaign through a mysterious nonprofit — those transfers are set up in ways that make it impossible to trace where the money came from.
The series of articles covers the governor's travel out of state, political contributions that are impossible to trace and issues getting poli…
That wasn't the case with the CLEAN Missouri donation, because Soros' connection to the original donor is a matter of public record. But the two-step transaction did make Soros' role less obvious to anyone looking through CLEAN Missouri's records.
Organizers say the donation was structured that way because of Missouri's constitutional amendment passed by the voters in 2016, Amendment 2, which was designed to restrict certain types of political money transactions.
"We set up the MOVE Ballot Fund after talking with our attorney about the best way to comply with Amendment 2 and be transparent about our work and support for the Clean Missouri initiative," MOVE Executive Director Molly Fleming said in an emailed response to the Post-Dispatch.
But the Missouri Ethics Commission, which oversees state election rules, says entities like Soros' group are currently allowed to donate directly to campaign committees seeking ballot initiatives, because a federal court overturned parts of the new restrictions last year.
In other words, there appears to have been no legal reason the Soros money had to get to CLEAN Missouri in such a roundabout way.
Sam Cooper, executive director of the Missouri Republican Party, suggested the money shuffle was actually the organizers' attempt to obscure the involvement of Soros, who is controversial among conservatives.
"It looks like they were trying to accept money from liberal billionaire George Soros to change how Missouri elects its representatives, and they knew the people of Missouri wouldn't like that, and they didn't want to get caught," suggested Cooper.
If CLEAN Missouri can get it on the November ballot by collecting the requisite number of signatures, voters statewide would then decide whether to change the state constitution to add a slew of new ethics restrictions. They include lower limits on campaign contributions, a ban on lobbyist gift-giving and a two-year cooling off period before ex-lawmakers can become lobbyists.
Perhaps most significantly, though, the measure would fundamentally change how the state's legislative district boundaries are drawn.
Currently, that process is handled primarily by insiders from the two major political parties, which reformers say has allowed them to gerrymander the districts in order to keep incumbents safe. The new proposal would instead give redistricting power to a nonpartisan expert working with a citizen commission.
"We support citizen-driven democracy reforms that expand participation to help put people over moneyed corporate interests in our politics," Bill Vandenberg, of Soros' group, said in an emailed statement. "Missouri is among the states we see as having fundamental challenges, with a system stacked to benefit the wealthy and well-connected that fails to adequately represent people of modest means."
Opponents of the proposal, including Republican leaders, say it would take the redistricting process out of the hands of elected legislators, who are accountable to the public, and give it to bureaucrats and others who aren't.
"They are trying to draw legislative districts with George Soros' money to elect our representatives," said Cooper, the Missouri GOP director. "I don't think the people of Missouri are going to fall for it."
Getting it on the ballot will require between about 160,000 and 174,000 signatures by early May, under a complicated formula.
Soros, 87, is a Hungarian-born philanthropist, political activist and one of the world's most successful investors. His self-made fortune, primarily through his Quantum hedge fund, is in the tens of billions of dollars.
He uses much of that money to fund progressive causes including campaign reform, drug policy reform and Democratic Party politics. He spent some $27 million in 2004 attempting to help Democrats defeat President George W. Bush. In 2016, he committed $25 million in support of Democratic presidential nominee Hillary Clinton.