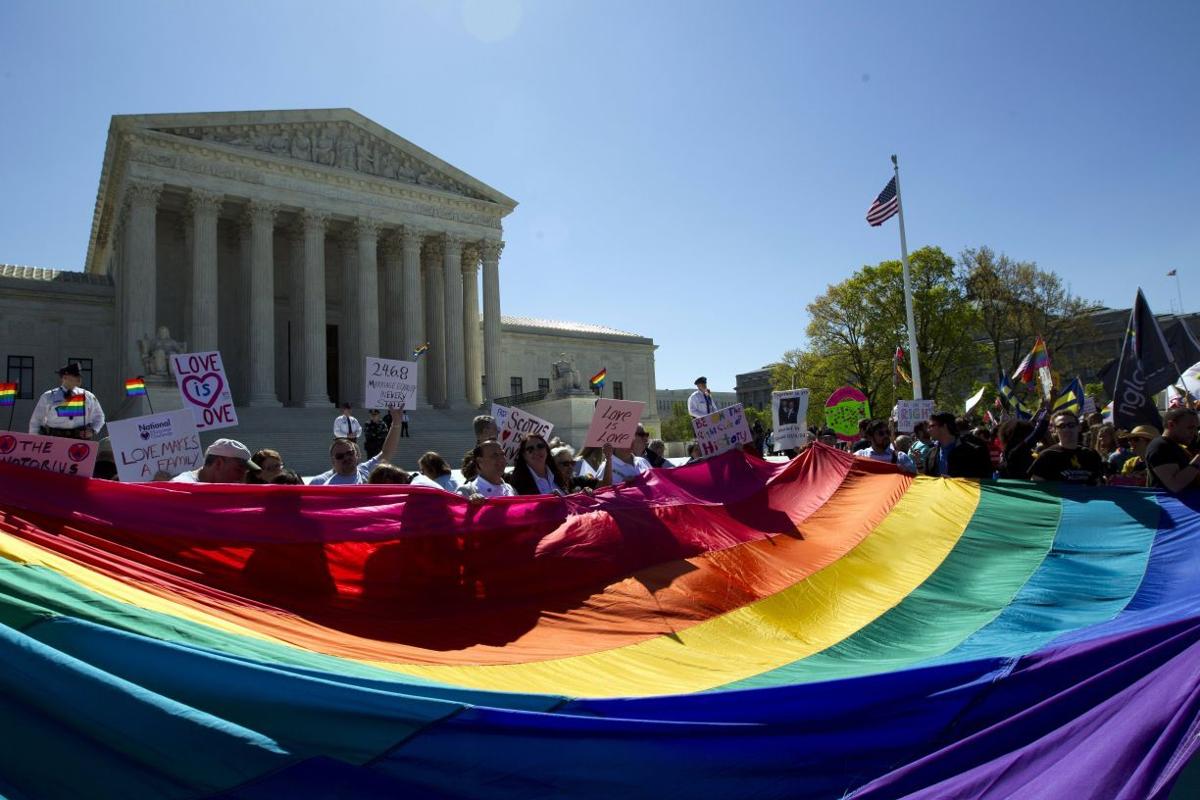 JEFFERSON CITY • More than 185 Missouri businesses, faith leaders and other groups have signed on to a letter denouncing a fast-moving Republican proposal barring state penalties for those who refuse to participate in same-sex marriage ceremonies.
Sen. Bob Onder, R-Lake Saint Louis, has proposed putting a constitutional amendment on the ballot that would forbid the state from penalizing churches, bakers, wedding planners, florists and others who decline to provide services for the weddings or receptions. It would also add protections against civil suits, he said Tuesday.
Opponents have said that churches and clergy aren't required to conduct same-sex weddings, and that discrimination based on sexual orientation isn't protected under the Missouri Human Rights Act, meaning that lesbian, gay, bisexual and transgender people denied services already lack legal recourse in parts of the state without local nondiscrimination ordinances.
PROMO Missouri, an LGBT advocacy group, and the ACLU of Missouri published the letter, saying the proposal resembles a controversial bill signed into law last year in Indiana that opponents said would legalize discrimination against gay people on religious grounds.
The Associated Press reported in January on figures from Visit Indy, Indianapolis' nonprofit tourism group, that the city has lost as many as 12 conventions and up to $60 million in economic impact because of national backlash.
The letter, addressed to the Missouri General Assembly, reads in part:
We are committed to diversity, inclusion, and above all the Golden Rule. These dangerous bills and potential constitutional amendments only succeed in showing people Missouri is not a welcoming state. We should focus on keeping Missouri competitive, not keep people away.

The people of Missouri deserve better than this type of legislation. They deserve to be respected as taxpaying, hardworking Missourians, nothing more, nothing less. Let's keep hate out of the Show-Me State.

Together as small businesses, faith leaders, corporations, and nonprofits, we say #NotInMyState.
The signees include: Left Bank Books, Liquid Technology, PETCO STL County, Viviano & Sons, Kirkwood Baptist Church, Brentwood Christian Church, Paraquad and the Ethical Society.
Sarah Rossi, the director of policy at the ACLU of Missouri, said last week that the ACLU believes churches shouldn't be required to hold same-sex marriages, but she told a Senate committee that that right is already guaranteed under the First Amendment.
"We don't think that clergy or churches should have to open their doors to lesbian and gay couples who want to get married," she told the committee. But "denying access to buildings, denying access to bakeries, denying access to catering services — all of this stuff goes too far."
The proposal's definition of "religious organizations" would also include entities such as preschools, colleges, children's homes, elder care facilities and hospitals as long as they have some religious tie. 
Because of the broad definition, and another provision that says the state couldn't penalize an organization in "accordance with a sincere religious belief concerning marriage between two persons of the same sex," opponents say the language could stretch beyond only denying service for same-sex weddings.
But Onder has defended the proposal, saying Tuesday that the assertion was an "overly broad reading."
"I think these assertions that there is some blanket to deny service to people is, you know, utterly incorrect," Onder said last week. "It's really a matter of people not being commandeered into being forced to participate in a ceremony that violates their religious beliefs."
Another proposal, a bill sponsored by Republican Sen. Kurt Schaefer of Columbia — who is running for state Attorney General — would expand the definition of "religious organization" in Missouri's Human Rights Act to include many of the same entities as Onder's measure.
The Missouri Human Rights Act bars discrimination on the basis of race, color, religion, national origin, ancestry, sex, disability and age but does not include sexual orientation. Religious groups have historically been granted some exemptions, so that, for example, the Catholic Church wouldn't be required to hire female priests.
But Steph Perkins, the executive director of PROMO, said that because sexual orientation isn't included in the law, businesses and other groups (with ties to religion) would be able to discriminate in ways that are now illegal.
"Missouri LGBT folks are not included in the Human Rights Act, yet; and so if it's passed it would open the door for discrimination to women or people of color," Perkins said. 
Schaefer said last week his bill isn't anti-LGBT and simply clarifies state statute after a court ruling struck down the old definition of a religious organization.
His bill was introduced in January, heard and voted out of committee last week. Onder's resolution was introduced Feb. 17, heard and voted out of committee last week. Both are scheduled to be debated on the Senate floor this week. 
Onder's bill only needs to pass both the GOP-dominated Senate and the House to go on the ballot, and doesn't require a signature from Gov. Jay Nixon, a Democrat.
"We're seeing bills move faster than we've seen bills move in a long time," Perkins said. 
Onder's measure is Senate Joint Resolution 39. Schaefer's is Senate Bill 916.
Get Government & Politics updates in your inbox!
Stay up-to-date on the latest in local and national government and political topics with our newsletter.