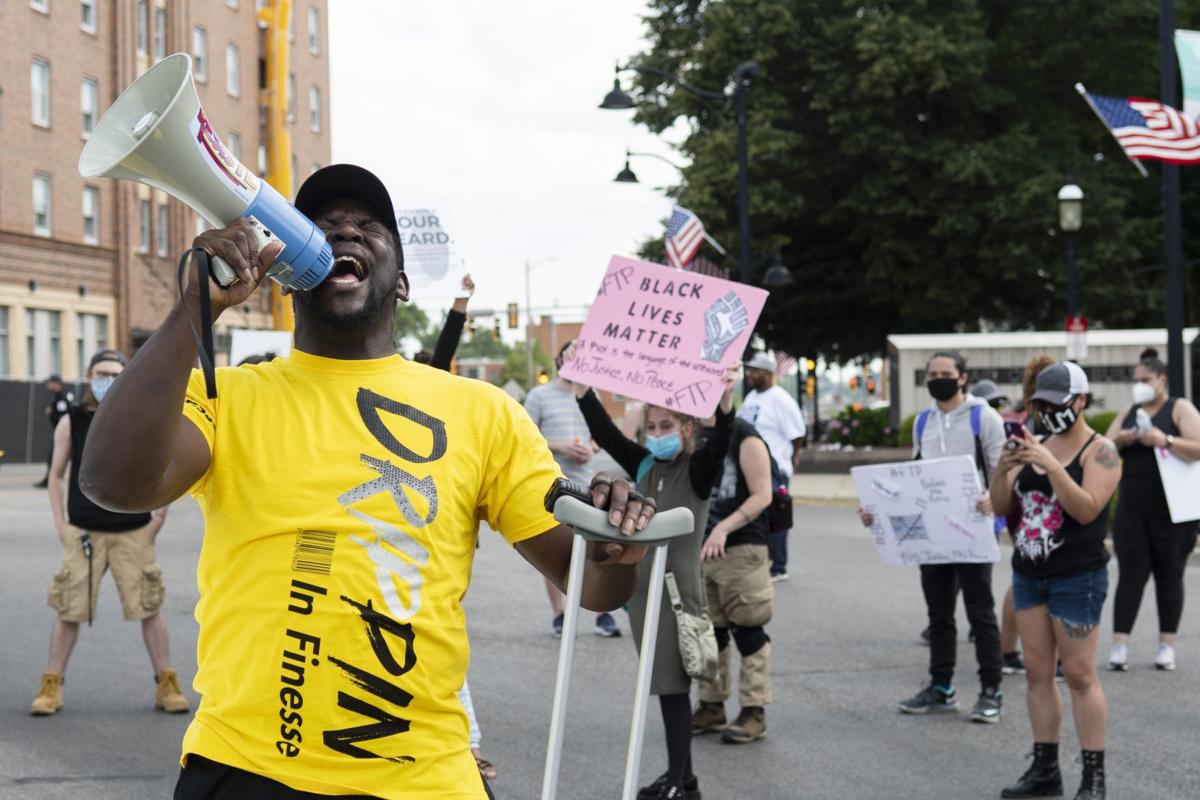 FLORISSANT — Protesters prepared on Saturday night for another clash with police here, even after a day of peaceful marches.
The two sides came into brief but violent conflict late Friday and early Saturday, with police, at one point, using pepper spray on several protesters and later arresting some, several there said.
"I'm extremely upset and agitated that this keeps happening," said Bishop Derrick Robinson of Kingdom Church, who was at the protest and said the crowd wasn't warned before police used the spray.
Florissant police did not respond to requests for comment.
Tony Rice, an activist who goes by Search4Swag on Twitter, took and posted a video just after midnight showing a line of police in helmets and riot shields pushing against a line of protesters, who themselves pushed back on the shields, and some were knocked down. One protester then threw a clear liquid at police, and, immediately after, an officer sprayed an orange liquid, with velocity and at close-range, at protesters' faces.
"If you got maced, come to me!" a voice is heard yelling, as protesters scream, cover their eyes, and run away from the line of police.
Rice said on Saturday that police were pushing protesters out of the department's driveway on Lindbergh Boulevard. He said at least three were arrested.
David Bright, 30, lives in Florissant, and said tensions in the community have been rising for days. On Friday night, before he left the protests around 8 p.m., he described seeing a driver in a blue SUV drive up a curb, onto the sidewalk and "right into people."
"One person flew off the hood," Bright said. "It was nuts." Protesters have alleged a few such incidents during recent actions, in which drivers stopped or blocked by protests hit or knocked down protesters.
Protesters have rallied at the police department headquarters for several nights this month, following first the death of George Floyd, in Minneapolis, and then the release of a video showing a Florissant police SUV striking a man attempting to flee from officers on June 2. The detective driving the SUV, Joshua L. Smith, has been fired from the department and charged by a special prosecutor with assault.
Still, protests on Saturday were largely peaceful.
At 11 a.m. in St. Louis, Muslim residents gathered to march from one mosque to another in support of the Black Lives Matter movement.
Between 75 and 100 people marched a mile and a half from Masjid Bilal, 3843 West Pine Street, to Masjid Al-Mu'minun, 1435 North Grand Boulevard.
The march was organized by the Muslims of Greater St. Louis. Marilyn Aleem-Shamikh, one of the march's organizers, said various Muslim communities were planning individual protests here and there, and the group wanted to bring them all together.
Asif Umar, imam of Daar-Ul-Islam mosque in Manchester, was one of the speakers featured before the march began. He talked about America living with a pandemic — not COVID-19, but one that started 400 years ago — "the pandemic of police brutality," Umar said. "And there's still no vaccine."
"We cannot give up this fight," he said.
Marissa Putnam, 27, and her sister, Teresa Adams, 53, both white, were out marching with the group. One of Putnam's friends helped organize the march. Both said they felt a push recently to educate themselves about racism.
"I think just showing up shows support," Putnam said. "To be here, standing next to them, and listening."
Saturday afternoon, more than 50 protesters gathered across from the fountain in the center of Belleville Square.
Organizer Arkayla Tenney-Howard, with the activist group Respect Us STL, stressed that though the one-mile march would not be violent, it would also not be peaceful.
"We're out here today for all the names we don't know," she said. "If that means interrupting lunch for Becky and Tom, that's what we're going to (expletive) do."
Many of the demonstrators said they were veterans of the movement, marching in Ferguson in 2014 after the death of Michael Brown.
"The magnitude of our movement has multiplied by millions," said J.D. Dixon of Belleville, who was at his second march in two days. "The goal is to bring sustained change to America."
By 7 p.m. on Saturday, however, protesters had again gathered at the Florissant police department, and worried the night would be tense.
"Request from organizers," one wrote on Twitter. "Florissant police already acting foolish and making threats. Request for as many folks as possible to come out right now-we need people ASAP."
By 8:20, at least 100 had arrived, on both sides of Lindbergh in front of the station, chanting with a bullhorn. About 30 cars got stuck. Some drivers turned around.
At 8:45 p.m., police gave protesters five minutes to clear the street, or they would be "subject to arrest and other actions, up to and including chemical munitions," one officer said from his squad car.
Brian Carthans, of Swansea, marched in Belleville on Saturday and was in Florissant that night. He wants accountability for the officers with Smith when he allegedly hit the fleeing suspect.
"We didn't learn anything," Carthans said, "after they killed George Floyd."
Request from organizers: Florissant police already acting foolish and making threats. Request for as many folks as possible to come out right now-we need people ASAP. #respectus
Lots of medics here-but come equipped with your own gear to be prepared. Not a good first time action

— Michaela She/Her (@memmek2k) June 20, 2020