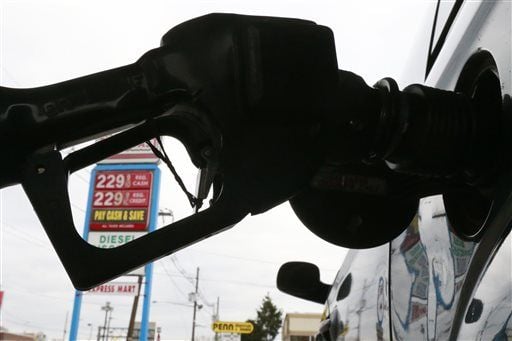 JEFFERSON CITY — A House committee unanimously endorsed a plan Monday to raise Missouri's gasoline tax, setting up a potential showdown among tax-averse Republicans in the closing days of the legislative session.
With no comment or debate, the House Transportation Committee voted 13-0 in favor of the plan, which would phase in a 12.5-cent increase over five years.
The current tax on gasoline and diesel is 17-cents per gallon, which is among the lowest in the nation.
With Republicans in control of both chambers, pushing tax hikes across the finish line in the Missouri Legislature has not been a significant priority.
But Senate President Dave Schatz, R-Sullivan, was able to cobble together a coalition of Republicans and Democrats to send the measure to the House last month.
House Speaker Rob Vescovo, R-Arnold, has previously said he's against tax hikes. And, with three weeks left in the annual session, it remains unclear how quickly it could come up for a vote.
Voters in 2018 turned down a proposed gas tax increase.
The increase will boost Missouri from 49th lowest in the nation to a middle-of-the-pack position among surrounding states.
The legislation also includes a rebate program: Drivers could save their gas purchase receipts and apply for compensation once per year.
The measure also phases in an increase in electric vehicle fees and creates the Electric Vehicle Task Force, which would analyze the impact of electric vehicles on transportation funding.
In all, the tax would generate more than $450 million to fix the state's roads and bridges.
Of that, an estimated 30% to 40% of the proceeds would come from out-of-state motorists passing through Missouri, Schatz has said.
The proposal has the backing of Gov. Mike Parson, as well as business and labor groups, who presented a study last week saying the increase could create between 9,800 and 24,800 jobs.
The study by the Missouri Chamber of Commerce and Industry and the Missouri AFL-CIO said the higher tax could pump life into the economy.
"When these benefits are quantified and the multiplier effect is accounted for, the proposed infrastructure investment would generate over $1.8 billion in sales in Missouri's economy," the report noted. "This economic activity would result in an increase in $722 million in earnings across the state and create over 17,000 jobs in the state."
It also comes as President Joe Biden is negotiating a plan with Congress to send trillions of dollars to states to rebuild aging infrastructure.