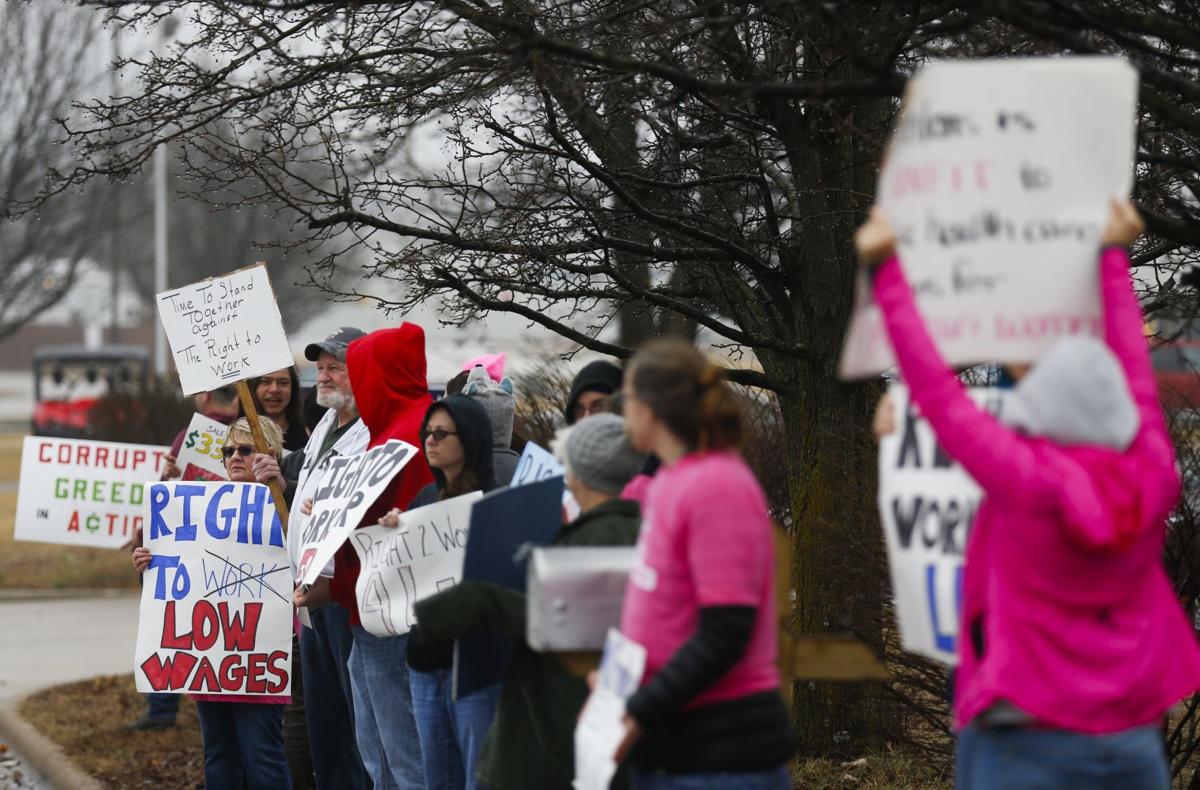 JEFFERSON CITY • Republicans who control the Missouri Legislature moved with lightning speed this year to send a long-sought "right to work" law to newly minted GOP Gov. Eric Greitens.
On Friday, the effects of the GOP's quick action will be on display when a coalition of labor groups led by the Missouri AFL-CIO submits an estimated 300,000 signatures of people who want to put a question on the November 2018 ballot asking voters if they want the new law.
Sen. Bob Dixon, R-Springfield, was among those bemoaning the early winter rush.
"We gave the opposition more time to collect signatures and put it on the ballot for a vote because we got in a hurry. And now we've shot ourselves in the foot," Dixon told his colleagues during a speech on the Senate floor last month.
Under the new law, workers cannot be compelled, as a condition of employment, to join or to pay dues to a labor union. Greitens has claimed the change as a signature achievement in his brief political career.
While the governor says it will bring jobs to Missouri, union members say right to work will result in worse wages, benefits and workplace safety for the state's middle class.
A spokeswoman for the We Are Missouri coalition that backed the signature drive, Laura Swinford, acknowledged Monday that the extra time may have benefited their cause.
"If that gave us a few extra weeks, I'm sure it didn't hurt," Swinford said.
But she added that she believes enough signatures would have been collected if the time frame had been shorter.
"If it had been smaller, I think we would have been as successful," Swinford said.
The move to hold a referendum on right to work is a seldom-used tool in Missouri law that allows residents to block legislation before it goes into effect.
A historical review of the maneuver shows it could be successful if it goes forward.
The last time Missouri voters faced a similar ballot initiative was in 1982 when they rejected a proposed law that would have allowed larger trucks on the state's major highways.
In the 26 similar referenda dating to 1914, voters rejected all of the laws but two.
On Friday, We Are Missouri is planning to hold a rally in the Capitol and then march to the secretary of state's office to drop off the petitions.
A legal battle has been underway between pro-business groups and labor over the wording of the referendum. Right-to-work supporters have asked the Missouri Supreme Court to intervene.
One of the organizations receiving money to fight the unions dismissed the effect of the timing of the legislative action.
"Whether they have six months or six days, national labor groups will stop at nothing to obstruct Right to Work because it takes power away from union bosses and empowers Missouri workers," said Kristin Davison of the Kansas City-based Liberty Alliance. "Missourians elected a pro-Right to Work governor and Legislature who kept their promise to begin passing pro-jobs, pro-worker reforms on Day One."