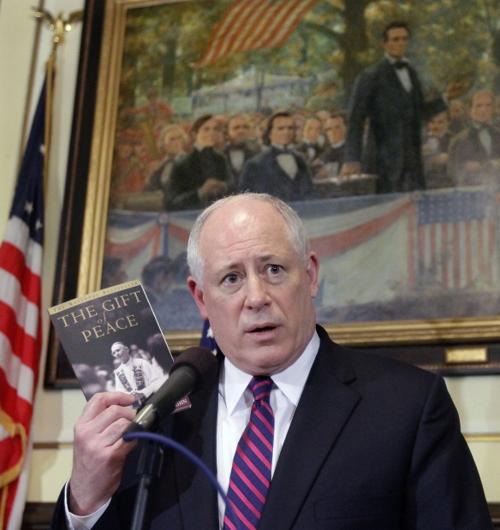 SPRINGFIELD, Ill. • Gov. Pat Quinn today will propose a budget that closes Tamms Correctional Center in deep Southern Illinois, provides a scant 1 percent increase to the state's struggling schools and imposes deep cuts across most of the rest of state government.
"This is the toughest budget we've ever faced," Quinn's chief of staff Jack Lavin told reporters at a briefing Tuesday outlining the $33.8 billion spending plan for fiscal 2013.
Tamms, the maximum-security facility at the southern tip of the state, and Dwight Correctional Center, a prison for female inmates in northwestern Illinois, are among dozens of state facilities or offices that would get the ax under the proposed budget. Other closures would include the juvenile justice center in Murphysboro, Jacksonville Developmental Center and the state agricultural lab in Centralia.
Quinn also will propose closing the Illinois State Police forensic lab in Carbondale, with its duties transferred next summer to the forensic lab being opened in Belleville.
The rumored Tamms closure was drawing heavy criticism from Southern Illinois legislators throughout the day Tuesday. The criticism was directed at Quinn, a Chicagoan. "I'm mad as hell. I don't know where this guy is coming from," state Sen. Gary Forby, D-Benton, wrote in a Twitter feed.
The comments of Quinn's budget director, David Vaught, aren't likely to soothe that regional conflict. When asked by reporters Tuesday why Tamms was being targeted, Vaught responded: "It's a long way from Chicago."
Proponents of closing Tamms have noted before that its vast distance from Chicago is an issue, since such a large portion of the state's prison inmates come from the high-density Chicago region.
In his annual budget speech to the Legislature today, the Democratic governor will propose a spending plan that's slightly higher than last year's, with major Medicaid cuts, agency budget reductions and facility closures. He will call for a relatively small $90 million increase to an $8.8 billion state public school system that most agree has been seriously underfunded.
Illinois' 67 percent personal income tax increase last year was prompted by the state's fiscal crisis, but it hasn't solved it. The state still has a backlog of unpaid bills of some $9 billion, and a staggering long-term public pension debt caused by Springfield's habit over the years of skipping the state's scheduled payments.
Quinn has vowed not to take that approach this year, with plans to fulfill the state's full pension payment. But he will call for cutting $2.7 billion of the state's $14 billion in annual Medicaid costs, and 9 percent across-the-board cuts at most state agencies.
Legislative Republicans, responding to advance hints of what will be in today's speech, are already criticizing the austerity measures as being inadequate. They have pointed out that fiscal 2008 — the administration's target level of spending — was an unusually high budget year.
Rep. Paul Evans, R-Highland, said Quinn's plans to cut Medicaid spending may sound good at first blush, but not if all those cuts come by lowering the rates that the state pays to doctors and hospitals. "What I want to hear is what is going to be done to reduce eligibility," as a means of culling some of the 2.7 million Illinois Medicaid recipients from the program, said Evans.
Other parts of the political spectrum are also criticizing what Quinn is expected to say in the speech.
"Budget cuts have gone too far already, harming priorities like public safety and care for the most vulnerable," Anders Lindall, spokesman for the American Federation of State, County and Municipal Employees of Illinois, said in a written statement. "The problem is an unfair tax system riddled with giveaways."
Quinn's speech is scheduled to start at noon in the Illinois House chamber.