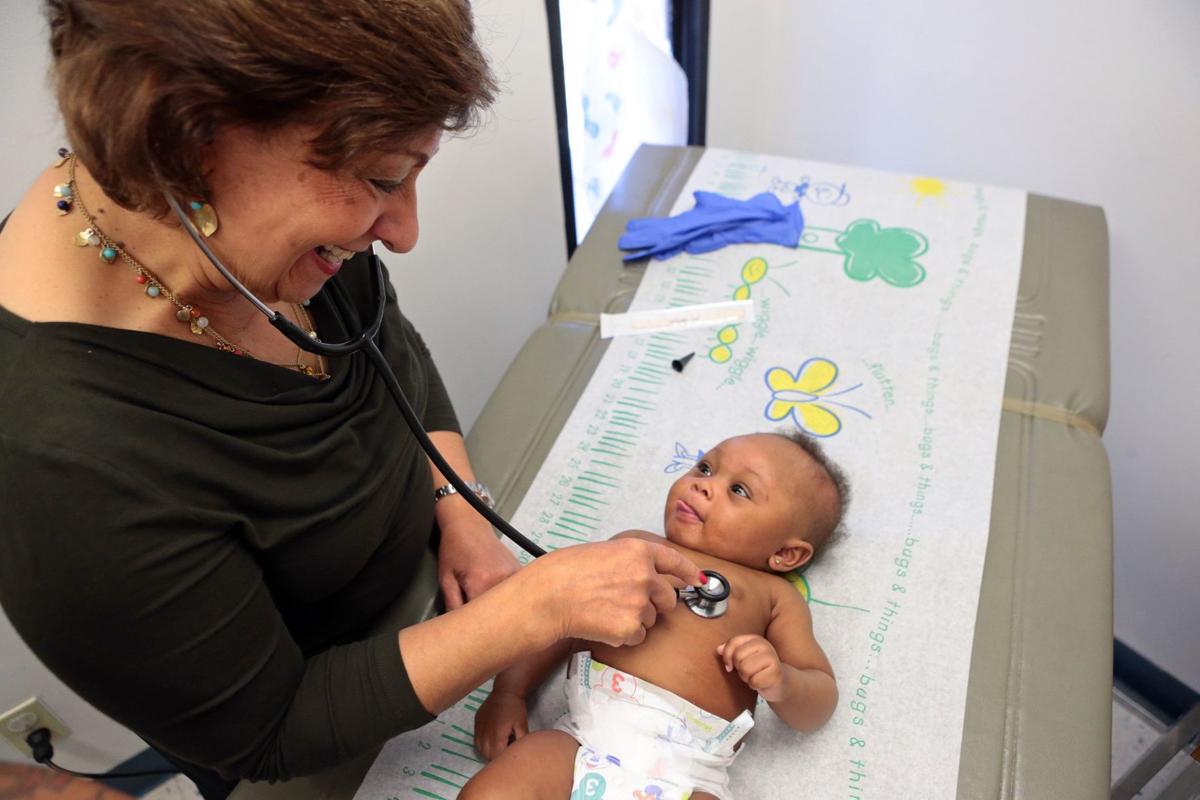 JEFFERSON CITY — For over three years, Missouri failed to adequately check that people enrolled in its Medicaid program were actually eligible.
That's what lawmakers and state officials said at a legislative hearing Tuesday where top staff from the Department of Social Services explained the state's system for making those checks.
Officials also said the department needs to improve people's experience with Medicaid, including the initial application process and the call center that fields questions.
The hearing comes as the number of people enrolled in the program continues to fall. Almost 125,000 people, most of them children, have been removed from the Medicaid rolls since July 2018, a decrease of 13%.
"There's been a lot of headlines made about how many children had been kicked off the rolls in the last year," said Rep. David Wood, a Versailles Republican who chairs the House subcommittee that heard testimony. "But we don't spend a lot of time going back far enough to talk about how those numbers actually increased in the first place."
He placed most of the blame on a flawed computer system.
"Basically, we were not doing a good job of confirming the incomes and verifying these applications," Wood said.
Medicaid is a joint state-federal welfare program that provides health care coverage for many low-income people, including children, seniors and those with disabilities. After the passage of the Affordable Care Act in 2010, states had to change how they determined people's eligibility.
Missouri rolled out its new system for doing so in January 2014. But until the summer of 2018, it wasn't working properly.
"We were doing very limited, very few reviews during that time frame," said Patrick Luebbering, the department's chief financial officer and former director of its Family Support Division.
Medicaid enrollment began climbing from around 840,000 in October 2014, according to data from the Department of Social Services. It peaked at nearly 997,000 in April 2017 and slowly declined until July 2018, when it began to fall more rapidly. In December, total enrollment stood at about 847,000.
State and federal statutes require that Missouri check people's eligibility every year. But from 2014 to summer 2018, Missouri's system couldn't do automatic reviews, Luebbering said.
"We were working spreadsheets and not working in the system," said Jennifer Tidball, the department's acting director.
Rep. Deb Lavender, D-Kirkwood, said she was concerned that the department didn't raise more of an alarm about the problems at the time.
"A white flag should have been run up the flagpole to the federal government," she said.
Democrats have been raising concerns for months about the drop in children covered by Medicaid.
"Our default position was to drop these children, remove them from health care coverage, if the custodial parent wasn't covered," Lavender said. "We've sent them a verification to say your child is not there. We're placing the blame on parents on not re-signing their kids up."
Democratic Rep. Sarah Unsicker, of Shrewsbury, this year filed legislation to give children continuous 12-month Medicaid coverage in response. In a Monday statement, she said doing so would "prevent kids from falling through the cracks and save the state money by eliminating unnecessary administrative hurdles."
Department of Social Services officials told lawmakers that it's difficult tracking down recipients to verify their eligibility for the program. Luebbering said the agency must mail letters to correct addresses or risk violating privacy laws, and some Medicaid participants move frequently.
In February, when the enrollment drop was first drawing attention, department officials cited an improving economy as part of the reason and continued to do so over the summer.
Wood said Tuesday that he thinks the economy was one reason, just not the main one.
The department cut 300 positions when the new system was rolled out.
"Those 300 staff were given up on the assumption that we would have new capabilities, new functionality, some of which hasn't been delivered — most of which was not delivered until the summer of 2018," Luebbering said.
Those employees would've been people at the state's call centers and processing centers, he said.
Luebbering said the department has "beefed up" the call center in the past year, but that there was still work to do.
Todd Richardson, director of MO HealthNet — Missouri's name for Medicaid — testified about potential changes to the state's application process.
"We do recognize, I think, that there is a need to improve the customer experience broadly," he said.
An outside firm is conducting a systematic review of Missouri's program and will make recommendations on how to do this, Richardson said.
"The idea behind that project was to approach this review not through the lens or the eyes of state government — how we view the needs of the process — but look at it through the eyes of our participants," he said.
The review would be done before the end of February, Richardson said.
The Associated Press contributed to this report.
See who's donating to the governor, attorney general and more in our new Missouri campaign finance database.