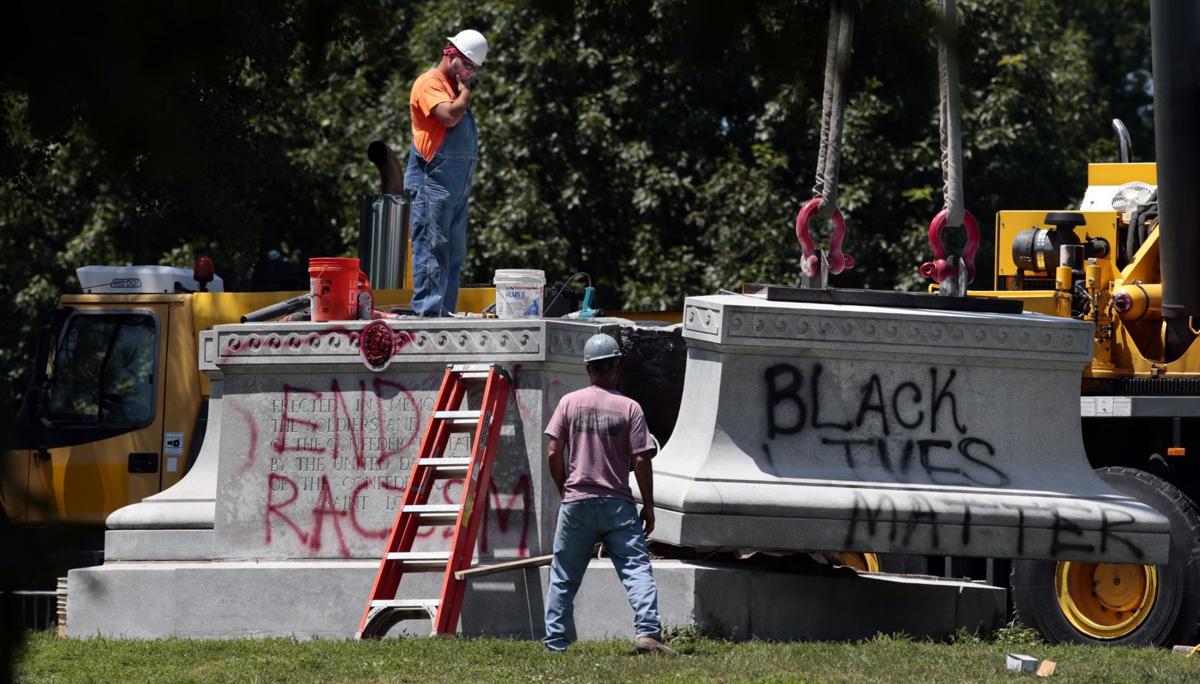 Workers are nearly finished dismantling the Confederate monument that once stood nearly 40 feet high in Forest Park, marking the end of a long conflict between the city, a local museum, and residents who disagreed over whether or not such a structure ever belonged in a public park.
As of Wednesday evening, the bulk of the memorial had been taken apart and hauled away, with workers wrapping up work on a final slab of concrete.
The monument's future home remains uncertain, but a legal agreement between St. Louis and the Missouri Civil War Museum in Jefferson Barracks guarantees it won't be erected anywhere else in the city or St. Louis County.
Both the city and the museum claimed ownership of the monument. The museum recently filed a lawsuit to gain control of the memorial, which culminated in a settlement announced Monday. The museum has paid to move and store the monument until they can find a permanent location in a different museum, battlefield, or cemetery.
While some in the community felt taking it down amounted to erasing history, supporters of the structure's removal argued it was a painful reminder of white supremacy and slavery that had no place in St. Louis. 
St. Louis Mayor Lyda Krewson said Monday that the agreement would allow the city to finally move forward, with the museum bearing the full cost.
Removal funds raised in an online campaign launched by St. Louis Treasurer Tishaura Jones will be donated to the St. Louis Parks, Recreation and Forestry Department, Jones said Wednesday. After fees charged by the fundraising website GoFundMe, the donation amounts to roughly $16,000.