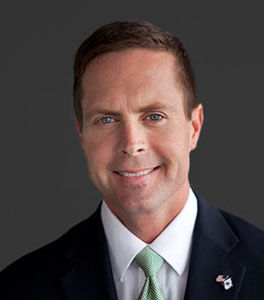 WASHINGTON • Last month, Rep. Rodney Davis, R-Ill., cast a deciding vote to retain the ability of "dreamers" — undocumented immigrants brought here as children — to join the U.S. military.
Davis, from Taylorville, Ill., was one of 30 House Republicans to vote that way, out of a total of 240 Republicans who voted. Many Republicans referred to the practice as "backdoor amnesty" for those here illegally. But Davis voted to maintain the program, which would allow a quicker pathway to citizenship for those who serve.
"I truly believe that anybody who is willing to fight for our country and came here through no fault of their own as a child ought to be given a special place in line to legally become an American citizen," Davis said in an interview in his office here.
Davis faces Democrat Mark Wicklund and independent candidate David Gill in the November elections, in a race that national Democrats targeted early as one of the seats they'd need to win to take control of the House in 2017.
In an age of party-line voting, Davis is not the only Illinois Republican with a twist. Sen. Mark Kirk, R-Ill., also reflecting his state's Democratic leaning, is among the GOP senators most likely to vote with Democrats. A recent illustration: Kirk voted with Democrats late last month on a series of gun-control votes in the wake of the Orlando nightclub massacre.
While standing with his party on issues such as gun rights, terrorism and defense spending, Davis has occasionally bucked his party's predominant position in three-plus years in Congress.
• Earlier this year, he was one of 22 Republicans to vote against a provision prohibiting the temporary housing of undocumented migrant children without companions at U.S. military bases. It passed the House, 219-202, with overwhelming Republican support.
• He has cast several votes in favor of the use of medical marijuana. In May, for instance, Davis voted to allow the Veterans Health Administration to counsel patients to use marijuana, which is illegal under federal law, as a prescribed drug for pain and post-traumatic stress treatment.
While Rep. William Lacy Clay, D-St. Louis, also voted for that provision, Reps. John Shimkus, R-Collinsville; Ann Wagner, R-Ballwin; Mike Bost, R-Murphysboro; Blaine Luetkemeyer, R-St. Elizabeth; and Jason Smith, R-Cape Girardeau, all voted no. Overall, House Republicans voted against the provision, 187-54.
Davis has both philosophical and personal reasons for supporting medical marijuana. First, it's a states' rights issue, he said, and he points out that Illinois has for several years allowed the use of medical marijuana.
Secondly, he said, he had a friend from St. Louis whose young daughter suffered from constant seizures, and before dying recently, the little girl got the most relief from a cannabis oil. The friend moved his family to Colorado so his daughter could get treated, then back to St. Louis when Missouri allowed it, Davis said.
"My wife (Shannon) and I have been blessed with three healthy children, but putting myself in his shoes I would have done the same thing to help my child get relief," Davis said. "And it is sad that something that could work was not available."
He said he was not prepared to support total legalization of marijuana.
"I think we have to see what happens in Colorado, what happens in Washington and Oregon," he said, of states that have legalized its use. "They are the laboratory to find out if it is successful and the social implications that many are concerned about."
• Last summer, Davis voted to lift a ban on travel to Cuba, months after President Barack Obama had issued executive orders beginning a normalization process with the Cuban government.
Davis acknowledges he is bucking many Republicans' views that normalization is wrong so long as the Castros are in power in Cuba. But he says he has the same goal as his GOP colleagues — to force out the Castro regime — but he thinks that normalizing trade and association with the Cuban people will hasten that.
"Some of the folks I serve with had family members who were killed by the Castros (or were) kicked out of Cuba, so it is personal. I get that," said Davis, who traveled to Cuba in 2005 as a congressional staffer, and last fall as a member of Congress. "I don't want to demean their position. All I want to say is we have the same goals."
Davis said that despite headline-catching rancor, including a recent Democratic sit-in calling for votes on gun restrictions, this Congress had passed major bipartisan legislation that has been signed into law by Obama.
He cited a new long-term transportation bill, a reform of No Child Left Behind that pushes more testing control back to localities and a streamlining of how the federal government plans for and pays for water projects. All are important for the region, he said.