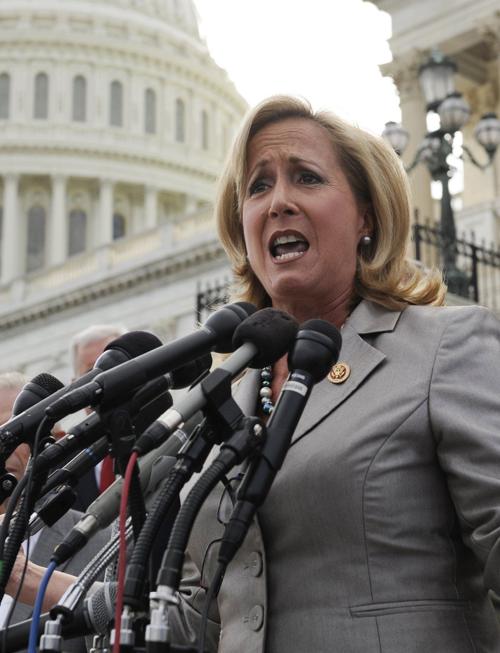 Updated at 6:40 p.m. with comments from Rep. Blaine Luetkemeyer's communications director.
Updated at 12:45 p.m. with statement from Rep. Mike Bost. 
Updated at 3:30 p.m. with Saturday comments by Sen. Roy Blunt. 
WASHINGTON • Reps. Ann Wagner and Rodney Davis have withdrawn their support for Donald Trump for president and are urging Trump to leave the Republican ticket.
They would become the first Republican members of Congress from the St. Louis area to do so.
"I have committed my short time in Congress to fighting for the most vulnerable in our society. As a strong and vocal advocate for victims of sex trafficking and assault, I must be true to those survivors and myself and condemn the predatory and reprehensible comments of Donald Trump," Wagner, R-Ballwin, said in a statement. "I withdraw my endorsement and call for Governor Pence to take the lead so we can defeat Hillary Clinton."
Davis issued a similar statement.
"As parents of a teenage daughter and teen twin boys, my wife and I teach them to respect women and that they will be judged by their words and actions," Davis, R-Taylorville, said, in a statement issued by his office, referring to vulgar  comments leaked Friday that Trump made about women in 2005.
"The abhorrent comments made by Donald Trump are inexcusable and go directly against what I've been doing in Washington to combat assaults on college campuses. Because of this, I am rescinding my support for Donald Trump and asking to have my name removed from his agriculture advisory committee. With the terrible options America has right now, I cannot cast my vote for any of the candidates, so I hope Donald Trump withdraws from the race so the American people can elect Mike Pence as our next president."
Wagner's and Davis's pronouncements came after Sen. Claire  McCaskill, D-Mo., took to Twitter to pressure Republican members of Missouri's congressional delegation - including McCaskill's Senate colleague Roy Blunt - to denounce Trump.
McCaskill retweeted a statement from Sen. Kelly Ayotte, R-N.H., saying Ayotte would  not vote for Trump. Referencing first names of top Republicans running for election, McCaskill tweeted: "Anne? Vicky? Eric G? Josh? Roy? Eric S? Jay? Mike? Billy? Justin? Blaine? Sam?" - apparently misspelling Wagner's first name. 
Wagner is among several Republicans mentioned as possible challengers to McCaskill in 2018. McCaskill won re-election in 2012 after her Republican opponent, Rep. Todd Akin, made controversial comments about rape, giving that year's Senate race a national, gender-based focus.
McCaskill is a leading surrogate for Democratic presidential candidate Hillary Clinton, and represented her in the "spin room" after the first Trump-Clinton debate at Hofstra University in New York last month. The second is scheduled for Sunday night in St. Louis. 
But McCaskill and Clinton previously had a rocky relationship over Bill Clinton's treatment of women, based on a comment that McCaskill made in 2006 on "Meet the Press" about not wanting her daughter to be near Bill Clinton. It was eight years after Bill Clinton had been impeached, but not removed from office, for lying about his White House affair with intern Monica Lewinsky.
Some Republicans, starting with Trump hmself,  have tried to draw comparisons with the criticism of Trump's vulgar comments with Bill Clinton's actual actions, and Twitter this weekend contained scores of references to Juanita Broaddrick's claims she was assaulted by Bill Clinton nearly four decades ago.
But with Trump's remarks now in full focus, McCaskill on Twitter took the unusual step of calling out, by name, other members of her delegation:
"All together now Mo R candidates 'And we support this man who did this shocking, disgusting, repulsive, wrong thing' Wagner & Hartzler too?" 
The last reference was to Rep. Vicky Hartzler, R-Harrisonville, who is the third female member of the Missouri delegation.
As late as May of this year, she withheld her support for Trump as the GOP nominee, saying she was having trouble getting beyond Trump's "slurs and attacks." 
That announcement included a statement from Sen. Roy Blunt, who is locked in a tough re-election battle with Democratic Secretary of State Jason Kander, in which Blunt hinged his endorsement on his belief that Democratic nominee Hillary Clinton "would be a disaster for Missouri families, jobs, and values."
Blunt, R-Mo., who has tread carefully around his endorsement of Trump on the top of the Republican ticket, was the first in the Missouri delegation to publicly criticize Trump's for the 2005 remarks.
"Donald Trump's statements were disrespectful and inappropriate, and he was right to apologize," Blunt Tweeted late Friday night. The Tweet did not say anything about whether he was considering retracting his endorsement.
On Saturday, according to a Tweet by a Fox News reporter and verified by Blunt campaign communications director Burson Snyder, the senator said at the Ozarks Farm Festival that "as long as the choice is...Clinton &...Trump, I'm for Donald Trump."
When previously asked about Trump, Blunt has said he would support whomever the Republicans nominated.
Trump's remarks have resonated in some local congressional races. 
In Illinois' congressional district 12, where incumbent Republican Mike Bost has been targeted by national Democrats seeking to take control of the House, Bost's challenger, C.J. Baricevic, called on Bost to "disavow the reckless, demeaning, and disrespectful candidacy of Donald Trump. 
"Now that video has surfaced where he openly bragged about sexually assaulting women and using his celebrity to take advantage of them, I hope Bost will finally condemn him and call on him to leave the race," Baricevic said.
Bost, R-Murphysboro, did not call for Trump to step down, or withdraw his endorsement. He issued the following statement:
"As the father of two daughters and the grandfather of seven young girls, I was incredibly disappointed in his comments.  They were wrong, hurtful, and demanding of an apology.  We should be lifting our daughters up and encouraging them to achieve their dreams, not reducing them to such a level."
Rep. Blaine Luetkemeyer, R-St. Elizabeth, condemns Mr. Trump's comments," his communications director, Kristina Weger, said.
Luetkemeyer "looks forward to tomorrow evening's debate and hearing what Mr. Trump has to say to the American people about the important issues facing our country," Weger said.
Here are McCaskill's Tweets:
All together now Mo R candidates "And we support this man who did this shocking, disgusting, repulsive, wrong thing" Wagner & Hartzler too? https://t.co/82TzB6NVnm

— Claire McCaskill (@clairecmc) October 8, 2016
Get Government & Politics updates in your inbox!
Stay up-to-date on the latest in local and national government and political topics with our newsletter.