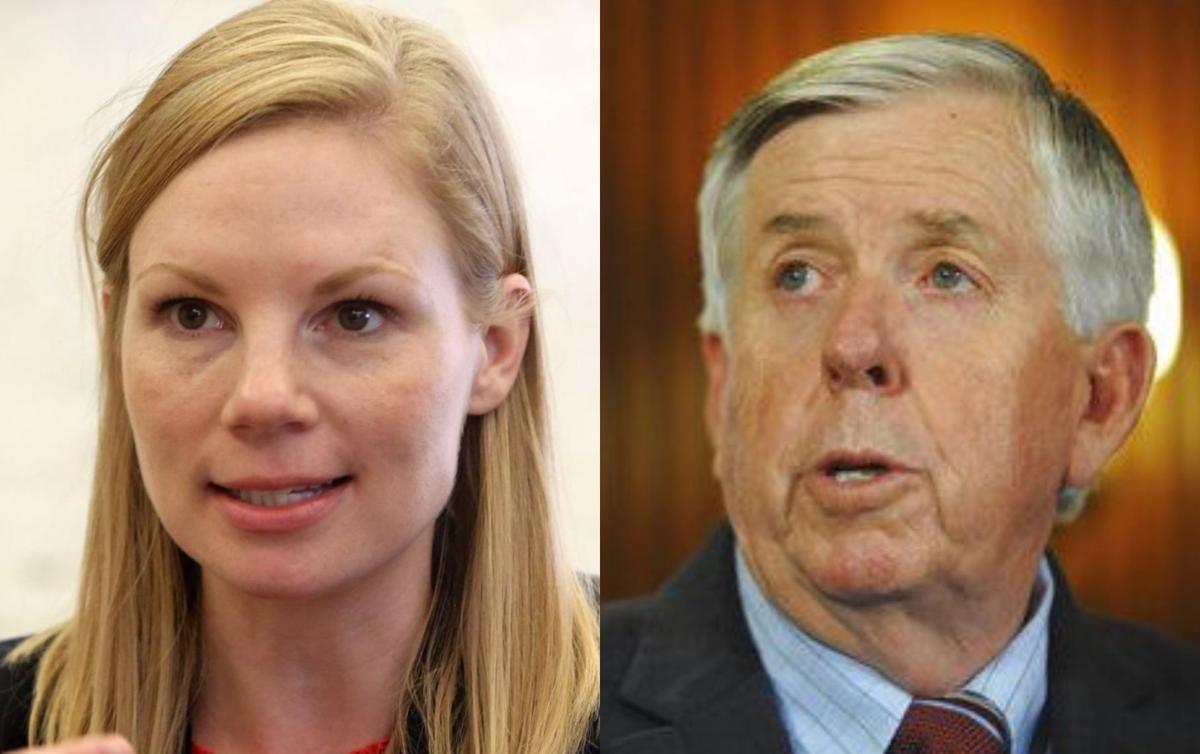 JEFFERSON CITY — A GOP governors group has poured $600,000 into Missouri's race for governor in recent days, extending Gov. Mike Parson's cash advantage over his likely Democratic opponent, State Auditor Nicole Galloway.
The Republican Governors Association on Wednesday transferred $600,000 to its state-based "Missouri 2020" account, according to the state ethics commission. Records show the RGA on Friday funneled $500,000 of the contribution to Uniting Missouri, a political action committee formed to support Parson's bid.
Parson took office on June 1, 2018, after former Gov. Eric Greitens, a Republican, resigned under a cloud of scandal. Parson is running for a four-year term this November.
RGA sent another $550,000 to its Missouri 2020 account on April 2, state records show.
Eric Slusher, spokesman for Galloway's campaign, said the money is a sign Republicans consider the race competitive. The nonpartisan Cook Political Report ranks the race as "likely Republican."
"We've said all along the race was winneable for Galloway, and national republicans are coming to the same realization," he said in an email. "They should be worried."
Slusher said Parson had "no major accomplishments" and went on to criticize the governor's budget cuts to K-12 education, his response to the COVID-19 pandemic, and investigations into the state's medical marijuana program.
John Hancock, chairman of Uniting Missouri, said Parson maintains the upper hand in the race.
He said Parson's use of general revenue to help fund road projects, workforce development initiatives and business expansions such as Bayer's in St. Louis County, were major accomplishments.
"We are extremely gratified at the support we have received from the Republican Governors Association, which demonstrates that Gov. Parson is a highly regarded member (of the association)," Hancock said.
Amelia Chassé Alcivar, spokeswoman for the RGA, said Galloway was nitpicking on Twitter while Parson was leading "Missouri to a strong (COVID-19) recovery, focused on saving both lives and livelihoods.
"We're committed to ensuring the resources are in place to show that clear contrast and demonstrate for voters that Mike Parson is the right leader to move Missouri forward," she said in an email.
The Uniting Missouri PAC spent nearly $2.1 million in the fundraising quarter that concluded at the end of March. It raised $787,000 and had $3.8 million on hand at the end of the quarter.
Unlike a traditional campaign account, PACs supporting candidates may accept unlimited contributions.
Keep Government Accountable, the political action committee supporting Galloway, spent just $2,000 last fundraising quarter. The group raised $231,000 and ended the quarter with $940,000 on hand.
The largest donation so far this year to Keep Government Accountable, according to the ethics commission, was a $250,000 donation in late May from the United Auto Workers.
The Democratic Governors Association on June 5 moved $30,000 to its Missouri-based account, records show.