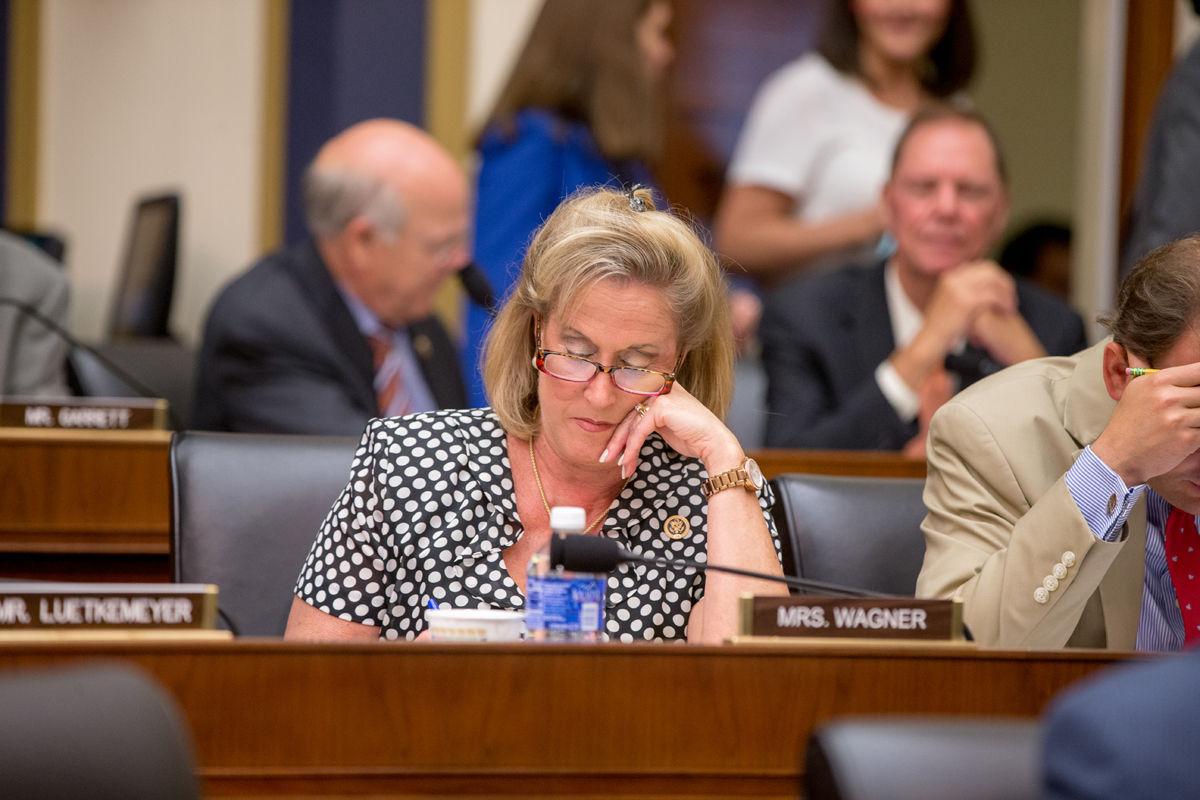 WASHINGTON • Rep. Ann Wagner said Thursday that her Republican Party's presumptive nominee "has to earn my vote, and Donald Trump has not earned my vote."
Her refusal to endorse came within hours of House Speaker Paul Ryan telling CNN that he also had not made a decision to support Trump.
Thursday's pronouncements are illustrative of the Republican establishment's wariness about the man who is on the verge of the political equivalent of a hostile takeover of the GOP.
Wagner, R-Ballwin, a member of the U.S. House Republican leadership and a top recruiter of female candidates for her party, cited Trump's blistering remarks on women, immigrants, a Vietnam POW and the Bush family and a lack of clearly expressed conservative principles as central to her unwillingness to get behind Trump.
She said the likely choices for president, Trump on the Republican side and Hillary Clinton for the Democrats, make her sad for the country, because both have so many flaws. But unlike a smattering of well-known Republicans who have announced they'll vote for Clinton in November, Wagner told the Post-Dispatch the latter was not an option.
"First and foremost, I have absolutely no intention of supporting Hillary Clinton — not now, not ever," Wagner said in a phone interview from Dallas, where she traveled Thursday to receive an award at the George W. Bush Presidential Library and Museum. "I am kind of like all voters. The candidate who is running for public office has to earn my vote, and Donald Trump has not earned my vote.
"We have got 150 days (before the election). We will see. But he is going to have to earn my vote and prove that he is capable of stepping up to the leadership position of being the nominee of our party. I am going to take a thoughtful approach on this."
What would it take to earn her support?
"Actually put real policies and issues out there that line up with my conservative principles," Wagner said. "And I have yet to see that on policy. And, quite frankly, I believe in calling people to their highest and best, not their lowest and least. And Donald Trump's slurs and attacks, not only do I find them not presidential, I just don't even find them suitable in society."
She said then that "I have no respect for anyone who uses a national microphone to disparage our vets."
Bushes won't back Trump
Wagner is close to the Bush family, having served in top positions in George Bush's presidential campaigns and as ambassador to Luxembourg under President George W. Bush.
Both former presidents said this week they would sit out the 2016 race, in effect withholding their support for Trump, who frequently attacked Jeb Bush as "low energy" during his campaign.
Bush allies thought Trump also crossed lines when he seemed to blame the 9/11 attacks on George W. Bush and retweeted a post that claimed Jeb Bush favored illegal immigrants because Jeb Bush's wife was of Mexican descent.
"I understand why they are taking a pass on this race," Wagner said of the Bushes. "But I am my own person. … I am going about this in a thorough way.
"I have to earn the vote of the people that support me," said Wagner, who faces Democrat state Rep. Bill Otto in the race for the 2nd Congressional District. "My feeling is (Trump) has to earn mine, and he hasn't done it yet."
Other St. Louis area Republicans in Congress, including Sen. Roy Blunt of Missouri and Reps. John Shimkus of Collinsville, Blaine Luetkemeyer of St. Elizabeth, Mo., Mike Bost of Murphysboro; and Rodney Davis of Taylorville, Ill., have said they'll support whomever the GOP nominates for president. Trump is in that position now after Sen. Ted Cruz, R-Texas, and Ohio Gov. John Kasich dropped out this week.
Sen. Mark Kirk, R-Ill., who faces a tough re-election battle against Rep. Tammy Duckworth, D-Schaumburg, told an interviewer earlier this week to ask him in July, closer to the Republican convention, whether he supported his party's nominee.
Some top Republicans, including longtime McCain adviser Mark Salter, have publicly said they'll vote for Clinton to stop Trump.
Wagner called that "completely wrong," and said Republicans considering Clinton would have to swallow her leftward tack on issues such as trade in her primary fight against the independent socialist Bernie Sanders.
"I question their reasoning on that," Wagner said of Republicans supporting Clinton. "She and Bernie have almost become nearly one and the same, and (with) the groundswell of support for Sanders, I don't know that she is going to be able to move from the positions that she has moved toward."
All four major candidates for Missouri's Republican gubernatorial nomination have said in the past they would support whomever is the GOP presidential nominee.
Campaigns for three of the candidates — businessman John Brunner, former Missouri House Speaker Catherine Hanaway, and Lt. Gov. Peter Kinder — stuck by that stance Thursday, when asked if that vow still stands in light of Trump's new status as presumptive nominee.
The campaign of the fourth Republican gubernatorial candidate, author Eric Greitens, didn't respond to a request for comment.
Kevin McDermott of the Post-Dispatch contributed to this report.
Get Election 2020 & Politics updates in your inbox!
Keep up on the latest in national and local politics as Election 2020 comes into focus.