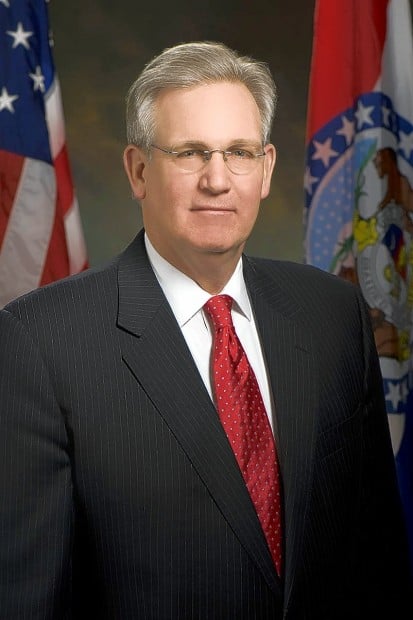 JEFFERSON CITY • Republicans say Gov. Jay Nixon's veto of an elections bill has made Missouri "irrelevant" in the presidential nominating process and should be overridden by the state Legislature.
The bill would have moved the state's presidential primary to early March from early February, to comply with national Republican and Democratic Party committee rules.
National party rules say that only four states — Iowa, New Hampshire, South Carolina and Nevada — can hold caucuses or primary elections before the beginning of March. The aim was to keep states from front-loading the process to gain influence.
States that break the rule can be punished by having their delegations cut in half at party conventions. That, in turn, could prompt presidential contenders to ignore Missouri during the campaign season.
"If I was a candidate and I knew that I could campaign in Iowa and be sure to have delegates and make an impact, or campaign in Missouri and the delegation might not even be seated, where would you choose?" asked Sen. Kevin Engler, R-Farmington, sponsor of the elections bill.
Veteran Republican consultant John Hancock said the veto "makes Missouri irrelevant in the presidential primary process."
Nixon, a Democrat, vetoed the elections bill late Friday, saying that while he supported the presidential primary date change, the bill contained other provisions he deemed "unacceptable."
One of those provisions would have removed the governor's authority to fill vacancies when a statewide elected official resigned. Nixon said the state couldn't afford the $7 million cost of a special election each time a vacancy occurred.
He also opposed a change that would have eliminated the possibility of write-in candidates in cities with populations under 35,000. That provision would have canceled elections for local offices if the number of candidates equaled the number of open positions.
Engler said he would consider trying to override the veto when the Legislature convened for its annual veto session on Sept. 14. An override would require 109 votes in the House and 23 votes in the Senate.
Republicans control the Senate 26-8, so Engler should have no trouble there. But they would have to pick up four Democratic votes in the House.
"I think we'll have a good shot at it," Engler said.
The bill had bipartisan support when it passed in May, on votes of 137-11 in the House and 31-2 in the Senate. But the presidential primary change didn't generate much excitement among Democrats, because their party controls the White House and they know who their presidential nominee is likely to be.
Each party blamed the other for the bill's demise, with Democrats saying Republicans should have kept controversial items out of it and Republicans saying Nixon should have weighed in while the bill was being written.