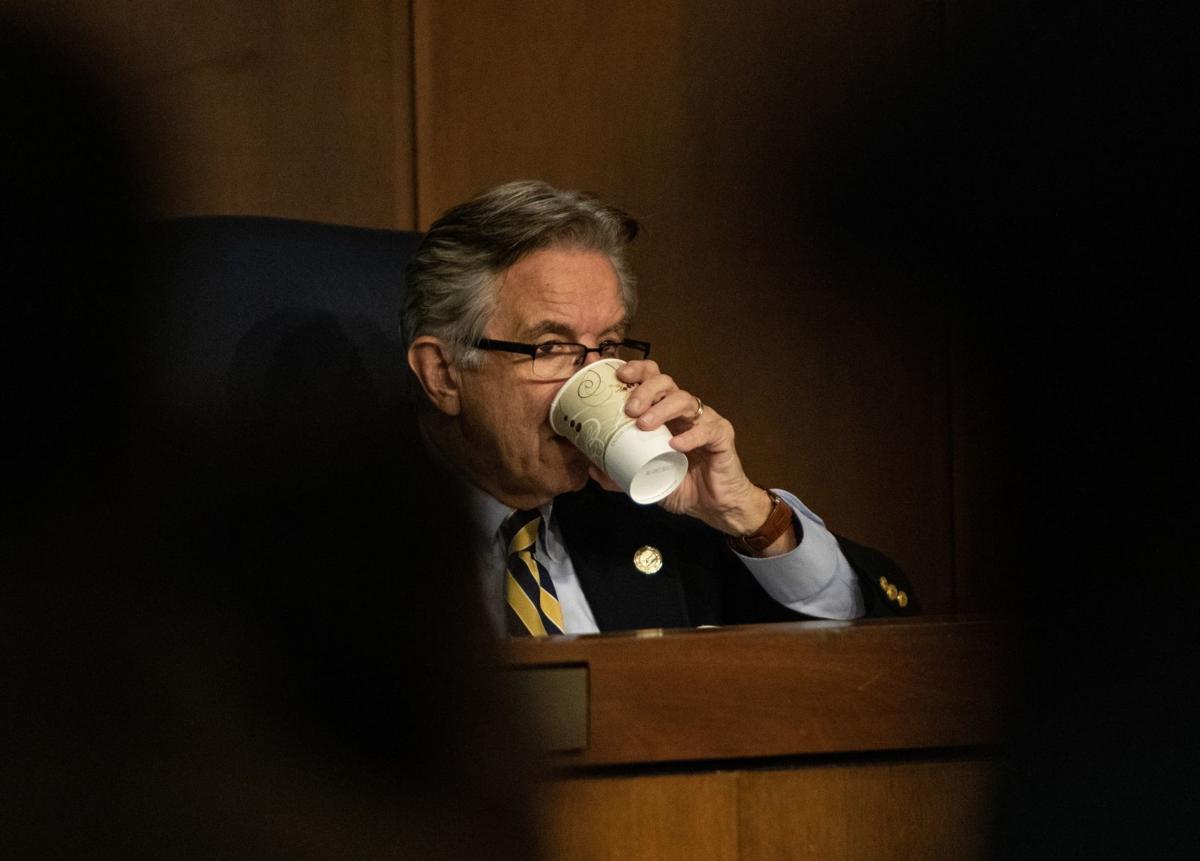 CLAYTON — Ernie Trakas, the Republican from Oakville seeking reelection to St. Louis County's 6th District on the County Council, is facing backlash within his party after voting with a progressive bloc to kill two bills that would have limited the powers of the county executive and health department during a pandemic.
The bills were sponsored by Republicans Tim Fitch and Mark Harder, and had the support of Democrat Rita Heard Days, who has criticized Page's management of the county's response to the coronavirus. After County Counselor Beth Orwick issued an opinion saying the bills were deficient and legally unenforceable, Trakas on Tuesday sided with Democrats Lisa Clancy, Kelli Dunaway and Rochelle Walton Gray to kill them.
The vote was widely criticized Wednesday in social media posts, and Trakas was condemned as a conservative turncoat trying to limit freedoms. Hundreds of county residents have picketed Page's house and the county government building in Clayton this week to demand the resumption of games and tournaments in some youth sports, including high school football, which remain banned under Page.
Page has said that it is not safe to resume some sports that involve high frequency of contact between athletes, and that state and local laws give the executive authority to make decisions.
Had Trakas supported the bills, and given the council the ability to end the county's state of emergency, games and tournaments might have resumed soon.
Trakas, a lawyer, said in an interview on Wednesday that he was right to defeat defective bills. He said he wanted to limit the county executive's authority as much as the other Republicans, and planned to introduce legislation next week that would be on more solid legal ground.
Reaction from Republicans was harsh. Jean Evans, executive director of the Missouri GOP, tweeted: "Trakas voted with the Dems?"
"They are working so hard to protect Sam Page, it's not funny," Rene Artman, chairwoman of the Republican Central Committee of St. Louis County, said on the Marc Cox show on KFTK 97.1 FM. Her husband, Tony Artman, is the legislative aid to Fitch. "And we have one member switch to the other side. I am so mad!"
Trakas, nearing the end of his first four-year term, is facing another conservative challenger in Democrat Bob Burns, of south St. Louis County.
Burns, a term-limited state representative, said he found Trakas' vote "unbelievable."
He said, "The council is not listening to the people, and that's why (Days) went over and voted with Fitch and Harder."
Fitch on Wednesday accused Trakas of plotting with Page and his three Democratic allies on the council to kill the bills. He said it appeared Trakas had forged a bond with Page during their battles with former County Executive Steve Stenger. He noted that a planning document from the time Page's transition leaked online earlier this summer revealed that Trakas had been considered as director of the county jail. "It's difficult for Ernie to be critical of what he's doing."
Fitch said Trakas had told him and Harder over the weekend that he would support the bills. But just before the council's regular Tuesday meeting, Orwick issued her legal opinion about the bills. At the time of the vote, Trakas cited the Orwick opinion as the reason he couldn't support them.
Fitch said it appeared Trakas already knew about the Orwick opinion because of how quickly he digested it before the vote.
Trakas responded in an interview: "Wrong, wrong, wrong." He said he got the opinion at the same time as all his colleagues. Fitch "doesn't know the facts," he said. He also said he never agreed to support their bills. "What I told him and Harder was I'd support the measure as long as it was legally sufficient and enforceable."
Trakas said he was writing bills next week that would accomplish what Fitch and Harder wanted — limits on the scope and duration of emergency orders — but which would not violate the county charter.
Fitch wrote that "any new legislation he proposes will include delays (and) verbal gymnastics that will do nothing to provide oversight" of Page.
Concerned about COVID-19?
Sign up now to get the most recent coronavirus headlines and other important local and national news sent to your email inbox daily.