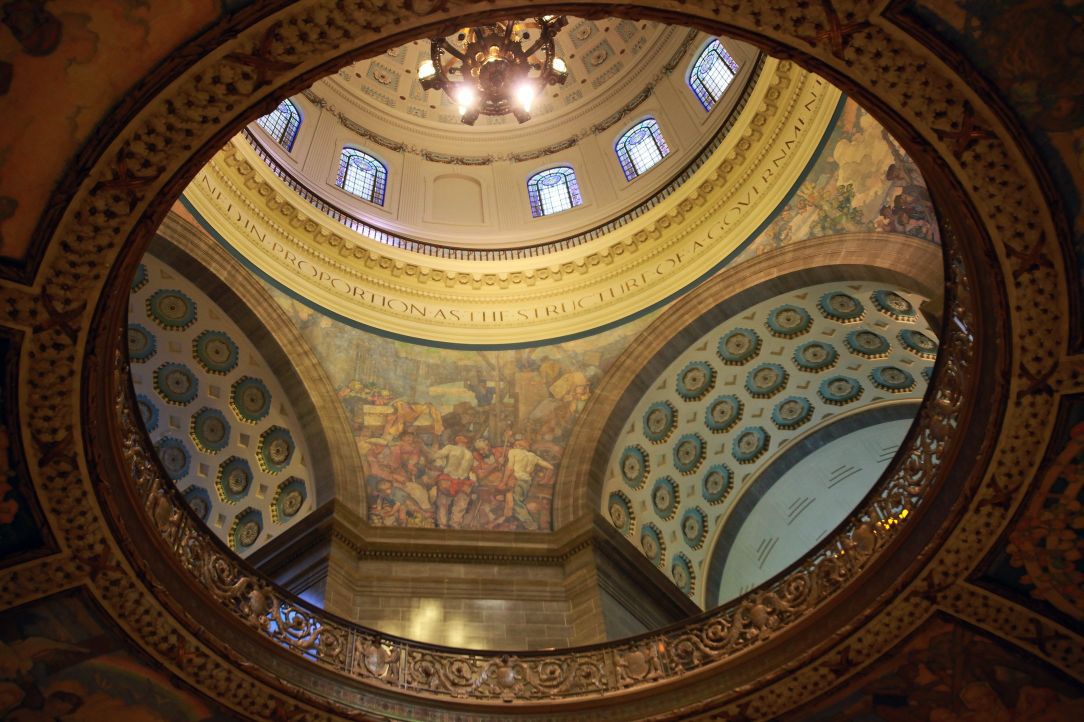 Updated with comments from state NAACP president Rod Chapel and Rep. Clem Smith, D-St. Louis at 10:30 a.m.
JEFFERSON CITY • House Republicans proposed narrowing the law protecting Missourians from workplace discrimination, drew vigorous opposition from Democrats and then got into a fight with the president of the state NAACP Monday night.
Springfield Republican Rep. Kevin Austin's bill would require plaintiffs to prove their race, religion, sex or other protected status was the "motivating factor" driving a boss to mistreat or fire them rather than just a "contributing factor" to win cases like wrongful termination suits. 
It would also preclude suits against other employees, instead forcing suits against companies themselves, and cap damages for successful plaintiffs.
Austin told a House committee it was meant to bring Missouri in line with federal discrimination standards.
Joseph Sklansky, associate general counsel at Washington University in St. Louis, said the measure would also correct overreach by the state's judicial system, which changed the criteria through a series of decisions in the 2000s.
Other supporters of the proposal, a long-standing item on the Missouri Chamber of Commerce and Industry's wish list, claimed it would cut down on frivolous suits that effectively extort businesses for costly settlements.
"I've heard — anecdotally — of businesses deciding not to come here because they're afraid of the way we handle lawsuits here," said Chamber lobbyist Brian Bunten.
Democrats weren't buying it.
Rep. Steven Roberts, D-St. Louis, led most of Austin's interrogation, calling the proposal especially "insensitive" during Black History Month.
First, he questioned why Austin had effectively exempted private country clubs from employment discrimination suits, which the sponsor agreed to look at changing.
Then he asked why Missouri wouldn't be proud of stronger protections for its workers and noted the irony of a Democrat trumpeting state independence from the feds.
"What this says is that we as Missourians can't handle our own court system, so we're just going to defer to the federal government in these cases," Stevens said. "I feel like I'm in the Twilight Zone agreeing with what used to be Republican doctrine."
Sheree Brewer, a postal worker from Florissant who is suing the U.S. Postal Services for allowing a colleague to post racist posters at her desk, voiced similar alarm and warned passage would embolden bigots.
"If you let employers off on their responsibility of preventing discrimination in the workplace or punishing the person who did it, that is empowering a bully," she said. "And that destroys lives."
Tom Mickes, an attorney who said he'd represented several businesses and more than 100 school districts, downplayed the doomsday rhetoric, saying the bill was about "rebalancing" the legal playing field between businesses and workers.
But plaintiff's attorney Paul Bullman of Kansas City echoed Brewer's remarks, saying passage of Austin's bill would effectively provide bullies with immunity in civil court, where victims can be better compensated.
Then Rod Chapel, president of the Missouri NAACP came to the witness stand.
He began slowly, aiming jabs the University of Missouri System, then Washington University, then K-12 schools and businesses he said were "united here in favor of expanding discrimination."
Committee chair Rep. Bill Lant, R-Pineville, grew frustrated and asked him to keep his commentary germane to the bill.
"Oh, but I am, because this is nothing but Jim Crow," Chapel retorted, referring the discriminatory laws aimed at African-Americans in the South in the 20th century. "Because this is nothing but Jim Crow. You cannot legalize discrimination on an individual basis and call it anything else."
He continued listing the state's embarrassing racial episodes, like the shooting of an unarmed black man in Ferguson two years ago and protests at the University of Missouri last November.
Lant had had enough and turned off his mic.
Rep. Gina Mitten, D-Richmond Heights, protested to no avail.
"I would note that the only man of color to testify on this bill basically had the mic cut off of him," she told Lant, "and I would ask that you would allow him to speak."
Lant replied that she had not been recognized to speak.
"Jim Crow is alive and well in Missouri," Mitten said in a statement after the hearing, "and Rep. Lant just proved it."
Chapel issued his own statement Tuesday morning.
"The Chair's refusal to let me speak ensured that not only my voice, but all voices of those protected by anti-discrimination laws in the state were silenced," he said. 
Rep. Clem Smith, D-St. Louis, said Lant gave him similar treatment in a hearing last year.
""The Republican Party has super majorities in the General Assembly and five Executive Offices across the state, an awesome power granted to them by the citizens of Missouri," he said. "Will they ban all testimony of the people they aim to disenfranchise?" 
Lant was not available for comment Monday evening.
The legislation is House Bill 552.
Austin Huguelet 573-556-6184
@ahuguelet on Twitter