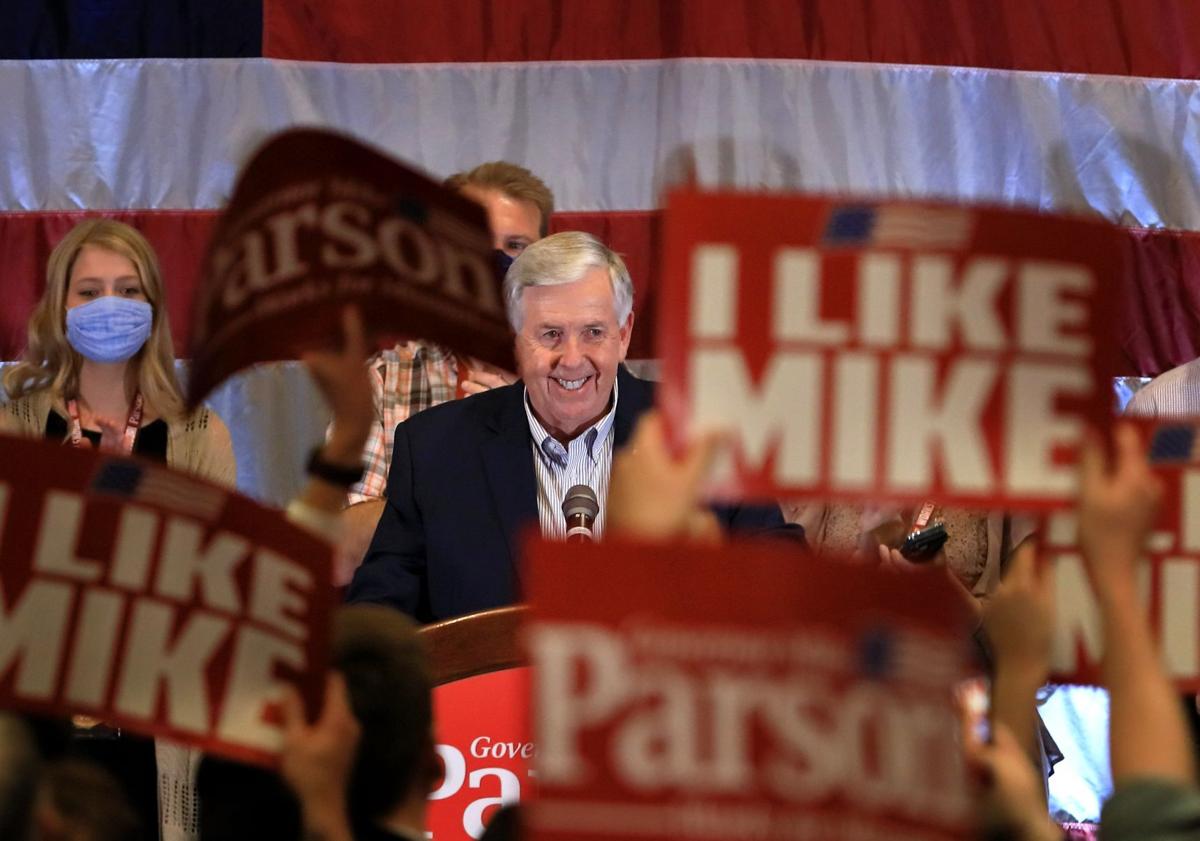 JEFFERSON CITY — Two days after a blowout election that saw Republicans solidify their power in Missouri, top leaders in the Legislature want a business-friendly law shielding nursing homes, schools and other businesses from liability lawsuits related to the pandemic.
Hours before state lawmakers gaveled in to begin debate over a coronavirus relief spending package, House Floor Leader Rob Vescovo, R-Arnold, asked Republican Gov. Mike Parson to add the liability issue to his call for a special session.
"Right now there are numerous small businesses afraid to open because of the threat of litigation tied to COVID-19," Vescovo said in a letter to the governor.
"We just received that letter today," Parson said.
Some beneficiaries of political contributions say they're open to giving the industry immunity from COVID-19-related lawsuits.
Sen. Bill White, R-Joplin, said he was planning to file liability legislation when lawmakers convene for the start of their regular session in January. He downplayed the idea of a deal coming together during the special session.
"The fact that he didn't put it in his original call for a special session tells me that it's not happening," White said.
The move, which is being pushed by business groups like the Missouri Chamber of Commerce and Industry, has the support of Senate President Dave Schatz, R-Sullivan.
"I think it is something our caucus would get behind and support," Schatz said.
The proposal mirrors a push by national Republicans to shield businesses from lawsuits related to the pandemic.
Senate Majority Leader Mitch McConnell, for example, has held up a new federal stimulus package if it doesn't include a provision limiting the liability for businesses if workers or customers get sick and try to blame the business.
Vescovo, who is on track to become the next speaker of the House, said, "The cost of the pandemic has been dire for not only the lives that have been lost, but also with the massive disruption we have seen for Missourians and Missouri businesses in all parts of the state."
Although action on a package of spending won't begin in earnest until next week, the governor is asking for nearly $1.3 billion in spending authority that includes giving his office control over more than $764 million in state and federal funds for pandemic relief.
The post-election session, featuring some lawmakers who will not be returning in January, came as Missouri reported a new daily high for COVID-19 cases and hospitalizations Thursday.
The 3,553 new cases mark only the second time daily counts exceeded 3,000.
Parson also asked for another $140 million for testing, tracing, reporting and other expenses related to mitigating the virus.
Rather than mandate a statewide mask requirement to stem the ongoing outbreak, Parson has focused on testing and tracing in order to keep businesses open.
Parson also wants $96.8 million to transfer child support debt intercepted from federal stimulus payments to custodial parents who are due the money.
Also on tap is $75 million in federal stimulus for school districts to pay for school lunch programs. Some school districts suspended meal service for students early in the pandemic, citing the risk of exposure to coronavirus for employees.
Another $34 million will go to the Department of Labor and Industrial Relations to pay for unemployment assistance programs.
Not all of the money would go to the pandemic.
The proposal includes $2 million in state and federal funding to pay for a pre-trial witness protection fund. The fund was created by lawmakers in a previous special session to help protect witnesses from reprisal if they assist prosecutors in solving crimes.
Missouri has received $3.06 billion from the Coronavirus Aid, Relief, and Economic Security Act, and about $1.2 billion of that remains unspent. The state has funneled $542 million of the federal money to local governments and could see some of that returned if counties don't spend their allotments.
Debate will start in the House next week with a hearing of the Budget Committee.
The Senate isn't scheduled to take up debate until Nov. 19, with a goal of finishing on Nov. 20.