JEFFERSON CITY • In another potential blow to the Republican candidate for Missouri auditor, court records show she had a Kansas address in 2013.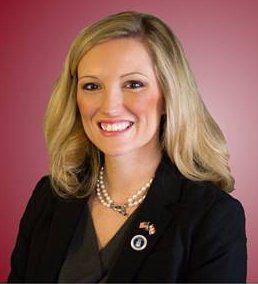 According to a lawsuit obtained by the Post-Dispatch, Saundra McDowell was living in Mission, Kan., when she was sued by a furniture company for failing to pay $698 plus 18 percent interest after entering into a contract in June 2012. Nebraska Furniture Mart Inc. also asked for attorney fees. Mission is a suburb southwest of Kansas City a few miles west of the Missouri border.
The dates are important because the auditor must be a resident of Missouri for 10 years to qualify for the post currently held by Democrat Nicole Galloway of Columbia.
Questions about McDowell's residency have dogged her campaign because she said she didn't move to the Show-Me State until 2010, two years short of the legal threshold. She has said she nonetheless qualifies for the ballot because she was in law school in Virginia the previous two years and had intended to move to the state where her husband is from once she finished.
She has not previously said she lived in Kansas after her marriage.
McDowell was at the Missouri Republican Party offices in Jefferson City on Tuesday, but party political coordinator David Bader said McDowell would not be made available for questions.
Later, she sent a statement via email that did not address the Kansas address.
"I meet the residency requirement," McDowell said. "If the Democrats want to continue to raise questions, it's obviously because they know their liberal insider nominee does not match up well against a conservative veteran who wasn't handpicked by party bosses."
In a statement, Galloway campaign manager Eric Slusher said, "The issue here is truthfulness, including more questions about her intent to become a Missouri resident. Given her serious financial problems it should make voters wonder what else she hasn't been truthful about."
McDowell could face a legal fight to stay on the ballot if one of the other candidates on the Nov. 6 ballot challenges the residency rule. The challenge can't be issued until after the election is officially certified on Aug. 28.
Changes to the ballot must be finalized six weeks before the election, which is Sept. 25.
McDowell, a Jefferson City attorney, was ordered to pay $32,658 to a Springfield landlord in 2015 after she and her husband, Jonathan, stopped paying rent on a home.
While working for the state as an attorney in the secretary of state's securities division, her wages were garnished from her paycheck to pay down the debt.
Todd Graves, chairman of the state Republican Party, also expressed support for McDowell after she won 32.5 percent of the vote in the Aug. 7 primary.
Galloway, who was appointed to auditor in 2015 after the death of then-Auditor Tom Schweich, was unopposed in the primary. Along with McDowell, Galloway will face off against Libertarian Sean O'Toole, Green Party candidate Don Fitz, and Constitution Party candidate Jacob Luetkemeyer on the Nov. 6 ballot.