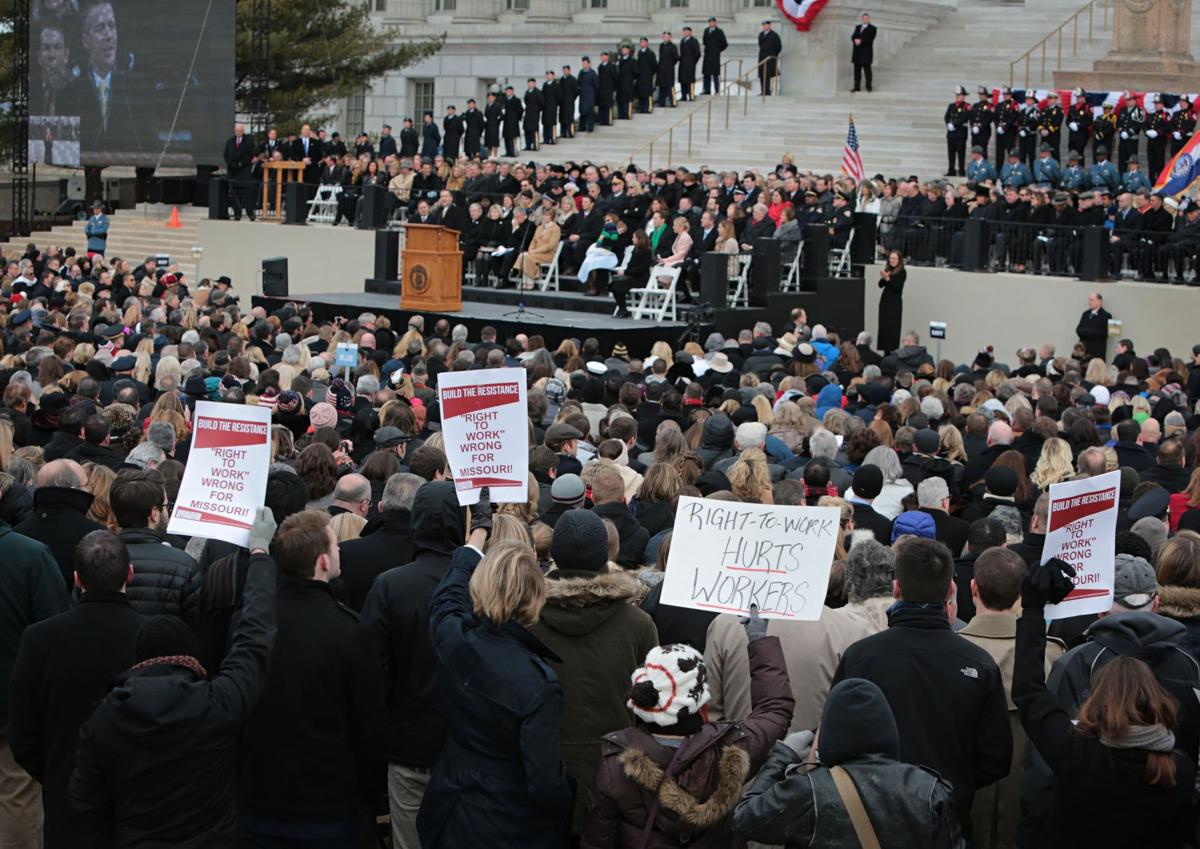 JEFFERSON CITY • The Missouri Legislature on Thursday sent a "right-to-work" proposal to Gov. Eric Greitens, a Republican who campaigned on a promise to sign it. 
When he does, it'll be an early political victory for the new chief executive, who has never held political office before. 
It'll also be a culmination of a decades-long fight between the business-backed GOP and labor-friendly Democrats. Here's the battle, explained:
What does right to work mean?
"Right to work" is a shorthand for laws throughout the country that prohibit labor unions from requiring workers to pay dues as a condition of employment. Proponents say the law is necessary to end "forced unionism," giving Missourians the "right to work" without giving up any of their earnings to a labor organization.
They also insist that the law will create jobs and make Missouri more competitive, sending a message that the Show-Me state is friendly to employers.
Even though Missouri isn't yet a right-to-work state, membership isn't compulsory in some unions in the state. But a collective bargaining agreement can require that the employer collect dues from nonmembers, who don't get to vote for union officials or contracts.
Unions deemed exclusive bargaining agents are required by federal law to provide fair representation to all workers covered by a contract whether the workers pay dues or not. If they fail to do so, the worker may be able to get relief in court or with the National Labor Relations Board.
Unions and Democrats argue that a right-to-work law would allow all workers to be "free riders," reaping the benefits bargained for them, such as higher wages or better health care benefits, without paying for it.
And without unions financially able to go to bat for them, they contend, Missouri's working class will see lower wages and fewer benefits.
So who's right? Does the law actually create jobs?
That's not clear. Some studies point to positive effects on states' economies and wages. Others find little to no impact.
Economists attribute that uncertainty to a wide-ranging number of factors that influence job growth — it's difficult to say whether one policy is responsible for strengthening a state's economy.
The Missouri Chamber of Commerce points to data from the U.S. Bureau of Economic Analysis showing that jobs in right-to-work states grew by 8.6 percent in the last decade, compared with 5 percent growth in states without right-to-work laws.
"Looking across the country, Missouri's lack of right-to-work protection has put us at a competitive disadvantage when it comes to attracting jobs to our state," said Dan Mehan, the chamber's president.
Other experts don't dispute the job growth, but point out that many states have seen robust job growth as they rebound from the Great Recession, so right-to-work laws passed in that time frame aren't the only factor to consider.
"Right to work doesn't seem to have much of an impact one way or another, both in improving the state's business climate or in terms of devastating the health of organized labor," said Jake Rosenfeld, a sociology professor at Washington University in St. Louis.
The expansion of right-to-work laws reflects a continuing decline in union strength, Rosenfeld said.
In 2016, about 262,000 Missouri workers, or about 9.7 percent of the total workforce, were members of unions, according to data released Thursday by the Bureau of Labor Statistics. Though that's the highest percentage since 2011, the overall trend has been lower. In 2006, about 284,000 Missouri workers, or about 10.9 percent of the workforce, were union members.
"The only reason these laws get passed is because unions already decreased dramatically, in terms of what they can get done," Rosenfeld said.
The door for right-to-work opened when a Republican-led Congress passed the federal Taft-Harley Act in 1947, which deemed "closed shops," or businesses that required all employees to be part of the union, illegal. From there, individual states could pass laws prohibiting unionized businesses from collecting dues from employees who weren't union members.
More than 35 percent of workers were in a union in the 1950s, but the fast-growing movement didn't hold its own against mobilized businesses and right-wing organizations that lobbied state legislatures for union restrictions, making right-to-work a heated political issue.
The right-to-work debate was renewed when Indiana passed legislation in 2012. Michigan, Wisconsin, West Virginia and Kentucky have all followed suit.
Missouri would be the 28th right-to-work state. Its shift would mark the first time in U.S. history that more than half of the nation's workforce lived in states with right-to-work laws.
What politics are at play here in Missouri?
Typically, Republicans — backed by business organizations such as the Missouri Chamber of Commerce — have been the primary supporters of right to work, with limited exceptions.
Unions far more frequently back Democrats, who generally say that by curbing labor's ability to collect dues, the GOP is in effect limiting the power and influence of labor unions, which often supply millions in donations and volunteers to Democrats' political campaigns.
They also point to megadonors such as Joplin business magnate David Humphreys who can pour millions into candidates who support right-to-work legislation under Missouri's lax campaign finance laws.
"Any appeal to rational thought, evidence or policy implications stands small against the millions in dark money that have bought this issue passage," said Senate Minority Leader Gina Walsh, D-Bellefontaine Neighbors, during debate over the Senate's bill.
I'm in a union. Will anything change for me?
That depends on what type of union you're in. If dues in your union are already voluntary, this legislation won't affect you.
If you're under a "union shop" or "agency shop" and you have to pay dues or fees to a union, in time, you will no longer have to.
The right-to-work law passed by lawmakers contains what's known as a "grandfather clause." It leaves unchanged any labor contracts negotiated before the bill takes effect, letting them expire on their own.
So even when the bill takes effect in August, your current contract will also remain in effect. When it expires, you'll no longer have to pay if you don't want to be a union member.
In St. Louis specifically, agency shop contracts cover workers at Ameren, Boeing, Laclede Gas, as well as phone companies and major grocery chains.
So what are the next steps?
As with any bill, Greitens has several options. He could sign it into law. He could veto it, returning it to the General Assembly where a two-thirds vote of both houses would be needed to override the veto. Or he could decline to sign it, letting it take effect without his signature in 15 days. 
But Greitens signing the bill, and quickly, is all but guaranteed. Right to work was at the top of the agenda for both GOP leaders and the newly minted governor this year. Republicans have tried to pass similar legislation in years past, but found a roadblock in former Gov. Jay Nixon, a Democrat.
The bills don't apply to federal workers, workers on military bases and workers under the National Railway Labor Act, such as airline and railroad workers.
According to Republican lawmakers, they already have. Right to work was a major talking point in the 2016 election cycle, particularly in race for governor. Greitens' Democratic opponent, former Attorney General Chris Koster, spoke out against the legislation.
So Republicans argue that by electing Greitens and other GOP candidates on board with the legislation, voters have spoken.
Opponents to the bill point to a right-to-work ballot measure that was overwhelmingly rejected by Missouri voters in 1978, when the Missouri Capitol was controlled by labor-friendly Democrats.
Attempts to attach a referendum to the bills currently being considered — which would put the issue before voters a second time — have failed.
But union backers are pushing separate ballot initiatives in 2018 that would give voters the chance to in effect reverse any right-to-work law passed this year. Lawsuits have already been filed to block those initiatives.