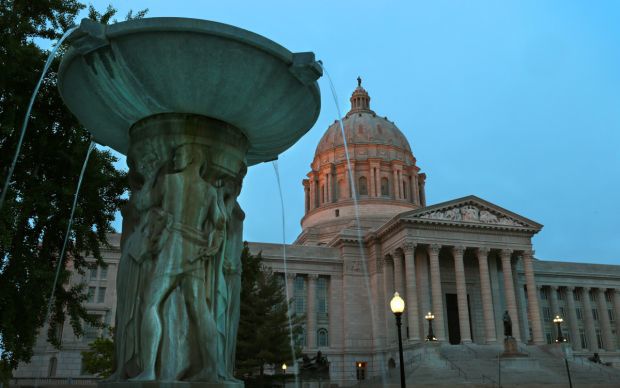 JEFFERSON CITY • Applause erupted in the the House chamber Wednesday as Republican leaders' goal to make Missouri the 26th "right to work" state died when members failed to vote to override Gov. Jay Nixon's veto.
The measure, which prohibits companies from requiring union membership or dues as conditions of employment, was pushed through the legislative session in May as Republicans used aggressive tactics. Nixon, a Democrat, vetoed the bill in June, calling it a threat to unionized workers and wages.
As a gallery full of right-to-work opponents looked on Wednesday, House members voted 96-63 in favor of the override, 13 votes short of the 109 needed to override the governor's veto.
Lawmakers convened Wednesday at the Capitol for the annual veto session, when they have the opportunity to override Nixon's 18 vetoes. Lawmakers needed a two-thirds majority vote in each chamber — 109 in the House and 23 in the Senate — to override him.
Lawmakers overrode Nixon's veto on 10 bills, including bills barring cities from following in Kansas City and St. Louis' footsteps by raising their minimum wage, adjusting unemployment compensation and preventing undocumented immigrants from receiving the state's A+ scholarships meant to cover tuition and fees at certain community colleges.
When the Legislature's veto session convene at noon, House members quickly began working through override votes. But senators waited until about 5 p.m. to take up their first override attempt.
Early in the day, senators elected Ron Richard, R-Joplin, as the new president pro tem, making him the first person to ever serve as both House Speaker and Senate president pro tem. He replaces Tom Dempsey, a Republican from St. Charles, after he resigned this summer and took a job with Gate Way Group, backed by Rex Sinquefield.
The Senate recessed for a few hours. Members returned to the upper chamber shortly after the House's failure to override Nixon's right-to-work veto.
When they came back into session, Sen. Rob Schaaf, R-St. Joseph, announced a letter he was sending to Nixon that contained 21 senators' signatures who vowed to oppose any funding appropriations for a new stadium not approved by a vote of the Legislature or the people of the state.
House Republican leaders were unclear on how the right-to-work vote would go Wednesday, but they were able to get a few more votes than during the session, when they passed it 92-66.
In a statement, Nixon applauded lawmakers for sustaining his right-to-work veto, calling it a "victory for workers, families and businesses here in Missouri and across the country."
Opponents argue the measure would lower wages and lead to a more dangerous work environment for some. Proponents say the measure would help the state attract businesses and therefore increase wages.
"At the end of the day, you'll create more jobs" by passing the bill into law, said sponsor Rep. Eric Burlison, R-Springfield.
Currently, workers at a union employer can opt out of paying dues for union membership, but may be required to pay fees for the collective bargaining and other representation services provided by the union.
Under the measure, employees who are not members of the union could not have been forced to pay fees for such union services. Business representatives who violated the measure could have been charged with a class C misdemeanor, which could result in 15 days in jail and a $300 fine.
Though House Republican leaders failed to keep right to work alive, Republicans were able to override Nixon's veto of a bill that would prevent cities from raising their own minimum wages and preventing them from instituting a ban on plastic bags. The House voted 114-46 and the Senate voted 23-9 to override.
Rep. Kevin Engler, R-Farmington, said people will lose their jobs if cities increase their minimum wages.
"You're not going to pay $9.99 for a happy meal and then drive three miles away and pay $3.99," Engler said. "When you have higher minimum wages, it will be economically destructive. When you do that, people lose their jobs."
Nixon vetoed the measure in July, calling it a "clear example of unwarranted government intrusion." Both St. Louis and Kansas City have passed minimum wage increases since then.
The bill passed by St. Louis officials institutes an $11 minimum wage by 2018. The wage would first increase to $8.25 an hour starting on Oct. 15. Opponents have filed suit against the hike, saying it conflicts with existing state law, exceeds the city's power under its charter and was improperly enacted.
St. Louis leaders contend their wage beat a deadline of Aug. 28 listed in the bill and wouldn't be affected by the law.
Kansas City passed a bill last month that would boost its minimum to $13 an hour by 2020.
If a city wants to increase its minimum wage, "it's up to them," said Rep. Clem Smith, D-Velda Village Hills, arguing against a veto override. "Let them have their choice. If there's money, a business will be there."
Later Wednesday evening, Senators voted 24-8 and the House voted 114-37 to override Nixon's veto of a bill banning undocumented immigrants from receiving the A+ scholarship.
Missouri struggled this past year to fund the A+ Scholarship, meant to cover tuition and fees at certain community colleges, and proponents of the bill argue that undocumented immigrants take money away from those who should be receiving it. Opponents say it would make an undocumented immigrant's climb to pay mounting college tuition costs even steeper.
These students' "parents were the ones who decided to do something illegal ... but now you're going to punish that child?" said Sen. Jamilah Nasheed, D-St. Louis.
Missouri Senators also voted 24-8 to override Nixon's veto a measure that would tie the length of time someone could receive unemployment benefits to the state's unemployment rate, decreasing the number of weeks when unemployment is low.
The House voted to override that veto during the spring legislative session, but the Senate did not bring the bill up before the session ended. Senate officials believe they could legally override the measure even though the House did it several months ago, but the Nixon administration and Sen. Scott Sifton, D-St. Louis County, disagree. It was unclear how the dispute would be settled.