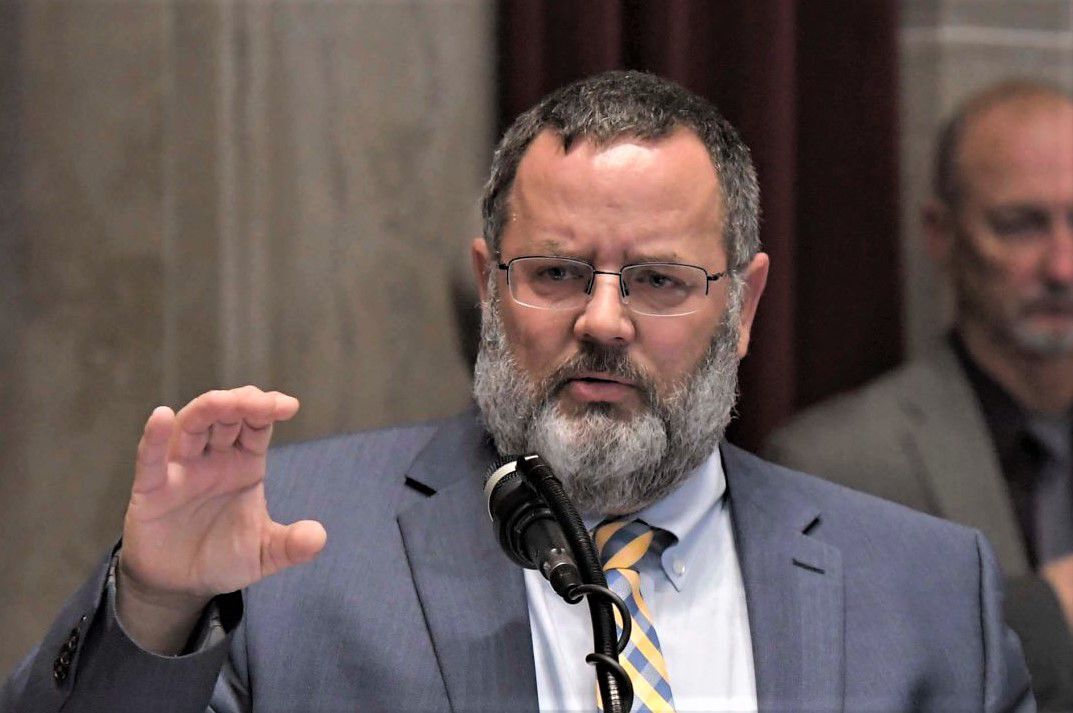 JEFFERSON CITY — Missouri Republicans are weighing whether to push for the elimination of a safe Democratic congressional district in Kansas City later this year during the state's once-every-decade redistricting process.
Such a change in the state's congressional map, leaving U.S. Rep. Emanuel Cleaver, D-Kansas City, without a safe district, would seem to further erode Democratic power in Missouri, where Democrats currently control two seats and Republicans hold six.
But the GOP chairman of the Missouri House redistricting committee said an aggressive strategy by Republicans could backfire in the long run, with Democrats potentially winning three congressional seats by the end of the decade.
The chairman, Rep. Dan Shaul, R-Imperial, said in an interview Friday he hasn't decided what kind of map to support.
He said the first decision in regard to the maps is, "do you stay with the 6-2 format, which has worked well in Missouri, or do you go with the 7-1 and try to make sure that U.S. Congress becomes a Republican majority in 2022?"
"To be brutally honest I have not decided that," he said. "I have tried to keep an open mind.
"If you were to go 7-1, one concern could be that a couple of those Republican districts may become more competitive. Is that what you want? Or do you want six solid? Or do you want five solid and two that are in-play every year?" Shaul said.
"This is a 10-year commitment to these districts, so today 7-1 might look very good, but as you go down the line to 2026, 2028, 2030 — is it possible, if there was a shift, we could be looking at a 5-3 map?"
Breaking up Kansas City would mean pairing voters there with more rural voters.
"Rural versus urban interests sometimes are not aligned, and I think when you try to have a member of Congress represent both, I don't know if it really helps both parties — or both entities," Shaul said.
A spokesperson for Cleaver's office did not respond Friday to a request for comment.
In previous redistricting cycles, redistricting data was available early enough so that lawmakers could approve new maps during their regular legislative session, from January to mid-May.
But this year, Shaul said the state won't have access to Census block data until at least early October because of U.S. Census Bureau delays. He said he anticipated a special legislative session late this year to draft and approve the maps, sending them to Gov. Mike Parson, a Republican, for consideration.
Separate from the U.S. congressional redistricting process, bipartisan commissions nominated by the Republican and Democratic parties and selected by Parson, will draw state legislative maps.
Even without the Census data, one change to the U.S. congressional maps appears certain: the St. Louis-based 1st Congressional District will need to stretch farther into St. Louis County to make up for continued population loss, Shaul said.
He said each of the eight congressional districts will need to add about 20,000 people.
But because the city lost about 20,000 people over the last decade, Shaul estimated the 1st Congressional District, represented by U.S. Rep. Cori Bush, D-St. Louis, would need to take in an additional 40,000 residents.
Because the 1st Congressional District will likely be forced to eat into the current 2nd Congressional District, represented by Rep. Ann Wagner, R-Ballwin, that district will likely need to extend further into exurban parts of the region such as Franklin, Jefferson and/or St. Charles counties.
"The shape of the second will be dependent upon the shape of the first," Shaul said.
The 1st Congressional District is a majority-minority district protected by the Voting Rights Act, meaning lawmakers can't separate St. Louis-area voters, Shaul said.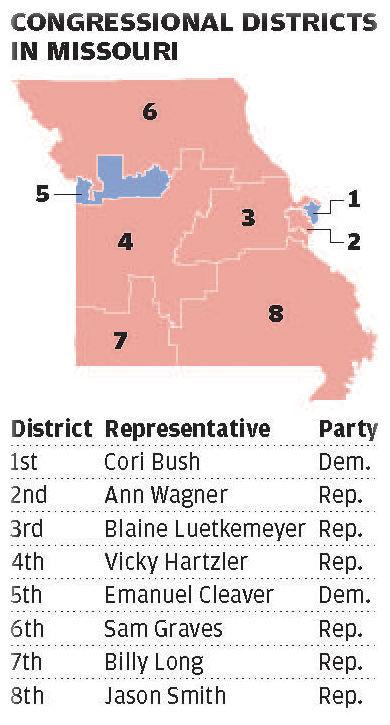 Rep. LaKeySha Bosley, D-St. Louis, who also is on the House Special Committee on Redistricting, said the state's current partisan breakdown in its House delegation isn't representative of the entire state; Democratic President Joe Biden won 41% of the vote here last year.
In a scenario where Democrats were confined to one St. Louis seat, the party would hold just 12.5% of the state congressional delegation's seats. Holding three seats would mean controlling 37.5% of the state's seats.
"I think the current map is just too out of balance with it being 6-2," Bosley said.
She said she was "optimistic about anything" when asked if a more competitive map could be drawn for Democrats while still protecting Cleaver's district.
"We're in a supermajority Republican-led Legislature," she said. "At this moment we have to wait and see.
"That doesn't mean we're not going to fight for what Missourians deserve," Bosley said.
The Missouri congressional delegation, which once numbered 16, was dominated by Democrats for much of the 20th century, but Republicans have held the majority of seats for the past 20 years.
As the nation's population shifted west and south, Missouri lost seats in Congress and dropped from nine to eight in 2013. But Missouri managed to hold onto eight districts in the 2020 census, unlike neighboring Illinois, which will lose one of its 18.