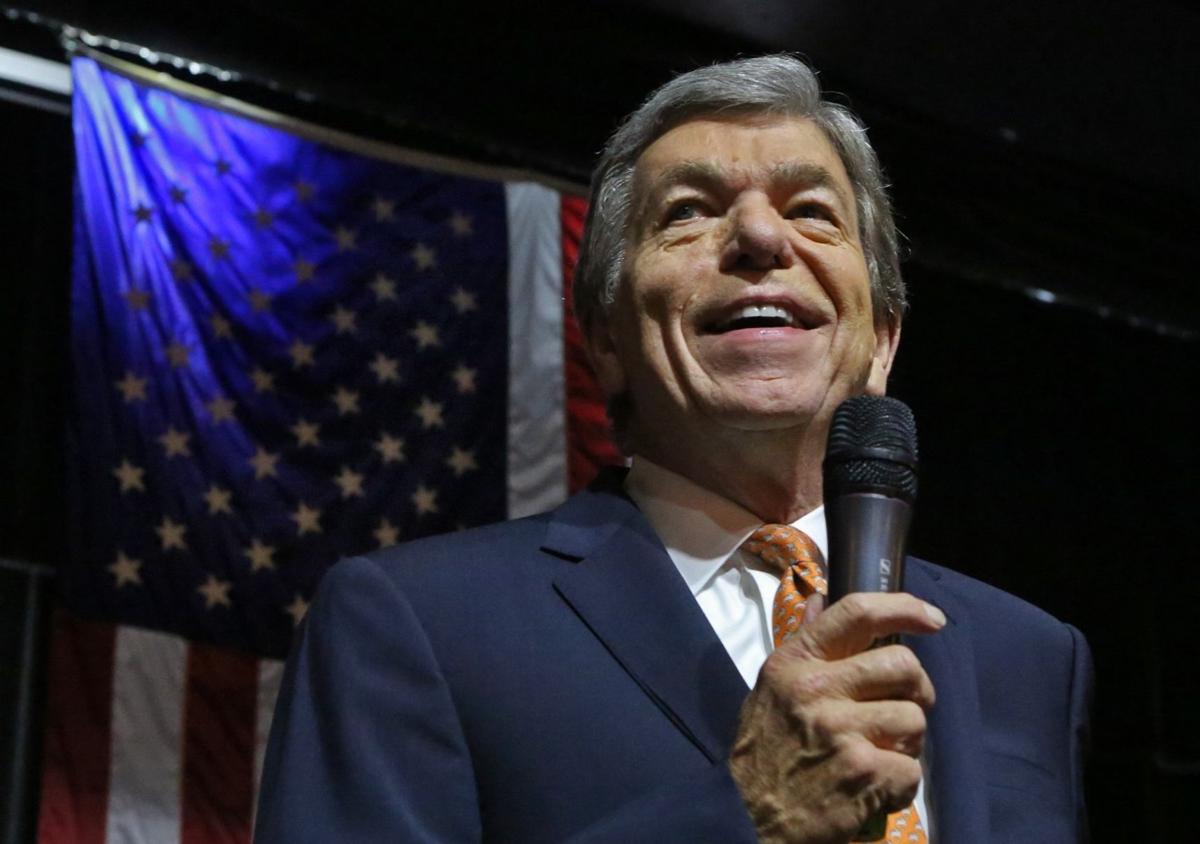 SPRINGFIELD, Mo. — U.S. Sen. Roy Blunt declined to insert himself Monday afternoon into the fast-evolving race to determine his successor, after he rocked Missouri's political world earlier in the day by announcing he wouldn't seek a third term, 
Speaking at the Springfield-Branson National Airport hours after his announcement, Blunt said that if he had decided to run in 2022, former President Donald Trump "would've been for me" and that he was confident about winning election again. But he was less enthusiastic about serving another six years in the Senate.
Blunt's announcement that he wouldn't run followed criticism from corners of the party that he had not sufficiently backed Trump through his votes to uphold the 2020 election and his participation in President Joe Biden's inauguration as a member of the Senate committee that works on planning the ceremony.
Blunt, 71, didn't respond to former Gov. Eric Greitens, a Republican considering a Senate bid who had criticized Blunt over the last week as he floated a potential bid for Senate.
"I thought about that a little bit," when asked what he would say about Greitens' activity. "I wouldn't want to elevate anybody or denigrate anybody by talking about who can run."
Blunt said 2022 would be a "great year for Republicans."
"It's a free country and anybody that's been saying negative things about me has a really big group of people that they're a part of," Blunt said. "I am absolutely confident I would've been elected, I'm confident the Republican nominee will be elected and I think this is a good year for that transition."
Asked what type of person he would like to see replace him, Blunt said it was up for voters to decide. "I think it's pretty clear that my ideology is to — is conservative. And I'm also for getting things done."
Blunt, before addressing media in a board room at the airport, worked the room by greeting individual reporters — not a given in modern politics, where interactions with the press are often calculated and scripted.
"I wanted to be here at home and see all of you before I see the Washington press tomorrow," he said. 
Blunt's announcement triggered a wave of statements Monday from other Republicans who are now considering whether to run. Those expressing interest included U.S. Rep. Ann Wagner, R-Ballwin, Rep. Jason Smith, R-Salem, and Lt. Gov. Mike Kehoe, of Jefferson City. Greitens is also "evaluating" a run.
Blunt launched his political career as Greene County clerk and parlayed that experience to become Missouri's secretary of state from 1985-1993.
He served in the U.S. House from 1995-2011, ending up in the House leadership. When U.S. Sen. Christopher "Kit" Bond declined to run again, Blunt easily won that Senate seat over Democrat Robin Carnahan in 2010 and quickly became part of leadership there, too.
Blunt has one of the Senate's most conservative voting records, yet many of his significant legislative accomplishments had Democrat co-sponsors.
He and Sen. Sherrod Brown, D-Ohio, one of the Senate's most liberal members, sponsored a manufacturing innovation bill that combines private and public resources. Blunt and Sen. Chris Coons, D-Del., sponsored a law that re-started federal safe havens for child abuse victims.
Blunt worked with Sen. Debbie Stabenow, D-Mich., to expand access to community mental health services that had broad advocacy group support.
He and Sen. Patty Murray, D-Wash., cut a deal to increase by $2 billion National Institutes of Health funding, the first research increase in more than a decade.
Blunt's ability to work both sides of the aisle for constituents was credited for helping keep the National Geospatial-Intelligence Agency and its 3,100 jobs in St. Louis.
Illinois officials made a strong pitch to move the spy agency's western headquarters to a vacant spot near Scott Air Force Base in Illinois, but Blunt made clear to both the intelligence and defense agencies that modernizing the facility and keeping it in St. Louis was the best decision for the country and one of his top priorities as a member of the GOP leadership.
During his six-year chairmanship of the Senate Appropriations Subcommittee on Labor and Health and Human Services, Blunt secured six consecutive funding increases for National Institutes of Health, bringing the total increase to $12.85 billion, or 42.7%. From 2015- 2020, NIH funding to Missouri institutions increased by $199.2 million or 42.2%.
Blunt has helped secure funding for major infrastructure projects, including grants to replace the Interstate 70 bridge over the Missouri River in Rocheport and Champ Clark bridge over the Mississippi River at Louisiana.
Blunt said he was optimistic about the country's future.
"I think we are at a moment now where if we make the right decisions, really good things can happen for us," he said. "And I intend to be part of that the next two years."
Kurt Erickson of the Post-Dispatch reported from Jefferson City.