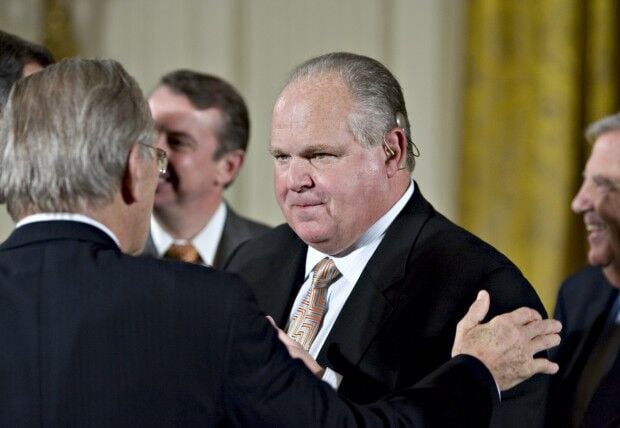 JEFFERSON CITY — A group of Republican lawmakers wants to make "Rush Limbaugh Day" an annual celebration in Missouri.
Limbaugh, 70, a right-wing radio host from Cape Girardeau who gained national fame, died Wednesday after a battle with cancer.
Legislation introduced Friday by Rep. Hardy Billington, R-Poplar Bluff, would designate each Jan. 12, Limbaugh's birthday, as "Rush Limbaugh Day" in Missouri.
"Citizens of this state are encouraged to celebrate the day by participating in appropriate events and activities to remember the life of the famous Missourian and groundbreaking radio host," the legislation says.
Billington, in an interview Friday, pushed back against the suggestion that Rush Limbaugh Day would be a state holiday, saying state holidays include a paid day off from work.
"He gave you hope," Billington said. "He's just a great voice. He loved the people of Missouri. And see I want him to be remembered, not today, or tomorrow, but for many, many years."
The legislation, if it advances, promises to invite controversy given Limbaugh's decades of divisive rhetoric.
In reaction to Billington's measure, Rep. Peter Merideth, D-St. Louis, said: "Rush is all about divisiveness and hatefulness and if we're going to have a state holiday it should be about bringing people together for positive unifying goals."
Billington responded, "I think it would represent a lot of people" who are "very proud" he came from Missouri.
"There will always be people who don't like people, right? Always," Billington said. "There are people who don't like Jesus Christ, right?"
"People can always find fault in somebody," Billington responded. "This is a time to honor somebody, not to try to find fault in someone."
The bill has yet to be assigned to committee and would require passage in the full House and Senate before moving to Gov. Mike Parson for consideration.
Photos: Rush Limbaugh through the years